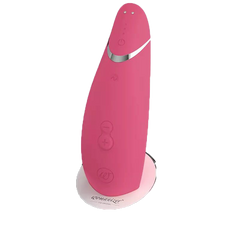 Masturbation is a fun way to pass the time, and the Womanizer vibrator makes it easier than ever to have self-contained orgasms every time. Getting off with the best sex toys on the market is one of the best forms of self-care, so it's no shock that you will be spending more time with them. While there are approximately ten gazillion mouth like sex toys on the market for men to stick their penises into, very few offer a similar sensation for the ladies. It's such typical bullshit. Of course, men get all the motorized blow jobs their ding dongs could want, while women get some giant dick stand-ins.
While giant dick stand-ins are fine, if not divine, you'd think that products that suck on your clits would be a big deal, given that both men and women agree that getting head is the shite. Most women prefer clitoral stimulation to penetration alone for orgasming, and these toys provide just that.
Womanizer vibrators, which were already a cult favorite, have recently received a lot more attention, with sales figures that are more than 50% higher than expected. While everyone's toy preferences are different, there's something to be said for why the Womanizer has become so popular in quarantine. Experts state why the womanizer brand has become one of the most popular sex toys on the market.
The Womanizer Premium is the perfect blend of cutting-edge technology and high-end design. Pleasure Air technology stimulates your clitoris without making contact, with 12 different intensity levels ranging from super soft to superpower.
AutoPilot: The new function allows you to experience orgasm in an unexpected and novel way. With each use, the Womanizer Premium changes its rhythm, providing you with a world of sensual experiences.
Smart Silence: It picks up on your desire. When the Womanizer Premium is almost touching the surface of your skin, it begins to work. This not only makes it quieter to use, but it also increases the intensity of your enjoyment.
Material: Nothing can stop you from having intense pleasure experiences with the Womanizer Premium's gentle and skin-friendly ABS silicone. This external vibrator's stimulator attachment is made of hypoallergenic medical silicone.
Scope of supply: A larger stimulator attachment, a silk storage bag, a magnetic pin charging cable, and operating instructions are included with this luxury clitoral stimulator.
Do it yourself - and do it more often!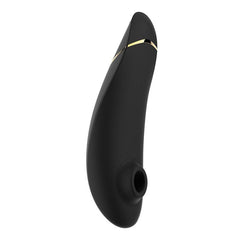 At womanizer, it is to be believed that solo sex is the best form of self-love. That is why, with these products, people are been encouraged to talk openly about masturbation. On this Womanizer site, readers are been engaged in a conversation and listen to their feedback, as well as allowing influencers, experts, and authors to weigh in.
Finally, all of the sex toys should provide unique and interesting sexual experiences—after all, these things aren't cheap! Many women will find them to be worthwhile additions to their solo and/or partner-based sex lives because it's incredibly arousing to feel a pair of tiny perfect lips sucking on your clit.