Wireless pleasuring has come a long way in the last few years and the list of options available for couples to vibe with is endless. For this review, I've singled out one of the best in the market so be sure to stay till the end of the ride. This is a toy I'll brag about at any time of the day and by the time you're done reading, you'll know just why.
The wearable Lelo Tiani 3 is a third-generation massager designed to stimulate the G-spot and clitoris. Its edge over the Tiani 2 is the wireless connection and vibration intensity though both models have a couple of similar features.
This massager is built with brilliant SenseMotion tech that allows you to work yours through all eight of its remote-control intensities and vibration modes in one wrist flick. Besides being super smart, this is a sleek, silicone sex toy that serves both you and your partner with comfort and pleasure.
My Unboxing Experience
I'm big on discretion when it comes to my naughty toys. Seeing how thoughtful the company was about privacy when my package arrived was always a big deal for me. My Tiani 3 came in a simple cardboard box, sealed with yellow tape.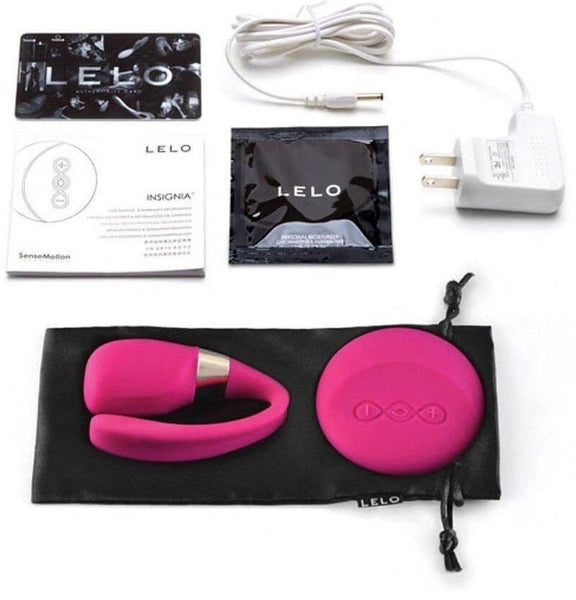 The Lelo Tiani 3 came in a black box with a classy gold label on it. My first thought when I felt the silicone surface after opening was that it was going to be a soft toy. I was not wrong.
My package contained:
2 AAA batteries
Black satin storage pouch
USB cable
A 5ml sample of Lelo Personal Moisturizer
The plastic key for the battery slot
Remote
Silicone vibrator (wearable)
Let's delve right into a proper introduction of the Tiani 3 before we get into the goodies. So, what should you expect? First, this toy's inner and outer arm is made from a high-grade silicone that is guaranteed to not cause allergic reactions or pose a danger to your body. This also applies to the ABS-plastic gold ring on the massager.
For design, the LELO Tiani 3 has a comfy fit that won't disturb you or your partner as you go at it. There's also a brilliant matte silicone coating to give you delicious sensations as you go.
Designed to fit almost any body shape, the LELO Tiani 3 is a toy that doesn't require tech smarts or a long, boring guide to use. All controls are easy to access and get used to; ranging from the remote buttons to vibrator buttons.
I also look out for ease of maintenance when getting a new toy and the Tiani 3 did not disappoint in this regard. I could use it in the bathroom and I had no problems cleaning it with plain old soap and water. My favorite part of the remote was being able to use it 12 meters away from my partner. It worked pretty fine while we were both in different rooms and thanks to its reliable control, I could feel the commands while it was in my hand or cozily inside me.
An interesting feature of the LELO Tiani 3 is it does not come with a mobile application like regular high-quality sex toys. I also found the manual quite unclear hence my motivation to whip up this article. Be prepared to replace your batteries after a while; if you've used powerful messages before, you may not be so impressed by the vibrations on this toy.
LELO Tiani 3: My Experience
The first thing to do after unboxing and unpacking is charge and place the batteries into the remote control. My partner and I got started with the foreplay. He smothered some onto his cock while I spread it around my vagina and labia with my fingers. We spent a good time just fondling and caressing for a while before penetration.
My partner related how tight the Tiani 3 made my vagina. He enjoyed the vibrations a whole lot too and came quicker than usual. Personally, clitoral vibrators do it for me but I was impressed by the two-way pleasure the Tiani 3 offers.
This massager is easy to navigate for both tech and non-tech lovers. But it did take a while to find positions we were comfortable with despite familiarizing ourselves with the controls. The Tiani 3 was easy to insert but my partner worried about hurting me due to my tight vagina.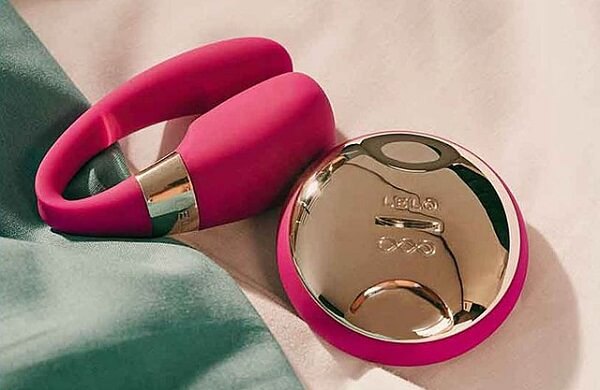 As we started with the vibrations, I discovered the stronger vibrations overwhelmed me and stuck to vibrations with lower intensity. The thrill was explosive and fulfilling. My high point was when we used the Tiani 3 while in missionary. On the other hand, my partner had a field day as we switched the doggy position. He didn't last as long as he hoped. The Tiani 3 was that good!
LELO Tiani 3: Specifications
This is a quiet toy. You can wear it in private and in public without bothering anyone. How did the company succeed in doing this? It's simple. Because the vibrations are absorbed by your vagina, all the noise it would ordinarily have made becomes toned down. The LELO Tiani 3 has a maximum noise level of <50db.
On the other hand, the remote control has a similar intensity of vibrations as the massager itself. So, I must warn you; it can be a turn-off.
The LELO Tiani 3 might not be the strongest hands-free vibrator on the market but its vibrations pack enough punch to bring you to a satisfying orgasm without overwhelming you.
As I hinted before, this remote-controlled vibrator is made from body-safe, non-toxic silicone. Be sure not to use oil or silicone-based lubes to avoid damaging its coating. Only water-based lubes work best.
The vibrator's bulbous inner part is connected by a metallic band while the clitoral arm is created from quality ABS plastic. For the remote control, the area at the front is also made from this ABS plastic and is safe for your body.
On the Tiani 3, the exact dimensions are 3.31 in X 1.65 in X 1.10 in with an insertable length of 3.07 in. The design is elegant, clean, and very attractive. This wearable massager is available in deep rose, black, and cerise. The front area for the remote and metallic band comes in a sexy gold color.
Tiani 3 luxury sex toy for couples has an immaculate design, super sexy and elegant. It is available in black, cerise, and deep rose color (this refers to silicone). The metallic band and the front of the remote are both gold in color.
You get three push buttons on your Tiani 3. Two of these buttons are for turning the tempo up or down while the center button will switch through all vibration settings.
I could use the Tiani 3 in the tub, jacuzzi, and shower due to its waterproof quality. All. I had to do was to secure the bulbous attachment. For cleansing, I only needed some water and mild soap. But be careful not to get water in the DC socket or clean with products which have petrol or alcohol. Fasten it shut and you can use it without getting it damaged. It's pretty simple.
Pros
Responsive buttons and easy controls
Waterproof
Reliable connection
Wonderful shape and texture
Quick vibrator response to commands
Impressive packaging
100% silicone
Cons
Unchargeable remote
Weak vibrations
Vague user guide
No app
Incompatible with long-distance play
Final Verdict
Controls (5 out of 5 stars)
Noise (4.0 out of 5 stars)
Power (4 out of 5 stars)
Material (5 out of 5 stars)
Price (4.5 out of 5 stars)
Experience (5 out of 5 stars)
Size &/Design (5 out of 5 stars)
Average (4.6 out of 5 stars)
Conclusion
Now that you know everything there is to know about the Lelo Tiani 3, the question is, is this toy worth the buy? My answer is yes! This is a remote-controlled, wearable vibrator that comes with enough brilliant features to justify its high-end price.
But functionality is not the only thing the LELO Tiani 3 is about. This massager by LELO has luxurious, elegant packaging that fully complements the superb experience it gives when you get started with it. You don't get a lot of sex toys that have high praise from both men and women but this massager by LELO ticks off this checkbox very easily.
Finally, in terms of vibration strength, I'll say the Tiani 3 does a pretty good job though the intensity is not as strong as some toys out there. But I can assure you, you'll still get fulfilling orgasms with each use, especially when you go hands-on.
Add the Tiani 3 by LELO to your sex game and join the list of couples with exciting comments about this toy. I've used a lot of vibrators and massagers in the past and I can tell you, the Tiani 3 is one of the good ones.