On October 20, 2022, ZALO brand officially announced that its Legend series officially added a new product in the early winter of 2022:
NAVE-Vibrating Nipple Clamps
a brand new wireless, snap-free breast clip product, which is mainly used to enhance the interest of sexual life.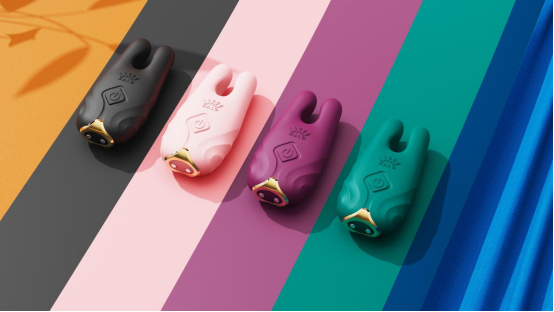 ZALO, as a luxury brand specially designed for women, has developed a number of interesting products that are popular with female friends all over the world.
Since its establishment, ZALO brand has launched more than 20 products.
Distinguish from the appearance and style:
There are Queen, King and Bess in LEGEND series, FANFAN, Rosalie and Marie in VERSAILLES series, MOMOKO, Ichigo and Heart in LOLITA series. There are also exquisite and sweet Courage, Desire, Unicorn and so on in SWEET MAGIC series.
In terms of functionality:
It has the simulated telescopic function of King and Desire, the soft sucking function of Unicorn, and the powerful vibration function of Bess and Kyro. With its exquisite appearance and changeable and powerful functionality, ZALO brand has made up for the shortage of female sex toys in China's domestic market, opened up various possibilities of unlocking sexual pleasure for countless female friends, won the favor of consumers, and won several awards at home and abroad.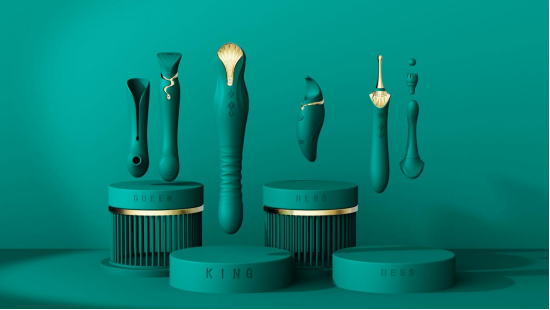 NAVE, as the new product of ZALO brand in the early winter of 2022, is included in the Legend series.
Legend series is a very classic series in the four series of ZALO brand. The whole series is inspired by the ancient and mysterious Egyptian culture, including "Cleopatra", "Golden Mask", "Eagle God" and "Cat God". All kinds of ancient Egyptian elements are applied to the details of the shape design and color matching of the whole series of products, which makes the whole series rich in style and exudes exotic charm.
After a long period of market research, ZALO brand found that a single product can bring limited pleasure. So since 2019, ZALO brand has created a research and development plan called complementary products, which, as its name implies, is a product research and development plan that can be matched and played with each other. At present, the plan has successfully launched two AYA/BAYEK products with the functions of outdoor type and two-person sharing type.
NAVE, a new addition to the Complementary Product Program and included in the Legend Collection, is a wireless, snap-less, high frequency breast clip designed to stimulate the breast head. Compact rabbit-ear shape design, tight and loose round card slot perfectly fits the breast head, which can continuously and stably bring 180 ° omni-directional crisp and hemp feeling to users. With no buckle design, NAVE can be firmly fixed on the nipple head with a single press, so that users can boldly unlock countless interesting sex games. In terms of performance, NAVE adopts the original Easy Clamp technology, which is integrated with the design of "one head and one motor". Each Chuck is equipped with a dedicated powerful motor, so that the frequency of a single motor can reach 13000rpm/min, and then through ZALO's unique conduction technology, the shock is wrapped around the nipple like a 3D surround. Bring an unprecedented experience of crisp hemp.
NAVE not only has strong functionality, but also looks like the tone of ZALO brand. The overall image of the product continues the style of Legend series, elegant and cool. The product body is look like a lovely rabbit ear, the side is a smooth hierarchical line design, referring to the proportion of human body structure and the consideration of various micro-angle sizes, it is specially changed to a "tight up and loose down" design, so that it can easily fix the nipple head in the "card slot", and it is also equipped with two pairs of "sleeves" to tighten. The possibility of falling due to shaking or walking when playing is greatly reduced; With the keys marked with embossed patterns, the brand LOGO and the ABS plating sheet at the bottom, the exotic elements and products of ancient Egypt are perfectly collided and integrated.
The magnetic device used in the charging mode is not only simpler and more straightforward in operation, but also provides favorable support in waterproof performance. IP X6 waterproof level, so that it can be directly placed in water to wash or play in the water; Quiet design ≤ 40 decibels, with 120 mAh lithium polymer battery, about 45 minutes of battery life, so that every one-time can be fully released; Moreover, the product itself presets 8 vibration modes, from weak to strong, and users can switch according to their own needs. In addition to the single-button control of the product itself, it also adds intelligent APP control settings (remote), even if thousands of miles apart, It is fun to enjoyed at the same frequency.