Satisfyer is a sex toy company based in the United States that distributes several sorts of love toys throughout the world. This company provides different unique vibrators and other sex toy that have good popularity around the world. This company has expanded its operations, and now anyone may purchase products through the Satisfyer US internet platform. This post will serve as a comprehensive resource for finding the greatest sex toy available in the United States. The real-life experience of Satisfyer US is detailed here, as well as the best-quality items that are recommended. If you require any assistance with Satisfyer, please contact us.
How do you clean your Satisfyer Products:
This product is made of skin-friendly silicone, which is also exceedingly simple to clean. Use lukewarm water and a small amount of soap to clean the toy. Finish with a couple of sprays of disinfecting toy cleaner to ensure that everything is completely clean.
Charging:
There is a USB charging base included with this toy, and it can be charged in around 2.5 hours. Using your device for up to two hours is possible on a single charge of the battery. So there's no need to be concerned about charges.
Top Satisfyer Products Ever
Satisfyer Men Heat Vibration
Satisfyer Men Heat Vibration mixes an exciting heating function with stimulating, deep vibrations for maximum penis tip stimulation and a truly authentic enjoyment experience. This sex toy is ideal for increasing arousal and preparation for hot foreplay. This vibrating masturbator for the modern guy has a new heat element that makes your alone time astonishingly realistic. Enjoy the comfortable warmth of this silky love tunnel while being pushed to explosive climaxes at temperatures of up to 40 degrees. The combination of the fascinating heating feature and the stimulating, forceful vibrations delivers amazing stimulation for your glans.
Satisfyer Men Heat Vibration combines a manly look with simple, straightforward operation; you can manage it easily with one hand, even when things get a little wild, by using the on/off and +/-buttons.
Features of Satisfyer Men Heat Vibration: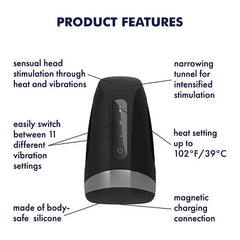 The combination of the sensuous warming function and the vibrations results in a strong stimulation experience.
This product is made of super-soft, body-friendly, medical-grade silicone that is smooth to the touch and extremely hygienic to use.
It is finished with an IPX7 water-resistant coating. This toy can be used in the water without risk of injury and is simple to clean.
Pros of Satisfyer Men Heat Vibration:
Vibration and heat are used to stimulate the sensual glans.
Warming function that is completely new to the market!
Silicone that is gentle on the skin and does not cause irritation.
Cleaning is simple.
Batteries made of lithium.
This cable is used to charge a USB device using magnets.
A total of about eleven different vibrating patterns.
Cons
of Satisfyer Men Heat Vibration

:
The tiny toy is insufficient to fill your all demand.
It is difficult to charge in some cases.
It is noisy in using time.
Satisfyer Sexy Secret
The Sexy Secret may be placed secretly in your pants thanks to the useful magnet, which allows it to stimulate the clitoris with its ergonomic design and potent sensations while remaining hidden. The addition of body-friendly silicone and the ability to manage the gadget using the Connect App finish out this sexual health device. The Sexy Secret Connect App from Satisfyer gives exquisite pleasure on the go: simply attach the panty vibrator to your pants with the included magnet and you'll be able to stimulate yourself with intense whisper-quiet vibrations while going about your business. Because of its ergonomic design, it conforms exactly to your body curves, lying right on the clitoris and providing you with extremely strong stimulation as a result of this. The surface, which is made of body-friendly silicone, is exceptionally soft, allowing you to have smooth fun with only a few drops of lubricant. The surface is made of silicone, which is non-toxic.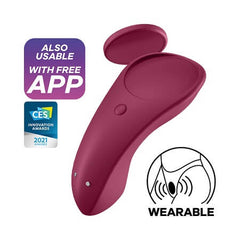 Features of Satisfyer Sexy Secret
Compatible with the free Satisfyer Connect App, this is available for download on both iOS and Android devices.
The toy's strong motor generates intense vibration rhythms that are transmitted throughout the entire toy.
Made of high-quality, super-soft silicone that transfers intense vibrations in a highly efficient manner.
Pros Satisfyer Sexy Secret Connect App
Deep vibrations that are quite powerful
It can also be used without the usage of an app.
It has Lithium-ion rechargeable battery
Cons of Satisfyer Sexy Secret Connect App
1) Disconnecting from the phone is possible. As a result, it is recommended that you take extra precautions with your device while using it.
2) Because of its unique design, you will need to urge your friends or partners to download the Satisfyer Connect app to get the most pleasure.
Satisfyer Pro 2
In the Satisfyer product line, this is one of the more reputable names in the business. This item, which has a one-of-a-kind design, is intended to boost your sexual enjoyment. It is possible to make the charging mechanism more delightful, and it is waterproof. A power button and a vibration mode control button are located on the rear of the device. The button must be pressed down firmly.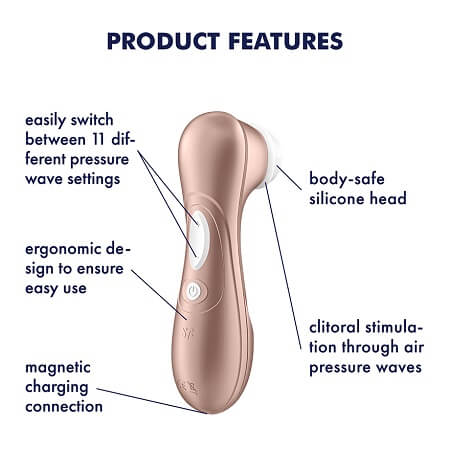 Features of Satisfyer Pro 2
A set of the original Satisfyer devices and USB for charging.
If you bring the top portion of the Satisfyer and the charging terminal portion together, it will cling together like a magnet.
It is charged by attaching it to something, much like a magnet.
A tragedy that cannot be charged by attaching the USB cable to the Satisfyer Pro 2 as a magnet may occur if the dedicated USB cable for the device is lost.
The dedicated USB cord should be kept in a secure location.
An inhaler for sebum, for example, has a look that is identical to the appearance of the product.
It is a design that makes it impossible for a womanizer or someone who is unfamiliar with Satisfyer to mistakenly believe that it is an adult product to purchase.
Pros of Satisfyer Pro 2
However, even if it doesn't look like an adult product, you may be wondering what it is used for.
It is recommended to store it in a well-hidden place such as a drawer. If possible, in a place like a dresser drawer.
We recommend waiting for an excuse as a massage machine that pats you before you go to sleep and makes you eat well the next day.
Even though this little machine is a lot cheaper than the Womanizer
It is made of silicone that is safe for the human body and has a waterproof design so that you can wash it off with water without burden.
Considering that the vibration mode is designed up to 11 levels, it is not a high price.
Cons of Satisfyer Pro 2
Need special attention on charging.
 Check the Satisfyer Pro 2 Price
Satisfyer Love Triangle Connect App
As a handy clit vibrator, the Satisfyer Love Triangle has a sophisticated design. It gently wraps itself around your clitoris with its soft head and catapults you to climaxes like you've never experienced before with its sensual combination of pressure waves and vibrations. Given the fact that this little gem is waterproof (IPX7), you have complete freedom to choose where and how you want to have fun. It can even be used in or out of the water. Cleansing the delicate silicone is simple, since it is highly slippery and may be accomplished with lukewarm water, soap, or a sexual health gadget cleaner.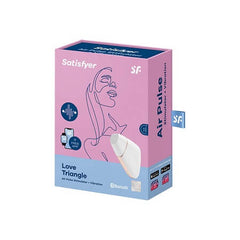 Features of Satisfyer Love Triangle:
Lithium-ion battery and a USB magnetic charging cable are included with the device.
It is user-friendly, and anyone may connect their device, whether it is an Android or an iOS device.
Furthermore, you may connect this device to your smartphone, tablet, Apple Watch, or Bluetooth device for additional functionality.
The ability to receive enjoyable vibrations and to share them with other people.
You may use Spotify in conjunction with Satisfyer Love Triangle to enhance your sexual experience by playing music or setting a romantic tone.
Pros of Satisfyer Love Triangle:
It is a sex toy that operates by remote control.
The app is GDPR-compliant and complies with all applicable German and European data protection laws and guidelines.
Two super-strong Power Motors App provides an almost limitless number of routines.
It can also be used without the usage of an application.
Silicone compounds that is gentle on the skin.
Cons of Satisfyer Love Triangle:
Due to technical issues, you need to first train to use this device.
Sound issues can be noisy in some cases.
Satisfyer Traveler
Satisfyer Traveler, which is both stylish and portable, contains Satisfyer's patented Air-Pulse Technology, which will make you weak at the knees. This delicate gem has a magnetic cap and is perfect for "grab and go" occasions or covert rendezvous. Like it's bigger siblings, the Satisfyer Pro 2 and Satisfyer Penguin, this pressure wave vibrator will offer you amazing orgasms – but in a portable shape for on-the-go use. The Satisfyer Traveler fits effortlessly in your carry-on luggage, whether you're on a business trip or a holiday, and the sophisticated appearance allows you to remain inconspicuous. The stunning technology inside was not compromised, making the Satisfyer Traveler a real sexual lifestyle product. As a result, you may be confident in your sexual well-being no matter where you are in the globe.
This handy pressure wave vibrator has 11 programs to get your blood pounding. You can even have throbbing orgasms in your hotel bathtub because of the waterproof construction. The built-in rechargeable batteries can be charged using a magnetic USB cable. You'll always be able to go on your next excursion this way.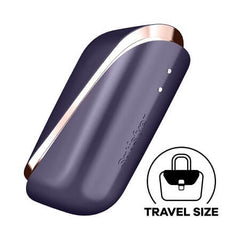 Features of Satisfyer Traveler:
Due to its small size, it is an ideal travel companion.
Intense pressure waves stimulate the clitoris without causing direct contact.
Made of super-soft, body-friendly, medical-grade silicone that's smooth to the touch and extremely sanitary.
Pros of Satisfyer Traveler
Clitoral stimulation is achieved by the use of intense vibrations.
Mode of communication is whispered.
Perfect for traveling because it fits in any handbag.
Cons of Satisfyer Traveler
Long-term experience is not permitted.
The item is of a little size. If you want large sizes or other options, you should double-check first.
Satisfyer Pro Deluxe:
The elegant Satisfyer Pro Deluxe from the brand Satisfyer not only has a seductive design and intuitive operation, but it also boasts revolutionary Air-Pulse Technology, which truly spoils the ladies with contactless clitoral stimulation. It fits snugly in your hand, allowing you to enjoy endless bliss at your fingertips. The Satisfyer Deluxe is available in a beautiful and sophisticated rose gold finish. As well as being quite effective, this clit-sucker is aesthetically pleasing as well. It delicately surrounds your pearl with its soft silicone attachment, thrilling you with magnificent, contactless pressure waves that will bring shivers of excitement down your spine. A soft, body-friendly silicone is used to create the Satisfyer Deluxe, which feels smooth and comfortable on your skin. This pressure wave vibrator allows you to select from 11 distinct intensity levels, allowing you to enjoy yourself with every degree from calm to stormy, depending on your mood. You may use the Satisfyer Deluxe in the shower or bathtub because it is waterproof (IPX7) and can be used in the bed as well. Because of the whisper-quiet motor, you may enjoy the vibrator without being disturbed or being overheard. The internal battery may be easily recharged using the magnetic USB charging wire that comes with the device. After using the clit vibrator, clean it with soap and water, as well as our Satisfyer sexual wellness device cleaning, to ensure it is completely clean.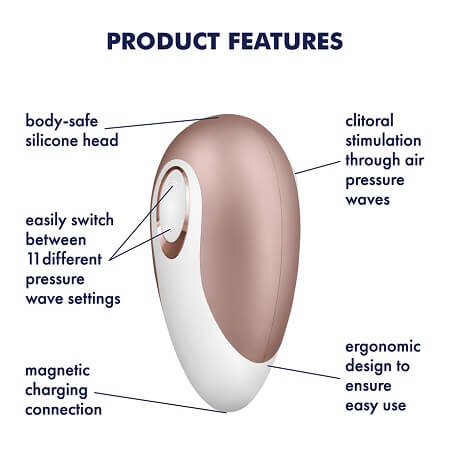 Features of Satisfyer Pro Deluxe
It stimulates the clitoris by delivering powerful pressure waves without making direct touch with the skin.
This product is made of super-soft, body-friendly, medical-grade silicone that is smooth to the touch and extremely hygienic to use.
Pros of Satisfyer Pro Deluxe
11 pressure wave intensities
Waterproof device
It has a charging system.
Cons of Satisfyer Pro Deluxe:
Know the controlling system properly.
Charging capabilities issues occurred in some cases.
To summarize, here is our product list, followed by our top recommendations: When purchasing any type of vibrator, we recommend that you visit the Satisfyer website or www.honeysx.com for additional information. Information and guidelines are provided in this section. First and foremost, you must become familiar with the technical aspects of Satisfyer vibrators before you can utilize these devices effectively. Please contact us if you have any questions and we will provide you with experienced advice.
The following blog Complete Guide To Use We-Vibe: Top We-Vibe Products List