Tenga is a global sex toy brand that provides vast products to users. Tenga products are the sophisticated design and detailed product lineup that elevates the quality of adult products to the next level. They are attractive enough to appeal to both beginners and advanced users.
Compared to other brands' products using AV models or cartoon characters, the visual stimulus is weak. Still, there is very little concern about being viewed as decadent, so it is a positive psychological factor that you can enjoy pleasure healthily and cheerfully. This article will support you to choice best Tenga products especially best vibrators.
Top Tenga Products Ever
Tenga Egg
Tenga eggs are built in the shape of an egg, which allows users to be held comfortably with one hand, as the name suggests. After popping the top of the plastic container, you'll find a soft silicone egg body inside, together with a brief instruction manual and a small bag of sample lotion tucked into the bottom of the hole. However, rather than experiencing a significant shift as a result of the pattern difference, it is more of a subjective sensation of whether the friction is a little softer or less soft.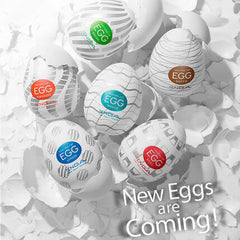 How to use Tenga Egg
1) Cover the penis with the sample lotion after squeezing it in.
2) Silicone is soft and flexible, so you can work with it in most circumstances.
3) Gripping requires grip strength and hand movement control, as it follows a similar mechanism to hitting your hands.
Stimulation of Tenga Egg
1) Tenga Egg's silicone body wraps around the penis.
2) It is not as exciting as other products, but the activity and climax are enjoyable.
3) The inner pattern brushes on the penis and stimulates it.
4) The construction built with only a small amount of silicone demands strength and effort, just like manual work, but the thick and soft feel is not ominous.
5) Preparation is required in advance due to the product group's size and simplicity, hence the final score was low.
Pros and Cons of Tenga Egg
1)    Tenga eggs are little and cute, making them easy to store and carry.
2)    Its compact size makes it easy to use and store.
3)    A challenge with small work has enough worth to try the task with.
4)    It is a good item for every users.
5)    The variety pack comprises six eggs, like an egg carton, and is intended for individuals who want to experience the device for the first time.
Tenga Original Vaccum Cup
Unlike any other vacuum cup on the market, the Tenga Original Vacuum Cup has an impressively unique curving design that can be seen as a symbol of Tenga and as if it were a gigantic painting. It is constructed entirely in one piece, with no additional components. To use it, simply peel off the outer vinyl at the bottom and open the cover to reveal the insertion hole, which has already been pre-applied, making it extremely straightforward to use. Both the outside and inner walls are constructed of plastic, with the interior wall being silicone.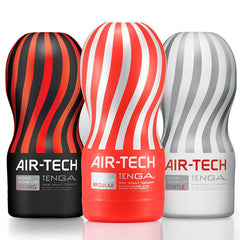 How to use Tenga Original Vacuum Cup
1)    Hold the body and perform the piston exercise after inserting the penis.
2)    Adjust the internal vacuum by repeatedly pressing and releasing your finger on the vacuum hole protected by a sticker on the top.
3)    Familiarize yourself with the vacuum hole opening/closing fingering control.
Stimulation of Tenga Original Vaccum Cup
1)    The Tenga Original Vacuum Cup allows for easy insertion and piston stimulation.
2)    The insertion hole is small, but there is a structure that stimulates the penis with a delicate embossing pattern.
3)    The warmth of the hand is properly communicated to the penis, and the grasp is pleasant, so the pleasure develops with labor.
4)    The overall enjoyment graph has a higher pitch than eggs.
5)    It is post-process able from insertion to frictional stimulation.
6)    Due to the big volume, it can be inconvenient to dispose of this sex toy carefully.
Pros and Cons of Tenga Original Birch Cup
1)    Simple lineup model with superb insertion and frictional delight.
2)    Tenga's distinctive body shape and volume make it stand out from the crowd, therefore storage must be handled with care.
3)    This product is designed for novices who don't do much or seek a different form of enjoyment because they are tired of routine physical finess.
4)    Don't worry about water. It is 100% waterproof and easy to clean and store.
Tenga Vaccum Controller  
When used in conjunction with the TENGA original vacuum cup, the TENGA Vacuum Controller is referred to as a "extra module." It is a sex toy that allows the user to simply manage the vacuum within the cup's interior. As for the controller itself, it is composed of a vacuum control unit and a cup adapter, the latter of which comprises both a standard size adapter and a US size adapter, allowing it to be used by everyone from common symbols to object owners. The adapter is compatible with the vast majority of Tenga Cup series models.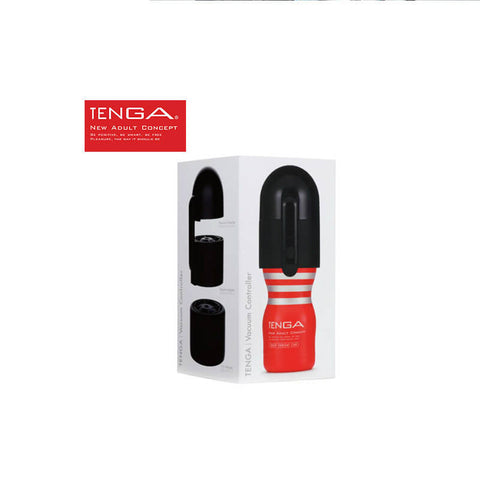 How to use Tenga Vaccum Controller
1)    Insert 4 AAA batteries into the controller and screw it in place after attaching the adaptor to the vacuum cup.
2)    Place your penis in the cup and vacuum.
3)    The top switch activates the vacuum and increases the suction power; the lower switch deactivates the vacuum and is paired with the higher button.
4)    First time users must get acclimated to switching control.
5)    Due to the nature of the product, operating noise is generated and can be noisy.
Stimulation of Tenga Vaccum Controller
1)    Because it is a separate module, the frictional pleasure varies greatly depending on the vacuum cup utilized.
2)    The suction power of the motor-based switch-type vacuum control is considerable and relatively easy to use.
3)    It provides a sense of contentment when used regularly, the sage's sense of emptiness is minimal.
Pros and Cons of Tenga Vaccum Controller
1)    Tenga vacuum controller is a suction power expansion pack concept product.
2)    It was made of medical grade silicone.
3)    Beginners must first understand how to use this great gadget.
Unique spring-shaped spiral pieces are inserted within the silicone, and the inner wall is full of ornate protrusions. It comes with a case, a mounting stand, a silicone body, a short handbook, and a sample lotion bag. The interior protrusion design varies depending from the type, resulting in a variation in friction enjoyment.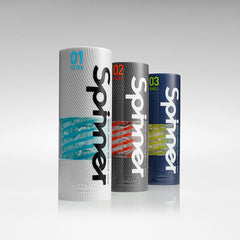 How to use Tenga Spinner
1)    After lotioning, insert the penis to work the piston.
2)    With the upper half of the silicone held lightly reciprocated, the spiral components spontaneously resolve and offer a new sort of friction stimuli to the entire penis.
3)    The sex toy can be washed and reused approximately 50 times.
4)    The spiral pieces inside make it impossible to fully turn and wash, but they may be dried neatly by placing them in a case.
5)    The spiral portions may become loose with repeated use, however they can be reshaped by physically grasping the body.
Stimulation of Tenga Spinner
1)    The first pleasure is powerful, and the graph's overall pitch is high.
2)    It is possible to end a large event earlier than normal due to a much more exciting physical pleasure than you imagine.
3)    Because the silicone body must be grasped and handled by hand throughout the procedure, some people may find the silicone's characteristic soft and slippery feel repulsive.
4)    A feeling of humiliation can quickly extend to the body when time is delayed due to poor cleaning, therefore a low score in the sax time component.
Pros and Cons of Tenga Spinner
1)    A product that adds rotating force to the piston's frictional stimulation.
2)    A sleek design and a decent volume make storage easier on the mind.
3)    Product that strongly feels the words of a corporate employee who says it cannot be sold due to lack of availability.
4)    Incredibly durable, it may be washed and reused up to 50 times.
5)    A great tool for beginners to pros, however cleaning is not flawless.
Tenga Flip Zero Black   
Innovating with a flip-type construction, Tenga Flip Zero Black is a product that deftly defies the notion of an integrated device while maintaining its functionality. Improving the part that was regrettable in the early model, where the insert was in the shape of a joint, the integrated insert was given a flip-type body design in order to bring it closer to perfection, which was a first in the industry.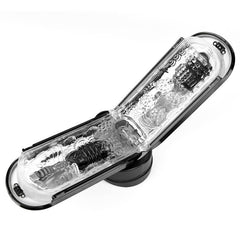 The interior protrusions are manufactured in a variety of shapes based on their location in great detail, and they are constructed of the best grade material available in the Tenga lineup, which has both high elasticity and softness at the same time and is extremely durable. The volume and weight of this product are significant when compared to other items.
How to use Tenga Flip Zero Black
1)    After applying the lotion to the inside of the penis, make sure that the wings are securely fastened so that the branches do not stretch out and insert the penis to allow the piston action to be performed.
2)    By pushing the huge pressing pad visible on the front and back sides, you can easily generate a vacuum inside the device, which increases the suction force and friction stimulation by a factor of two or three.
3)    When the wings have been thoroughly cleaned, they can be placed in a case, as seen in the photo, to dry hygienically after they have been well cleaned.
4)    It can be reused approximately 50 times or more.     
Stimulation of Tenga Flip Zero Black
1)    The graph has the highest pitch among the five types of instruments tested when the insertion, primary exercise, and post-processing are combined.
2)    Unlike the spinner's rotational stimulation, you may feel the depth of the frictional stimulation according to the protrusion details.
3)    It has a unique design and the force of the mechanism, you can feel engaged in the huge business, but you are worried about the risk of masturbation addiction.     
Pros and Cons of Tenga Flip Zero Black
1)    For its expensive pricing, Tenga Flip Zero Black features an interior protrusion and flip-type construction built in detail, delivering a high overall satisfaction to the task.
2)    However, due to their big size and heavyweight, gripping and piston movement may be problematic.
3)    It has a strong psychological barrier, yet it is advised for maximum frictional stimulation and eventual entry.
Suggestions for Tenga Products
1)    It is advisable to produce enough cream separately because the sample lotion may be insufficient.
2)    A commercial body lotion or massage gel 'Astroglide' with sufficient moisture is also advised.
3)    Consult with experts and follow packaging guidelines.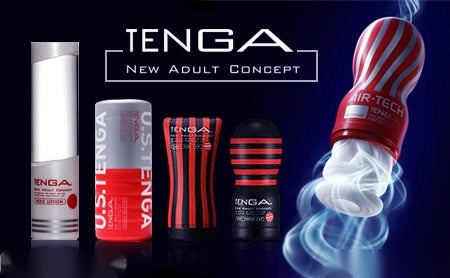 So that's all. Hope you will get lots of knowledge and information about Tenga products and also understand how to use Tenga products. We recommended you that you can check honeysx.com to learn more interesting sex toys. We also recommend you that after using these products, don't hesitate to clean. These products are waterproof in most cases.
The following blog The Most Sentimental Tenga Series Of Masturbation Cup