Strapless Strap-on Dildos are one of the most confusing couple sex toys out there. Because at first glance, no one can understand how you are supposed to use this. Strapless Strap-on is a most intimidating kind of dildo designed especially at first for lesbians. Yes, you heard it right. Strapless strap-ons were made to use by lesbians so that they can enjoy the penetrative pleasures. But it doesn't mean its usage is limited to providing intimate sexual moments between two women, heterosexual partners can also enjoy the pleasure these can provide. Here, in this article, we have compiled the information regarding buying and using of perfect strapless Dildo for you.
So, without any further ado let's get started:
What is a Strapless Dildo?
Strap-less Strap-on Dildos are often confused with strap-on straps. The word "strap-on" means it will be strapped to your body while the word strapless means it will be without any support to strap to your body. Still, confusing? More simply, the strapless strap-on dildos are without and harness and waistbands which are often used to tie around the human waist.
These strapless strap-ons have two sides (like double dildos). One side is a ball or oval-shaped bulb which is meant to insert in the vagina of the wearer and will be held there with the strength of the wearer's pelvic muscles. While the other end is a full-length shaft life structure that the wearer will use to penetrate her partner. Strapless Strap-on is designed for women to wear and this is another way of role reversal in heterosexual partners to enjoy new positions and ways to enjoy sexual pleasures.
Strap-less Dildos have shown lesbians a way to fulfill their fetishes of simultaneous penetrative stimulation. And this is also the best way for a woman to satisfy their fantasies of pegging their male partner with fake penises. Like we said the strapless Strap-on looks like a double-sided dildo with two penetrative heads but instead of the I-shape of double-sided dildos these are L-shaped dildos, as you can see in the picture below: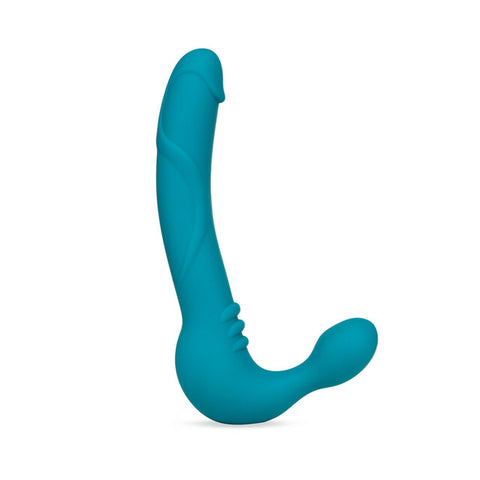 Different Types of Strapless Dildos
Like any dildo type, the Strapless Dildos also have its sub-types; Vibrating Strapless Dildos and Non-vibrating Strapless Dildos.
Non-vibrating Strapless Dildos are the most commonly available and used by couples as well as recommended for beginners. So, all those first-timers, looking for a strapless Strap-on Dildo, go for the non-vibrating ones. Non-vibrating Strapless Strap-on dildos have just two sides; one bulbous structure meant to hold by pelvic muscles of the wearer and the shaft side which the wearer can insert in her partner.
While in the vibrating strapless dildos there is a small bullet vibrator attached at the junction point. This bullet vibrator can be used separately for stimulatory purposes and with the strapless dildo itself so that both partners can feel the vibratory pulses and stimulate themselves simultaneously.
The bullet vibrator is not the only type. Some strapless dildos come with another kind of vibratory feature. Like some have in-build vibrators and their pulses and patterns can be controlled via remote.
How Does Strapless Dildo Work?
Strapless Dildo is difficult to use by beginners and especially for those with weak pelvic muscles which are also known as Kegel and Vaginal Muscles. So, the first thing you have to do is strengthen your Kegel Muscles which you would need to hold the shorter bulb end of the strapless dildo. Otherwise, it will fall out and you won't be able to feel the pleasure.
The best thing about the Strapless Dildos is that the wearer can penetrate her partner both vaginally and anally so it's a win-win in both situations. Strapless Strap on Dildos have the same purpose as any other dildo; to provide pleasure and intimate sexual moments between partners.
As we already mentioned, the Strapless Strap-on has two sides. One side, the bulbous one, is for the wearer or more specifically for women. The wearer will insert the bulbous head inside her vagina in such a way that the shaft end will protrude out mimicking the erect human penis. The wearer has to hold the bulbous head by her pelvic muscles.
Then the wearer can indulge in sexual intercourse with her partner in any way they want. The few things which you should keep in mind before trying out your first strapless strap on dildo are:
1.
Make sure your Kegel/Pelvic Muscles are Strong
If you do not have a strong pelvic floor. Start doing Kegel exercises using Kegel balls. In these exercises, you have to insert the Kegel balls inside your vagina and have to hold them there for a few seconds, and then loosen your muscles. It is recommended to do the Kegel exercises for 15 minutes daily. It will strengthen your pelvic floor muscles and you will be able to hold the bulbous head of the strapless dildo more strongly and in return will be rewarded with more intense orgasms along with your partner.
2.
Lube Up As Much As You Can
The second most important thing in the case of Strapless Dildos is the use of lube. As the wearer has to insert the head first using the stimulating lubes can provide intense stimulation to the wearer. So, apply a generous amount of lube before inserting the head inside. Apply the generous amount on the shaft head as well to make the inserting process smoother and more realistic.
So, following the above-mentioned steps, you can spice things up with your partner and introduce the pleasurable role reversal into your relationship.
How to Choose your first Strapless Dildo?
Choosing Strapless Dildos is difficult than other regular dildos. Why? Because you don't know which size will fit the well. Size is the main issue in strapless strap-ons and often the buyers get the wrong size because of a lack of information. And the wrong size can either be too small to fit into the vagina or too big to go inside. So, for beginners, here are a few strapless dildos buying guidelines: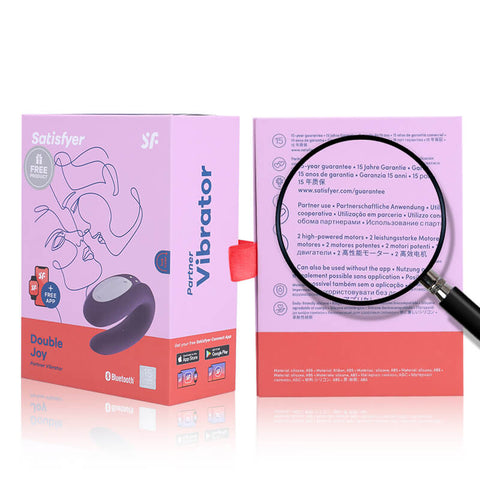 1.
Size
Large-sized Strapless Dildos might seem intimidating and more pleasure promising. But for beginners, it is recommended to always go for the smaller-sized strapless dildos. Because at the start, it might get difficult for you to hold into the large strapless strap-on properly and for a long time.
Homosexual partners can start with shorter strapless dildos and then upgrade to a larger size when your pelvic floor is strong enough to hold onto a larger size for a long time. Here, short means the shaft size should be short so that you can carry it properly. The bigger bulbous head is good as it can stay inside and there will be no fear of it falling out.
For heterosexual couples, it is recommended to go for shorter shaft strapless strap-on dildos. Because you will be penetrating your male partner and the medium-looking shaft will be enough to hit the prostate or G-spot of men which is not so deep inside as the G-spot of females is.
2.
Shape
The shape of Strapless dildos is the same in every brand. The shaft end is of phallus shape and the bulbous head somewhat varies both in size and shape. You can easily find realistic-looking strapless dildos which mimic the real human flesh both in color and texture. Others are opposite of realistic and come in the category of unrealistic dildos with their non-phallus shape.
3.
Material
Silicone, ABS Plastic, high-quality PVC-made strapless dildos are available in the market. Silicone ones are highly recommended and are preferred by people more because the material resembles a real penis's flexibility and bendability. So, for beginners, we recommend going with the Silicone-based strapless dildos as they are affordable, easy to clean, and give real pleasure as well.
4.
Brand
Love Rider Strapless Strap-on Dildo is the perfect strapless dido with its curved tip to hit the G-spot perfectly to give you an intense and erotic climax. Tantus Feeldoe Stout Vibrating 7-inch Double Dildo is another Strapless Strap-on dildo that can be used by beginners.
For a more realistic vibe, you can use Tantus Realdoe Wireless Strap on 7 Inch Double Dildo Vibrator. It comes with a bullet vibrator for more stimulation. For more fun and control pleasure try the Fantasy For Her Ultimate Vibrating Remote Control Silicone Strapless Strap-on.
Advantages and Disadvantages of Strapless Dildo
| | |
| --- | --- |
| Advantages of Strapless Dildo | Disadvantages of Strapless Dildo |
| Strapless dildos don't require hand coordination and you can enjoy handsfree pleasure with your partner and can use your hands for other stimulatory purposes. | No variation in sizes and it might get a little difficult for you to find your perfect size. |
| No mess of straps, harnesses, and buckles to worry about. | Your pelvic floor muscles can get some time to get used to the use of Strapless Strap-on dildos. So, you might be unable to get pleasure at the start. |
| G-spot and prostate stimulation are ensured with strapless Dildos. | Some people find them heavy to use, so it is not easy to use for everyone. |
| More skin-to-skin contacts between partners provide more intimate sexual moments. |   |
Best Positions for Strapless Dildo
Now you know in detail about Strapless Dildos. Strapless Strap-on dildos are best for both grinding and thrusting purposes so you are free to move as much as you want. So, let's talk about some best positions to try the strapless dildos to experience more pleasure.
Missionary Position
The most classical way to use the strapless dildo with your homosexual partner is the missionary position. As face to face and skin-to-skin contact feel more erotic and arousing during sexual intercourse. The wearer can penetrate her partner vaginally and can stimulate the G-spot of her partner.
Doggy Style
This is for both heterosexual and homosexual partners. And both men and women enjoy this position more than the missionary style. The doggy style gives more control and confidence to the wearer and it gets more intimidating for the receiver to enjoy the thrusting from behind.
Doggy Style and missionary can get difficult for beginners so try the one mentioned below.
Cowgirl Position
It will be easy and comfortable for beginners to try. In this, the wearer will lie down on her back and the receiver will climb on the shaft head. The riding will give more pleasure to the receiver as she can go at her own pace.
Spooning
Spooning is not just for cuddle lovers. This position is best for more intimate sexual intercourse between partners. In this, the receiver will lay on her side with her knees bending towards her chest. Then the wearer can anally penetrate the receiver from behind.
You are open to trying various sex positions till you found the one most pleasurable of all. Just make sure the penetration is not painful for the receiver and communication is the only to do so. So, keep communicating with your partner during the use of Strapless-Dildo.
Commonly Asked Questions
What are the best Strapless Strap-on Dildos?
It depends on your physiology and interests. Every brand has its own pros and cons. The bigger name in the market nowadays is Tantus and Fun Factory. You can find the best strapless dildos from here. They have large varieties in size, shape, and price are also affordable.
Is Strapless Strap on just for lesbians?
No, it can be used by heterosexual couples too. With females in the lead and males at the receiver side, this intimate role reversal can make things more aroused and steamier between the two.
Can we perform anal sex with Strapless Strap-on?
Yes, the Strapless Strap-on dildo can be used for both vaginal and anal penetration. In fact, in the case of strapless dildos, users prefer anal penetration more than vaginal intercourse as the thrusting from behind feels wilder and erotic. So, don't hesitate in satisfying your anal fetishes with this amazing dildo type.
Can we use a strapless strap-on dildo with a harness?
Yes, you can use a harness to change your strapless dildo into a strap-on strap-on. The strapless strap-on dildo just has to be bigger enough to pass through the harness hole. And that's it you have whole another type of dildo all ready to use in whatever way you want.
Last Remarks
Well, we will be leaving it here. There are endless sexual positions and postures you can try with your partner no matter homosexual or heterosexual. It's all on your imagination and stigma to using the Strapless strap-on dildos to their full potential. We hope our article here will help you in choosing and using your first best strapless strap-on dildo.