Couples everyday seek new ways to broaden their horizon and experience in bed, they want to experience more pleasures and fantasies. Achieving this sexual high can be quite memorable, steamy and fascinating. In order to achieve these things, couples have to take turns because most sex toys focus on each partner separately and each person has to seek their own orgasm separately unless you employ some form of versatility to the use of these toys in order to use them mutually and achieve joint pleasure whereas couple based sex toys are designed with modern technology to ensure the pleasure of both parties during sex.
Couples go on out seeking ways and methods to enhance their sex life, to spice things up and bring fire to love making. Are you looking to spice up your sex life with your partner and achieve mind-blowing orgasm together? To connect on a deeper and more intimate level with your partner? Lelo Tiani Duo might be the answer to this. This review will let you in on the fantastic benefits you and your partner stand to gain from using it.
Tiani Duo is a massager that is designed in a way that both the clitoris and the g-spot are pleasured at the same time, it is remote controlled which makes it quite easy to manipulate in order to get an awesome and pleasurable experience. Partners can use this massager to bring themselves to mind-blowing orgasm together as it gives a vibe that stimulates both the clitoris, G-spot and also allow penetration. This way, both partners get to enjoy the vibe.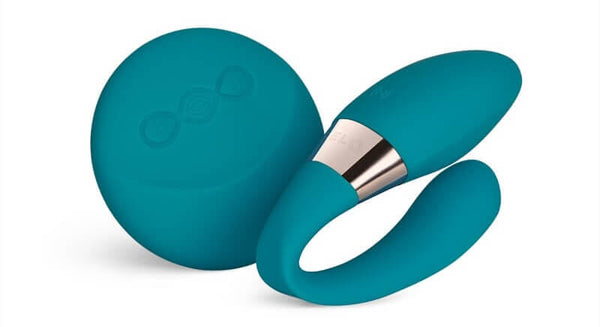 Tiani Duo has two motors, one can be inserted into the body and the other presses down on the clitoris in order to achieve the stimulation of both, assured vaginal and clitoris stimulation. Even while inserted, the vagina can still be penetrated for added stimulation due to the smooth and flat head of the part inserted into the vagina.
ALLURING PACKAGING
Tiani Duo comes in an attractive package that gives the pleasure of unpacking, making it a perfect gift. With the Tiani Duo vibrator, there's the USB charging cable, user manual with a QR code to download the full manual online, a water-based moisturizer, satin storage pouch, 2 AAA batteries for the remote and a gadget to open the remote control to insert or change the battery.
SPECIFICATIONS
Tiani Duo is 3.3 inches long and weighs an ounce, which makes it quite easy to take on a trip in the travel pouch. It is made from ABS plastic and ultra smooth body safe Silicon compatible with water based lube. It is waterproof and quite easy to clean. It comes in black, cerise and deep rose colors.
HOW IT WORKS
This is an advanced technology that allows a partner to join in the experience. It has two motors for enhanced stimulation, one for the clitoris and the other for G-spot stimulation. It can also be used while being penetrated, this means it can be used in other sex positions, although it may not stay in when used in some positions. It has 8 settings that can be regulated using the remote control. The remote as well vibrates, which let the partner holding it feel the intensity of the vibration and adjust it as needed or as they want. Tiani Duo can also be used to stimulate other body parts such as the penis, neck, underarm, groin and any other sensitivity parts of the human body. The remote control also has sense motion technology and making certain wrist movements while holding it has an effect on the massager.
HOW TO USE
The Tiani Duo has two heads, the flat head is inserted in while the rounder head rests on the clitoris. The penis can also go in as well with the flat head. Like this, both partners can enjoy the pleasure. To switch on, simply press the button on the round head and also click on a button on the remote control to switch it on as well. The sense motion technology is activated immediately it is switched on, and the vibe can be activated by moving the remote from horizontal to vertical position. For the sense motion mode number two, any kind of movement prompts a different response from the massager. Aside from these two sense motion patterns, there are six other settings that can be selected simply by pressing the center button on the remote control. The massager can be used to stroke the sides of the penis as well to bring the man to a mind-blowing orgasm.
This massager can also be used without the remote control. Once the massager has been switched on with the button on it, pressing this button again will start switching between the vibration patterns and all these patterns will be at full intensity, you will need to switch on the remote control to regulate the intensity.
CARE AND HYGIENE
Tiani Duo is waterproof, so it can be washed with soap and water to ensure it remains clean and hygienic. To ensure that it is well cleaned and safe for storage for use next time, a soft brush can be used as well to get into the crevices where the ABS joins the silicon.
BATTERY AND POWER
The massager has a Li-ion 200mAh 3.7 battery that is rechargeable and comes with its own USB cable, while the remote control uses 2 AAA batteries. The massager takes about 2 hours to charge and lasts just as long during use. Although the intensity of each settings drain the battery at varied levels. This means that using the gadgets at high intensity will run it down faster than the lower intensity. On standby, the battery can last up to 90 days.
INTERFACE
The massager has one button that can be used to turn it on and off, as well as change the vibration patterns. While the remote control has three buttons, + button to increase the intensity of vibration patterns, - button to reduce the intensity of vibration patterns and also switch off the gadget after pressing and holding this button for three seconds. The third button on the remote control is to switch from one vibration pattern to the next, and also to turn on the remote control.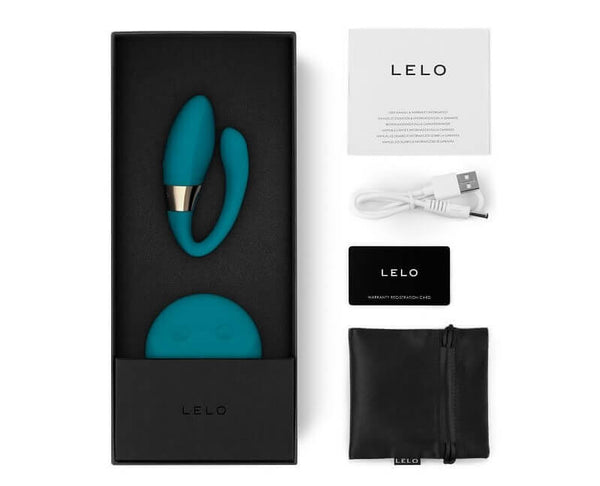 WARRANTY
Tiani Duo has a 1-year warranty against defects and a 10-year quality guarantee.
PROS
It is made with materials that are body safe and won't lead to any allergic reactions
It comes in an appealing packaging making it a perfect present
It gives awesome sexual experience between partners
Intense double stimulation
It can be paired with any other insertable toy
The massager and the remote control does not share any wire connection
The massager can be controlled without touching it and the partner can explore this to bring in playfulness and fun in the love making
Safe to wash and clean because it is waterproof
It is not noisy
CONS
It is not ideal for couple in different locations
It falls out in certain sex positions
It is not ideal for solo masturbation
Although it packs a strong power, someone that needs stronger clitoris stimulation should go for a wand vibrator.
Remote control is not rechargeable
CONCLUSION
Over time, sex can become boring between a couple and this can drive them apart, they need a boost to bring back the ecstasy and pleasure. This massager is for both the adventurous couple and those that simply want to enjoy sex in the regular manner, it has benefits for both kinds of couples. If you are looking to bring spice to your sex life, this is an ideal product for you. It's quite easy to use and promote understanding and mutual sexual experience.