Have you ever heard of or felt the power of a sex machine? No, we're not talking about thrusting upon thrusting that seems endless without getting tired. We're talking about a real sex machine! An incredible device, whose mission is to make you delirious behind four walls!
Sex machines have become a very popular fetish in recent years, and there are numerous pornographic websites and videos dedicated to these machines and their users. Many people have even started making their own sex machines from household items, particularly power tools like drills and reciprocating saws. Be aware that DIY sex machines are very risky and would be considered edge play by most
In fact, even when purchased from a reputable supplier, it goes without saying that these machines can be dangerous. While even the most basic sex toy can be dangerous if not used correctly, the power and mechanical force behind sex machines take a higher level of awareness and care.
In addition, those who use the product relax much more and enjoy the intensity of sensations that arise during "automatic" masturbation. This is because the device is controlled by remote control and some are controlled with an app. And so we present to you, The Lovense Sex Machine.
The Lovense sex machine is an erotic accessory that you need to know and use all the time! In fact, the sex machine works miracles in masturbation and promotes a feeling of intense pleasure. After all, the product comes with two silicone dildos attached to it and so many thrilling features you will get to see as you read this article.
It's a real "Pleasure device" after you try this device, you will never miss the presence of an actual penis in your life. So, let's warn you: when you use Lovense sex machine, you never want to stop! In fact, with one orgasm after another, who wants to stop, right?
LOVENSE SEX MACHINE: LOTS OF PLEASURE EVEN ALONE
Everyone has had a "sneak peek" at erotic videos at some point in their lives. So, if you are part of this interested group, you must have already observed that sex machine makes the "joy" of many people. The device, yet compatible but it's big on the pleasure it provides! Its differential is that, instead of having to handle the synthetic penis, the device itself does this job. That is, while the accessory thrusts and penetrates, your hands are free to massage other erogenous points of the body like the clitoris.
The Lovense sex machine is an advanced sex toy that can be used to simulate sexual intercourse or oral sex. It has a motor that vibrates, pushes, and thrust the dildo attached to it. While some sex machines can have suction actions and can be placed on the penis, breasts, or clitoris. In place of this, Lovense sex machine has variable speeds and intensities that can be adjusted through a control located on the machine, or using an app on your phone! Yes, an app. This is one of the features that make this particular sex machine the top-rated among so many other sex machine. The app is compatible with all mobile gadgets, both android and iOS. It is also compatible with Windows and Mac, As long as the Bluetooth and Wi-Fi are working fine.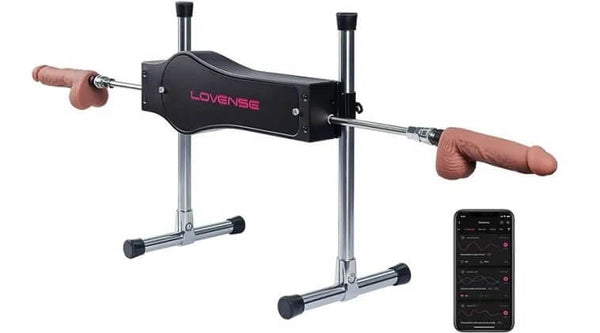 SEX MACHINES WITH DIFFERENT TYPES OF PENETRATIONS
You must be thinking, "What do you mean? Different penetrations? Yes, there are sex machines that offer that to you. Therefore, there are several forms of vaginal and anal penetration for you to be delirious from the first to the last minute.
Lovense Sex Machine has different ways of penetration, ranging from doggy, missionary to standing position, all you need to do is adjust it to whatever position you like and which leads to orgasm and helps to touch the G-spot.
However, there is a warning: use the products with a condom when possible especially when you are sharing and always sanitize before and after use. Thus, contamination of the intimate region is avoided.
LOVENSE SEX MACHINE KEY FEATURES
POWERFUL THRUSTING
Lovense Sex Machine is specially known for its notable features of unending and powerful thrusting that ranges from high to low intensities, depending on the level of thrusting you can take. If you are the type that likes fast motion thrusting, you can st the Lovense Sex Machine to go as fast as 300 thrusts per minute, that's roughly 5 thrust per second. But if you feel that will be too much for you, you can adjust it to have that intensity and if you just want it all slow so all your G-spot can be hit just right and slowly, the Lovence Sex Machine got you!
Each thrust can go as deep as 11.4 centimeters (4.5 inches), so you are sure to hit every deep spot within you. And if you feel you already hit your limit and it is too deep for you, adjust it to suit your desire. But you know better that you can always push your limits, right?
EASILY ADJUSTABLE
This wonderful Sex Machine can be tweaked to perform in whatever position you desire. Its easily adjustable feature makes it easy to change the angle and position as it thrusts you without experiencing any difficulty. You can set it to thrust you from behind like the doggy sex style position or to be so inclined that it thrust deep into your stomach while you lay on your back just like the Missionary sex position. Whatever sex style you want to explore with this powerful sex machine, just go ahead.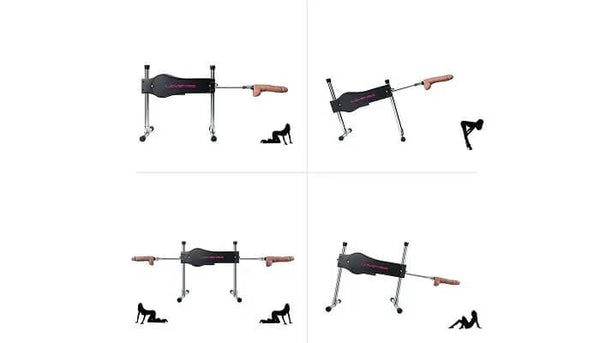 VERY EASY TO SET UP
The Lovense Sex Machine has a very simple design that is very easy to use. You don't need an encyclopedia to learn how to set it up. All you will be needing to set it up is just one hex wrench which also comes with the Lovense Sex Machine package. The Package comes totally assembled, all you just need to do is fixin the legs, the pumps and the dildo. Before you know it, the Lovense sex machine is live and ready to give you the wildest pleasure of your life.
SPECIAL HI-TECH THAT FEATURES INTERACTIVITY
Another thrilling feature of this wonderful sex machine is that it allows you the option of sharing the ecstasy with a partner. The Non-solo feature of Lovense Sex Machine allows two people on opposite sides of the machine to be thrust simultaneously. So, if you have company and the two of you would like to enjoy this together, all you just need to do is unfold the second dildo on the opposite side and enjoy it together instead of waiting for turns to share.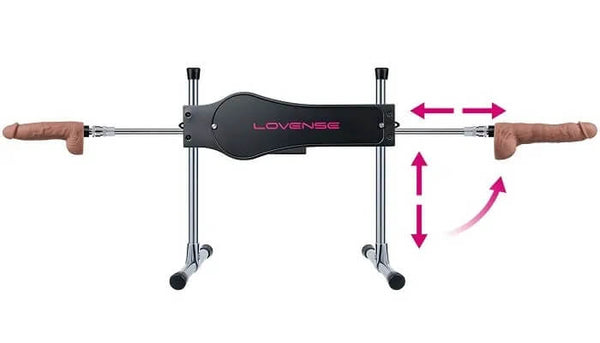 Lovense Sex Machine happens to be one of the few machines that can be controlled with a free interactive app. Serving as another option outside the normal remote control that comes with the package. The app allows long and short distance range control, the app can also be downloaded on an android or iOS, likewise on windows and Macbook
VAC-U-LOCK ADAPTERS
This wonderful machine allows you to explore other dildo options outside the two dildos that come with the Lovense Sex Machine package. You can go ahead and remove the ones that come with it. If you fill it is too small, and you think you can take on more. You just need to ensure that the one you will be replacing it with is Vac-u-Lock compatible. So, if you are a fan of bigger realistic dildos or non-realistic dildos, just go ahead and attach your favorite sex toy to it.
What you get when you purchase Lovense Sex Machine:
Enjoy fun sex:Do you want to have a nice time with yourself in bed? This automatic sex machine is perfect and works as long as you have it connected, it doesn't quit until you do! The package includes a complete set of accessories. It is ready to use immediately. It will allow an incomparable hands-free experience!
Adjustable Angle Machine:The machine arm can be adjusted to an angle of. It can adapt to the most comfortable sexual position according to the actual situation.
The Lovense machine dildo is made of silicone : It fits 100% to the human body and is odorless like real skin.
Complete Accessories:The package includes two dìldos to help you enjoy company. Enjoy different sexual fun. There are also practical accessories and a remote control.
Why buy this super sex machine online?
The advantage you have of buying this product online that many people research on Google and Amazon with the word sex machine is that you will be able to see the current price and buy it directly from a mobile device, computer, or tablet.
Before buying you can see the price of Lovense sex machine to compare with other stores or supermarkets near you, also from online internet stores. In this article, we have shown and given you reasons why you should go after this extremely powerful sex machine with the best quality price that is on the internet today.
If you like any sex machine you can buy it directly from their management service, in a few days you will have it delivered to your home. To buy a sex machine you just have to select the product you want and make your purchase online.