If you left the anal stimulation scene for a while, jumping back in can be a chore. Especially when you have a whole bunch of new toys, advice, and techniques that have popped up since the last time you went anal. Searching for something that works for you can be difficult. And that is exactly why you should go for Lovense Hush 2. While it's common for hyped products to turn out to be the opposite of all the noise people made about them, I can assure you that with the Lovense Hush 2, you'll be getting exactly what this review told you to expect. The Lovense Hush 2 is so popular the sale records for its presale racked a quarter of a million dollars before the Hush 2 hit stores.
In this article, I'm going to give you solid details of what you are getting from one Lovense Hush 2 toy. First of all, the Hush 2 is a butt plug and nothing like the regular ones out there. In a powerful combination of genius tech, strong vibrations, and impressive design, Lovense Hush 2 has bagged the spot of a first-ever teledildonic butt plug. All of this means that you will get the best orgasms in your anal play with a toy that can be controlled from anywhere.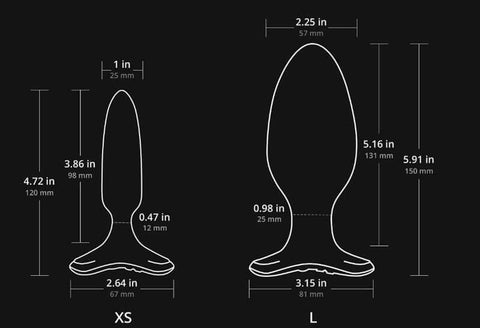 In terms of size, the Lovense Hush 2 comes in two sizes. There's the medium size, with a diameter of 1.75 inches, and the small size of 1.5 inches. Sometimes, I need something with an extra girth so I just went right ahead to buy the two sizes. The fact that Hush 2 has a super intuitive design that makes it comfortable to use down there. The silicone material it's made out of is safe and free of harmful materials like phthalates, rubber, and latex.
The waterproof nature of the Lovense Hush 2 makes it so easy to clean. All you have to do is rinse with warm water and clean with silicone-safe cleaner for sex toys. you also have a one-year warranty to bank on if you are worried about the durability of this toy.
Let's talk about the shape of the Hush 2. This butt plug is shaped like an egg and has tapers located at the tip to allow you to insert it as quickly as possible. It also features a base and neck to keep the plug just where you place it with a corkscrew design at the neck region that traps enough lube to ensure that the part of the toy around your anus stays lubricated and comfortable as you play.
What's inside the box? You get a USB charging cable that allows you to go two straight hours after you fully charge it and remote control that helps you get the best experience in your playtime without busting your back. The fact that the Lovense Hush 2 is hands-free makes it so unique because all you have to do is connect to your app and enjoy all the vibrations built into this device. Without a smart tool like this, you would have to lubricate your Hush 2, insert and then bend into impossible positions just to get the right stroke or adjust the vibration pattern. The Lovense Hush 2 remote and app feature makes it super to get the best experience while playing solo. All you need to do is take a comfortable position. The awkwardness is less and the orgasms more.
For couples who are reading this too, I have good news for you! The Lovense Hush 2 is not designed for solo fun alone, couples can discreetly get nasty in public with no one the wiser. I mean, using the Hush 2 butt plug with your partner is just as innocent as you scroll through your phone. So, you don't have to worry about getting arrested for constituting a nuisance in public or acting inappropriately. Who's going to know you are about to cum? No one! No one except your partner.
And you get to enjoy yourselves even when they are away or your relationship is long-distance. All you need is the Lovense Hush 2 toy, internet, and the app downloaded to your device. Get set to experience virtual sex on a powerful, intense level. Tired of the boring stuff from standard remote-controlled sex toys? This is just what you need to spice things up!
How does it feel to use the Lovense Hush 2?
I would put it this way; when it comes to doing the do up there, the Hush 2 hits all the right spots. Whether I turn on the vibrations or throw other sex toys into the mix, the overall experience is mind-blowing and I just can't get enough.
Still on the topic of vibrations, I don't think anyone can see the end of the depth of pleasure and possibilities available with this butt plug. Offering you a sweet range of up to seven vibration patterns, all you need to do is simply scroll!
These patterns range from steady vibrations to waves, super erotic pulses, powerful rumbly earthquakes and patterns that are borderline 4th of July. However, if these patterns don't send you over the cliff, the App allows you to customize vibration patterns that are unique to you and save for future use.
I thought Lovense was merely boasting when they said the Hush 2 was an incredible butt plug. At least, that was what I thought until I used it. While I was a little deceived by its small appearance, I would warn you not to. Simply start from the lowest level of intensity and work your way to the top. This anal stimulator has some strong rumbles that you can't help falling in love with once you get lubed up and started. Explore the app to find out what settings suit you and enjoy it all you can.
I'm going to wrap this up quickly with this. When you pick the Hush 2 off your doorstep, be sure to go through the product cautions and manual thoroughly before use to keep your playtime fun but safe. Even as you follow the instructions in the manual, listen to your body and do what feels safe while going for your orgasm.
I also recommend buying from Honeysx or directly from the Lovense store. You don't want to buy something that is damaged or malfunctioning. I have one cardinal rule when it comes to sex toys and that's safety first. You can avoid having to turn up at the other with one sex toy hazard by just playing it safe. So far, I'm yet to see a butt plug that is in the same league as the Lovense Hush 2. From the powerful stimulation to customizable options remote features, every single aspect of this toy is unrivaled and worth splashing that extra cash on.