I never thought the day would come when I would be unpacking a prostrate-specific sex machine from We-Vibe but after a long wait, We-Vibe proved they don't disappoint with the We-Vibe Vector and I'm loving the vibe! My first We-Vibe product was the Tango and I didn't even need a partner to 'tango' because the orgasms were shattering. Using the Tango cemented my belief in the explosive power of insertable prostate toys and I'm not jumping ship any time soon. The pure rumbling power of We-Vibe's Tango is unmatched by even bullet vibrators so you can imagine my excitement when I learned that We-Vibe was set to release a prostate toy.
I'm equally ecstatic to be doing a review on this sex toy because my experience trying out the Vector vibrator is a gospel worth preaching and my friends will attest to this. If you've been disappointed in the past by vibrators that didn't deliver as promised, I hope you give this a try after reading this article. This is one sex toy that will turn out to be exactly as reviewed and maybe more. So, strap in and keep reading!
First Impressions
Vector's packaging struck me as impressive for two things: its elegance and simplicity. The contents of the box also had the same effect on me with its tastefulness. What do you get when you open the box? There's a cute storage bag, remote control, user guide, USB magnetic recharging cable, and finally, one sample of We-Vibe's lubricant; a rather thoughtful gesture if you ask me.

The Vector vibrator is water-resistant to aid stress-free cleaning and the product's material is smooth, excellent silicone. With 90 minutes of uninterrupted charging, you can get up to 2 hours of hot fun.
I can assure you it's going to get hot fast with Vector's 4-inch insertable length and a beefy circumference with a wide circumference of 3.5 inches. The Vector has an easily adjustable neck to give you just about any fit you want as you explore. You also get 10 sweet vibration modes that can be controlled using the we-connect app or the remote that comes in the box. It would interest you to note that using the we-connect app allows your Vector to be controlled by someone you've invited wherever they are in the world. Epic!
Using the Vector
I kid you not when I say the Vector is hands down the easiest prostate massager I've used in a while. With its narrow girth, you'll have absolutely no difficulty inserting it at all. This makes it an easy fit for everyone, whether you're new to vibrators or you've been in the game for a while. I'll still advise beginners to take things slow when starting but trust me, the narrow girth makes things a whole lot easy.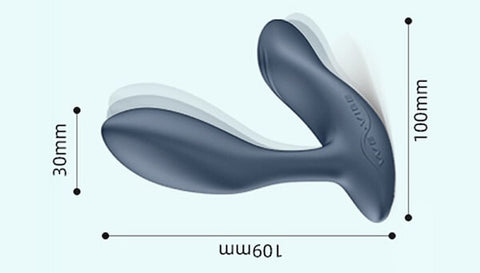 Using the Vector, I particularly enjoyed the adjustable neck which allowed me to alter the shaft's angle to get the best placement of my prostate's tip. I'm not guaranteeing that you'd get it right the first time. There might be some trial and error at first but when you get it right, you are on for a creamy time. Not having to twist and grind and clench to get the perfect contact with my prostate like I had with other toys was a huge plus for me. Not to mention the fact that the Vector still stays in shape even after you adjust it. Awesome stuff guys.
I would recommend using it hands-free even though you can control your vibrator from the base where you have a basic button interface. I found the button to be quite stiff so, I naturally opted for hands-free mode. To connect the remote control on your Vector vibrator, just press and hold the button for five seconds. You'll find this button on the base of this toy. You know it is ready to pair when the Vector makes a buzzing sound twice. Next, press and keep your finger on the button for five seconds. Your Vector vibrator will make a buzzing sound thrice to indicate that it has paired. You can now enjoy all ten of the different vibration settings.
I've had people complain about the remote being too small for their yeti-like hands but I didn't have any problems with this personally. However, if this is you, you can go for the we-connect app on your phone and control your device from there: create personalized vibration patterns, tune vibration settings; the floor is yours! The feature that allows you to hook a lover on board is just as impressive too. I like the intuitive interface which was designed with non-tech savvy people in mind. All folks need to do to change vibration patterns is to swipe across the screen and swipe up and down to regulate intensity (and you can't do it with the traditional remote that comes in the box).  Using the app is something that won't be worrying your pretty little head because not only is it simple to use, the app guides you through the motions.
Trust me when I say using the We-Vibe Vector is a super incredible experience. I have tried some really powerful vibrators but this works just as well with excellent, rumbly vibrations that are to die for. What makes the vibrator so good is that it's highly adjustable so anyone can get the fit that works for them. The feeling once you've got it snuggled in is comfortable and you can sit or lie back as you grind away. There's a host of sensations to send you to dizzying heights with each vibration setting plus you also get to change motors as you go. I think this is perfect for edging sessions; sweet perineum tickles before progressing to the more intense vibrations.
Altogether, using the Vector has been powerful and fulfilling for me even on days when I'm stressed out. While a part of me wishes there's a little more oomph with this vibrator, I still doff my hat for the Vector in the hope that an updated model will pack just what I'm looking for. The Vector is We-Vibe's first venture into the prostate massager game and I must say they did a pretty impressive job. I'm sure going to be using this vibrator for a long time.
Cleaning and Maintaining the We-Vibe Vector
Thankfully, the Vector is waterproof, meaning it's okay to rinse it under a faucet and even add a little bit of soap. Be sure to thoroughly rinse your Vector before using it or putting it away. Cleaning the remote control requires more care since it's not waterproof. Don't put it under a faucet! Just wipe with a damp cloth and you're good to go. There's a nice, tidy storage bag to keep it all in after cleaning to prevent dust and dirt as you use it. The Vector's magnetic charging cable is also a vast improvement from the original connection units so I didn't have to worry about the connection getting loose while charging the vibrator.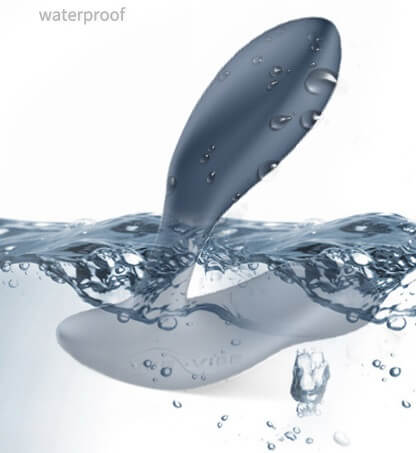 Overall Summary
There are no words to describe it! The Vector was super-duper amazing and I had a bloody good time with this toy. For people that are hesitant to just buy a prostate toy off a shelf, this is a vibrator you're not going to throw in the trash in a fit of indignance. There are countless possibilities to explore with the Vector's we-connect app and the vibrations are just as good as they are strong. I can guarantee a red-hot time for you and your partner (if you don't like to play alone). While the Vector has a fairly good rumble, it is a quiet toy all the same and I must say I was a bit surprised when I observed this.