With the COVID-19 going on, sex toys have become a popular entertainment gadget. Common are fleshlight with silicone openings or slide-through strokers, but as with the many ways to a happy ending, there are other toys designed to please. The We-Vibe Bond works in a different area; it is a cock ring that stimulates the lower side of the scrotum. In addition, while most traditional sex toys are manually operated, the We-Vibe Bond has automated the pleasant experience and taken it to a new level through innovative use of technologies such as vibrating motors, Bluetooth, and the Internet of Things.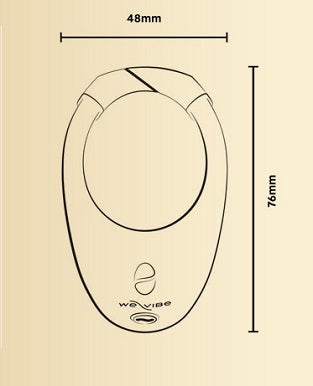 We-Vibe Bond is a wearable stimulation ring that can be worn discreetly with everyday clothes in everyday life. We-vibe Bond looks a bit like a sports band and measures approximately 48 mm x 76 mm with a depth of 44 mm. It is made of black ABS and body-safe silicone and contains no phthalate SALT, BPA, or latex.
Unlike most stimulation rings that slide and provide sensation in the sexual area, this ring is different because it is designed to strap to the back of the scrotum while providing stimulation sensation in the sensitive part where the two legs meet. The device can be used for solo entertainment, to remotely make fun of your partner, or to enhance the actual intercourse experience. It is primarily made of body-grade silicone and actually looks discreet as it looks similar to a sports band. It has a number of functions that are primarily controlled by the companion app but can also be controlled by the provided remote control.
We-Vibe Bond comes with a ring, remote control, magnetic USB charging cable, customized link extender, and a drawstring bag for storing everything. When wearing, just fix the silicone ring around the testes to make it fit. It's hard to put on and requires some practice. There is no need for lubrication during use, so it is more convenient to wear. Even with a custom-fitted link extender, it can be very challenging to wear it, especially if you have large genitals to comment on or have a lot of hair because they risk being pulled by the connecting clip area. In other words, if you trim the hedge before going all out, things will become simpler and smoother.
Once put it on, you will feel a gentle squeeze on your testicles, which indicates that it fits comfortably and can transmit vibrations to your body. It may feel awkward to wear it at first, especially with the feeling that something is squeezing you into your pants. The way it's designed, it fits snugly under your legs without adding any noticeable bulge, even when wearing tight underwear.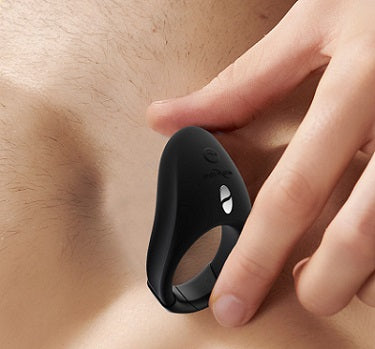 But once you get used to it, there is absolutely no pain or discomfort when you sit or stand. Walking and walking around with it is also comfortable, thanks to the soft silicone material of the We-Vibe adhesive, which is soft and light to the touch. The manual recommends 30 minutes of ring wear but advises against wearing while doing extreme sports. This makes sense, though, as walking too long with the device on could lead to abrasions. The device can be used for up to two hours on a full charge.
When used for self-pleasure alone, the We-Vibe key has 10 different types of sensations, targeting the part between the legs at the bottom of the testicles. The vibration mechanism is cleverly placed to send the vibration pulse to the sensitive area, and at the moment it is turned on, people can immediately feel the full effect of the sensory pulse. Although all settings feel comfortable, the most pleasant setting was found to be the combination of tease and vibration, because using these is a realistic sensation similar to the tongue movements of licking and stroking the area. Since the vibration is mainly under the testicles and is mainly used for making fun to achieve and maintain an erection, it is not enough to touch the sperm by itself. If the user does not wear it under the clothes, he can use the traditional twitching method to complete the conversation, or he can use other toys (such as Arcwave Ion) to maximize the fun of the glans area and the feeling and pleasure during the solo.
Although not as loud as most erotic toys on the market, the vibrations can still be heard in a quiet environment, especially at maximum intensity. The sound from the device's motor is similar to a vibrating telephone, so you have a ready-made excuse for the noise when you need it.
We-Vibe Bond can also be used to enhance sexual intercourse through stimulation. Since the We-Vibe Bond produces vibrations, it can also be slid around the fingers and used as a vibrator during foreplay with a female partner. It is also possible that during actual intercourse Bond can help penis maintain an erection longer by constantly teasing and slowing the blood flow back to the body while providing additional sensation for both partners during We-Vibe Bond contact.
Once put on the We-Vibe Bond, it can be activated via a button on the device and controlled via remote control or the proprietary We-Connect mobile app, which is available for free on the Google Play Store and Apple App Store. The app will provide the best experience because it has the most features. Instead of using the remote control to switch everything, people can select the feel and intensity they want directly through the appropriate menu.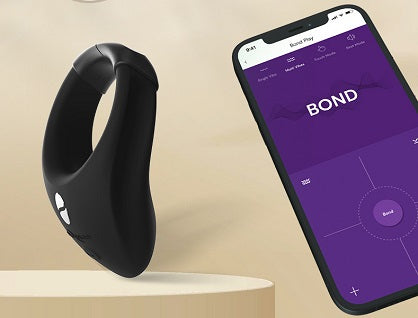 Using the app, partners can control We-Vibe keys remotely and provide you with a customized experience by mixing and matching different sensations and durations. The vibration continues in the background, allowing users to experience the sensations while browsing other content on their phones. The partner feature on the We-Connect app opens up a whole new experience as you can be surprised when sensations arise. It's certainly a unique way to get your partner's attention.
The We-Vibe Bond is made of body-safe silicone and has a water resistance rating of IPX7. This makes cleaning it very easy, just wash and dry it and you can put it back wherever you like. The included pouch is also very useful for storing all your accessories, especially small parts like the custom-fit extender that can easily get lost. For charging, the We-Vibe Key uses a magnetic USB cable to fully charge from empty in 90 minutes.
The price may be more expensive than other similar products, but its sleek design, excellent waterproof construction quality, and magnetic charging port justify it. It's also a rare option because it's a wearable stimulation ring that can be controlled remotely by a partner connected to the Internet.