The idea of simulating a blowjob can be intimidating and daunting for many people. It can also be seen as something naughty, which is often exciting!
It's important to note, though, that consent is always key and it's important to ensure the person you are doing this with is comfortable and feels safe throughout the entire experience.
Steps to Simulate a Blowjob
To simulate a blowjob, there are a few steps you can take to make the experience enjoyable for both of you.
Step 1
First, you'll need to create an atmosphere conducive to pleasure. This can include setting the mood with dim lighting, playing some sexy music, and opening a window so that you can have some fresh air. You will also want to talk with your partner about what they enjoy and any boundaries they have.
This should be done before anything else so that you both feel comfortable discussing and experimenting with new things.
Step 2
Once the mood is set, you can begin to simulate a blowjob. Before starting, choose a lubricant such as water-based lube or coconut oil that will help simulate the sensation of wetness. Once this is in place, start by licking your partner's penis either up and down or in circles depending on what your partner likes the most.
You can also use your fingers to grip the base of the shaft and move your hand up and down. Using your tongue, focus on the underside of the shaft, from the base to the top of the penis. You can also run your tongue over the head of the penis in circles, paying particular attention to the sensitive areas.
You can also move your tongue up and down the length of the shaft, pushing it all the way to the base of the penis and back up again. As you do this, change up the intensity of the stimulation. Start with gentle licks and then use more pressure as your partner intensifies their pleasure.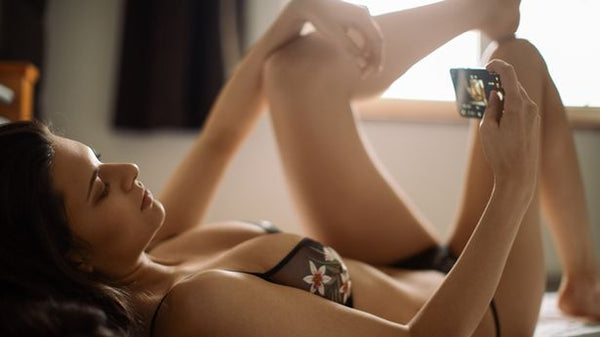 Step 3
When it comes to hand movements, try using a "come here" motion, where your fingers curl towards the front of the shaft and pull the skin back. This will create a vacuum sensation that many people enjoy.
You can also add toys to your blowjob simulation. Try using vibrators on the area around the penis or a vibrating tongue device, which can be pressed against the underside of the penis and moved around. This will give your partner a completely new type of sensation and stimulation.
Finally, don't forget that a blow job simulation should be enjoyable for everyone involved. Make sure to pay attention to your partner and ensure they're comfortable with the activities you are engaging in.
Communication is key, so take the time to respond to their body language and reactions to give them the most pleasure. With these tips, you will have an amazing experience and your partner will be sure to thank you for it!
Other Considerations
It is important to remember that when it comes to any type of sexual activity, communication and consent are key. Make sure to be respectful and take the time to ensure the person you are engaging with is comfortable and safe before beginning any activity.
It is also important to be aware of your partner's boundaries and never force them to do something they do not want to do. With this in mind, simulating a blow job can be a fun and exciting experience for both parties involved. All it takes is some preparation, communication, and mutual respect.
How About Sex Toys?
When it comes to toys for simulating a blow job, there are many options available. Vibrators designed for oral sex can be used to stimulate the area around the penis or a vibrating tongue device can be applied to the underside of the shaft.
There are also sex toys designed to be worn on the hands that have specially-shaped tips to mimic the feeling of oral sex. Dildos and Fleshlights can also be used for a more realistic experience. Finally, lubricant is essential for creating a wet and smooth sensation, so make sure you have some handy!
Remember, simulation is all about exploring and having fun, so don't be afraid to get creative! Communicate with your partner to ensure you both have a safe and enjoyable experience. With the right toys and attitude, simulating a blowjob can be an incredibly pleasurable experience for everyone involved!
In conclusion, simulating a blowjob can be an incredibly fun and exciting experience that both parties can enjoy. Before beginning, make sure to create a comfortable and safe atmosphere and discuss boundaries with your partner.
Once ready, lube up and start using your tongue and hands to stimulate the area around the penis from the base to the tip. You can also add toys such as vibrators and dildos for extra stimulation. With communication and creativity, you can have an unforgettable and enjoyable time!You can read more:Do Pocket Pussies Feel Real?