LOVENSE has always been a major player in the world of sex toys, giving out technologically advanced sex toys. Right from the stable of this popular brand, we have the LOVENSE EXOMOON BLUETOOTH SECRET LIPSTICK BULLET VIBRATOR, a discreet and subtly designed vibrator. This particular product has some features that show that it come out after a deep research into what women want in a vibrator. The simplicity, technology, design and the covertness of the design, all these show that EXOMOON LIPSTICK BULLET VIBRATOR is a game changer in the world of nifty vibrators.
PACKAGING
A good and aesthetically pleasing packaging can never be overstated, especially when presenting something to the women folk, one should feel the sensuality oozing right from the moment of receiving the package of any sexual product, especially such a product that is quite promising as this vibrator. The packaging of this product is quite pleasing and follows the same discreet nature of the toy it conveys, it is quite low-key, but still cute nonetheless.  It comes in a little box that has a lid that can be lifted off completely, and there lay the Bluetooth mini Lipstick vibrator, in a slot that is the same shape as it. With the Lipstick, you will find a storage bag, an instructional manual and a USB charging cable.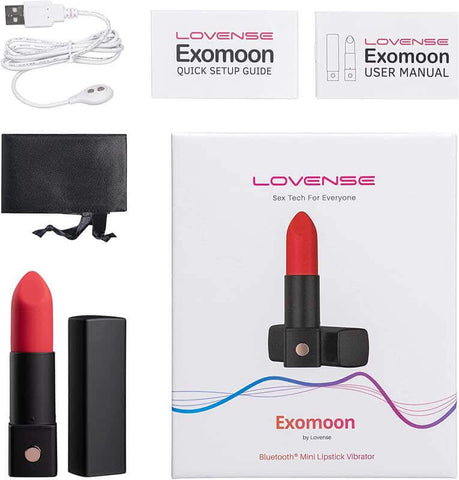 FEATURES
App controlled using Bluetooth for the short distance, and it can also be controlled long distance as well
Ergonomic design that is quite simple but effective
Built in the shape of a lipstick, making it easy to get away with having a sex toy in hand because no one would notice
Built with body safe silicon and ABS plastic
It is waterproof (IPX7) which means you can use it in the shower, bath and while swimming too
A single button control, with just this single button, toy can access all the intensity levels and different patterns.
It is sound activated
It can be sync to the music playlist
A battery life between 2.5 and 3 hours
An easy charging using the USB charging cable
A 12-month warranty
SPECIFICATIONS
The size of the Lipstick is almost average with regular lipsticks. The length is 3.46 inches and 0.87 inch in width at the top, but the bottom which is also the Lipstick's handle is 0.83 inch while the actual length of the part that makes up the end which would have been an actual lipstick is 1.32 inches in length and 0.7 inch in width. Overall, this device will fit inside your pocket if you wish to put it there.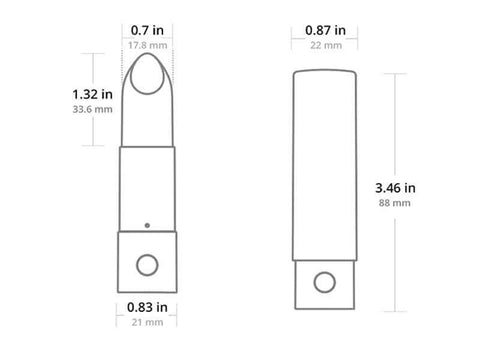 HOW TO USE YOUR LOVENSE LIPSTICK BULLET VIBRATOR
To use the LOVENSE EXOMOON, the switch is the button at the bottom or where you would call the handle of the lipstick, press and hold the button for 3 seconds. Then, the device should make a beeping tone. Once it does that, you click the button again to start the first function, the lowest level of vibration, and you can continue clicking the button to go through the intensity levels and also the different vibrational patterns. 
There are options on the App to create your own custom pattern, it can be a mixture of different patterns. You can as well discover other users on the App and can even invite them, so they play with you and control the app from their end, although there is a new feature that allows you to control what they can do to you.
By yourself, you can use the EXOMOON to stimulate your nipples, your armpits, neck, abdomen, inner thighs and other erogenous zones you have in your body. Since most of a woman's orgasm comes from the stimulation of the clitoris, you can easily use this lipstick to stimulate your clitoris and get a mind-blowing clitoral orgasm.
CARE AND HYGIENE OF YOUR LIPSTICK BULLET VIBRATOR
It is quite easy to keep the EXOMOON Bluetooth lipstick clean, since it is waterproof. Although it is less likely to get all dirty after use because you probably did not slide it into your body, its small size can easily make it go all the way in and since it does not have a big handle, getting it out might be tricky. So, it is advisable that all use remain external.
But, even with external use, it can still be squirted on, among other things, so to clean it, you can wipe it clean with a toy cleaner or a mild soap and water.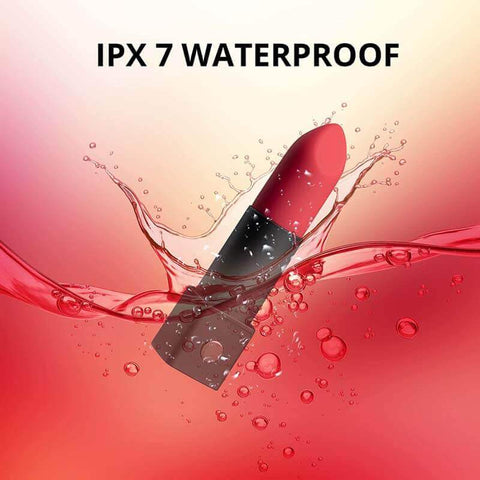 PRODUCT INTERFACE
This toy has a very simple interface, a single button at the base to control the vibration patterns and also the levels of intensity.
WARRANTY
There is a 1-year warranty on this product, although, this is within the rights of the company. If the damage was caused by using the product under conditions that are not favorable to its build and functions, you may forfeit the warranty on it.
PROS
App controlled

: this is one of the foremost features that a sex toy can have in this era, you can control your toy with just a tap here and a click there, which this you can just leave the button alone, and I am sure you agree that this is quite easier to navigate. All you need to connect the App to the toy is a Bluetooth connection, and you are on, as an added feature, which you are probably used to if you have used other products by LOVENSE, you know that you can have a LOVENSE account where you can meet any other person that you can link with on the app, this person can remotely control your EXOMOON Lipstick, although there's an option to check what the other person can do to you from their end. But this is still super, a long distance connection to the toy.

Discreet design:

the Bluetooth mini Lipstick is simply one of the most discreet sex toys around. You can bring it out of your purse in a gathering and no one would bat an eye. It is simply one of a woman's necessaries to have while going out, only it will not be used on the lips that most people would assume, it goes on a different set of lips. The size is not outrageous, so it comfortably fits in your hold-all or party purse.

A single button control:

this toy also has an easy-to-use button right at the button of the device, with only a few different clicks, you can operate the device manually without using the App.

Easy to use

: EXOMOON Bluetooth mini Lipstick is quite easy to use and move around, so you can use it to stimulate your body parts without a strain for the weight, ideal for even those with mobility issues.

Versatility:

The use of this toy is only restricted by your imaginations, once you can tap into your imagination, you will think of new ways to pleasure your body using this nifty toy. It can be used in partnered sex as well, not just self pleasure. Use it to stimulate the erogenous zones on your partner, and also get them to use it one you.

Waterproof:

this device is waterproof, it is ideal for use in the bath and in the swimming pool.

Rechargeable Battery

: This device has a rechargeable battery that can be charged using the USB charging cable that comes in the package.

Easy to wash and clean:

the waterproof characteristic of this toy make it easy to clean and store it.
CONS
The size and weight of the toy is not suitable for you if you like to feel the weight of the toy you are using, some people get off on feeling the weight of the toy

It is not suitable for g-spot stimulation, trying to do this might lead to the toy slipping deep into the body.

It needs to be held at all times, except you make use of extra materials or objects to hold it in place but on it own, it cannot really stay in place.
CONCLUSION
The EXOMOON BLUETOOTH MINI LIPSTICK BULLET VIBRATOR is an ideal vibrator for a woman that is just starting in the world of sex toy as it is quite simple and easy to use, it's design also allows her to be able to carry this toy around with her without fuss. If you are already used to various sex toys, this will be a nice addition to your sex toy collections, aside from the App control features, the major feature of this toy is that it is meant to give you the opportunity of having a sex toy that you can have with you anywhere and can use anywhere. So, if you are hoping for a discreet fun, you will definitely get it with this toy.