What are suction vibrators??
As the name implies, suction vibrators and toys are gadgets that focus solely on clit stimulation via air pulsation and technology. Some brands have their own unique technology to replicate the real thing (oral sex), which varies from toy to toy. One of the best things about suction toys is that they provide clitoral stimulation without requiring physical contact.
By using gentle bursts of air, the 'Pleasure Air' toys, such as Romp, Womanizer, and We-Vibe, provide a sensation that seems like suction, as well as a bit of licking and kissing with a bit of pressure. These sucking vibrators do not literally suck the clitoris' head, but they do deliver pleasure by wrapping around the area for indirect stimulation.
Because the clitoris has the most nerve endings in the human body, it is considered to be  a crucial component for sexual excitement. According to several studies, clitoris may be the only route for some people to experience orgasm.
Although there are exterior portions to the clitoris, the majority of it is found inside the pelvic. When the clitoris and the labia minora, the inner lips of the vulva, are stimulated, blood rushes to them. The clitoris is highly sensitive because of the excess blood flow. A person having clitoris might experience orgasm if they are constantly stimulated.
And people can get these stimulations by using clitoral suction vibrators or sex toys. They increase blood flow to the clitoris by creating airflow and pressure around it. This results in increased sensitivity and may eventually results in orgasm.
What's the difference between suction vibrator and a regular vibrator?
Vibrations from air-pulsing toys normally do not aid in stimulating  the vulva (although some have a vibration option). Regular vibrators are frequently meant to push directly against the head of the clitoris, whereas suction vibrators are frequently designed to sit around the head but not directly against the head of the clitoris.
The similarity between a conventional vibrator and a suction vibrator is that in the case of rechargeable vibrators, both must be recharged before each use. Second, they must be cleaned, much like other toys, in order to maintain their condition. However, many suction toys are made of waterproof material and can be used in water baths and showers.
How good they are for beginners?
These toys can be great for those who are using vibrators for the first time, especially those who have not even experienced skin-on-skin contact or friction against the vulva. Many of these suction vibrators are designed to fit around the head of the clitoris for indirect stimulation, making them ideal for first-timers. Furthermore, certain toys have been developed with attachments to allow users to tailor their experience. A suction vibrator called "The Womanizer toys," for example, comes with adjustable heads so you may choose the proper size.
Furthermore, like with other sex toys, it comes down to personal preference in terms of what you like and how you want to practice sex toys for pleasure. Users' desires also plays a critical role; for example, some users want to experience the intense and hard vibrations, while others may not like it because it is more intense than their desire. It's a Goldilocks dilemma when it comes to finding the ideal sex toy: Some toys may be too much, while others may be insufficient, but with a little trial and error, you'll find one that's just right.
How do you use Suction Vibrator?
If you are a beginner and looking for guidelines on how to use a suction vibrator properly and safely then you are on the right track. There are a few suggestions which you can follow:
Adjust accordingly that  how much comfortable it is for you after it  fits the surrounding area of clitoris.
A lighter or more snug fit will work better for you depending on your sensitivity.
Furthermore, you can generally hold the handle with your hand or with your thighs while being penetrated from behind, but if you're having partnered sex, you should start with a light suction because the clitoris is thought to have 8,000 nerve endings, which is the key to knowing how much you can and want to handle.
You can use the suction vibrator on your clitoris during penetration from behind if you're in the doggy position, or have your vulva stroked with your partner's fingers or tongue for further stimulation and excitement.
It's usually a good idea to "start low and slow," because some of these toys may be rather intense the first time you use them, especially if you've never used a device designed especially for the clitoris before.
The most critical step, which you must not overlook at any costs, is the application of lubrication. And just because these toys aren't in contact with your skin doesn't mean you shouldn't lube them. Since these toys are made to be used with lubricant, always use it with lube to make the experience more pleasant and delightful.
Why People Prefer Suction Vibrators?
According to sexologists, the easiest type of orgasm to reach (for a person  with a vulva is clitoral), and it can be reached utilizing suction vibrators.
Clitoral suction sex toys help to create pleasure by offering just the perfect amount of stimulation in just the right area, which is exactly what many people desire to feel. Sensations provided by suction vibrators refers to the feeling as similar to the sensation of someone's mouth creating suction around the clit.
Because they're meant to completely envelop the clitoris, they assist in providing an altered sensation than vibrators. People who wish to experience oral sex feelings prefer suction vibrators over ordinary vibrators since regular vibrators only stimulate the tip of the clitoris, which some people experience as the most sensitive region. Clitoral suction sex toys envelop the clitoris for a less overwhelming feeling.
You can Try Suction Vibrators  with your partner
Although using suction vibrators or sex toys before intercourse can help you feel more physically excited. However, clitoral suction gadgets can also be used with your partner during sexual activity. If you are a vulva owner, you can use it on your own.. However, if you wish to try it during intercourse with your spouse, you should experience it first personally.
You might begin by keeping the suction low and gradually increasing it. If you have pain, however, cease immediately. Excessive pump suction has caused occasional complaints of blood vessel and tissue injury.
How to Clean and Maintain your suction vibrator?
Cleaning any sex toy, even a suction vibrator, after each use is critical, especially if you are going to utilize it with during sexual intercourse with a partner. Toys made up of silicone and hard plastic are usually the easy to clean employing antiseptic soaps and then washing with  water. If your suction vibrator is constructed entirely of silicone, you might be able to clean it with  the dishwasher. Try to avoid boiling your suction vibrator at all costs, since the extreme temperatures can harm the mechanism.
Best Suction vibrators for beginners
 The design of the new Satisfyer Pro 2 Vibration combines the usual refined rose gold in matte finish with a new, slim shape that scores points thanks to it ergonomic bumps and curves. It's also waterproof, and what it does in the water is so different from what it does on land that it's almost like having two toys in one. There are eleven different stimulation, vibration, and air flow settings. It will put you in a different dimension. Its price is  $53.90.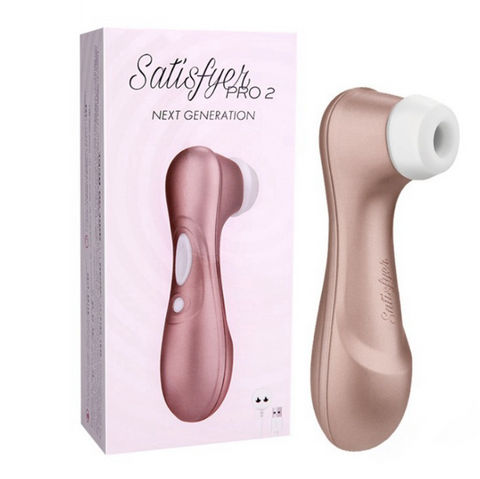 Featuring Womanizer's Pleasure Air Technology, DUO stimulates the clitoris with powerful waves of alternating air pressure and massages the G-spot with intense internal vibrations.A luxurious, rechargeable, and waterproof choice with an insertable end that stimulates both the inside and outside of the body. You may try out all of the stimulation possibilities to pick your favorite one. The vibe section has 12 suction levels and 10 patterns.The total cost is $219.99.