The phrase BDSM refers to sex behaviours such as domination, subordination, and command. Throughout sex, one partner usually takes a more dominant role, while another is very subservient. Power playing, role-play, torture play, masochism, candle play, trimming, psychological torture, and humiliation are all examples of distinct sorts of BDSM.
What are the Different types of BDSM Toys?
Bondage kit:
This kinky kit will allow you to experiment with various toys in many hot combinations. This kit is a terrific way to get started with the fascinating world of BDSM. If you're new to BDSM and want to give it a shot, this kit offers everything you'll need to live out your desires. Start with the puffy red cuffs and the stylish satin eye mask to keep your partner from seeing what you're up to. Gently stroking the whips everywhere around her body will give her a gentle tickling sensation.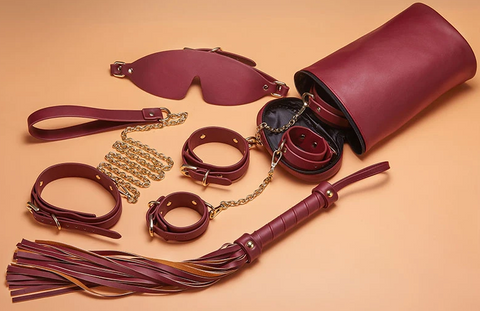 Structure:
This bondage kit is a complete set comprised of high-quality steel material which is stainless and a long-lasting aluminium alloy. This bondage set is easy to use and intuitive for beginners, sadomasochism, and lesbian couples. A set of white and black long pink, orange, purple, and red ties are included in the bondage kit set.
Features:
Meanwhile, the bondage package includes bed toys for couples as well as roleplaying games.
In the meantime, here's a great bonding package for couples or adults.
This kit package includes a wonderful flirting toy that will bring so much enjoyment to your sex life. A spankings-ready mat and a ventilated ball gag are also involved in this bondage starter kit for delivering your wayward companion a fair punishment .
The package is completed by a lovely butt plug.
Restraints and Handcuffs:
There are many different types of restraints that can be used to limit someone's mobility during sexual activity. Handcuffs are the most common sort of restraint. You can get metal handcuffs in police style (ideal for role playing "criminal bribes cop" or "officer abuses his power") or the more comfy fluffy variety. Silk sashes are a different type of restriction that can be quite comfortable, beautiful, and aesthetically pleasing. When it comes to restraints, get inventive; you or your companion can indeed be tied up pretty much anyplace in every pretzel position imaginable.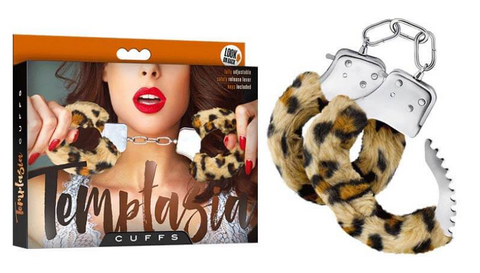 Structure:
They are made up of two sections that are connected by a loop,  hinges, or a sturdy bar. Each cuff features a spinning arm that interacts with a ratchet and prevents the cuff from  opening once it has been wrapped together around person's wrist. may be made of a variety of metals, such as carbon steel, stainless steel, and aluminium, as well as synthetic polymers.
Features:
Restraints immobilise one partner's limbs, allowing the other to exert complete dominance over the situation.
The powerlessness one feels while constrained in a sexual scenario can be highly sexy, but the dominating partner's power can also be quite stimulating.
Spankers and Ticklers:
One of the really popular BDSM items is the spanker and tickler. When a couple employs the tickler and spanker throughout BDSM sexual play, they have absolute ownership over the enjoyment of their partner. When people are spanked with spanking BDSM toys during sexual activity, blood rushes to the specific location of the body, heightening the sensation and making them thrilled.
The spankers are  supposed to be used to strike the opponent. Ticklers are sexual device that people utilise for sensory play all through sexual activity.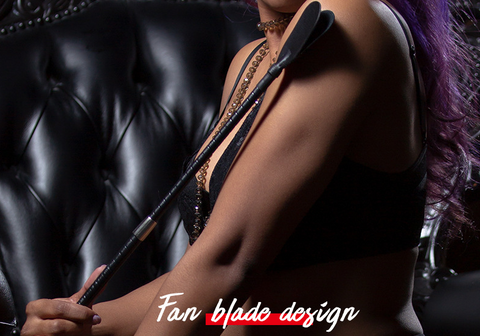 Structure:
Some ticklers are fashioned like a feathered duster and have a lengthy, slender handles with a clean and silky feather on the other side.  Spankers and ticklers are not considered bondage. It's a kinky style. It's a variety of techniques to learning more about what drives you on and exploring the softer side of misery or pain. To not restrict any section of the body. A pair employs different bondage gadgets for restriction in addition to the spanker and ticklers.
Features:
They are used to increase pleasure during sexual engagement.
Spankers are typically used by men to spank their female companions on their butts.
In a BDSM setting, spouses can use the spanker as a punishment during role play and sometimes during intercourse to intensify the feeling.
These gadgets are used by couples to tickle their partners' skin.
Bondage tape and Rope:
Bondage tape can be used for a variety of reasons, including making improvised hand or ankle shackles, securing someone's hands down, and more! Bondage tape differs from duct tape in that it only adheres to itself, not to your skin or hair. "Certain adhesives will become too sticky when heated, pulling the top layer of skin off when you go to remove the tape," "If you're going to be exploring tape play, be extremely careful of nearby candles," "If you're going to be exploring tape play, be extremely careful of nearby candles.
A rope gag, like a cleave gag, comprises a piece of rope wound many times across the mouths of the individual being gagged. Smooth rope, such as nylon, is comfortable for the individual being gagged, whereas coarser rope, like hemp, scratches the lips a lot. Rope gags can also be included into a full-body tie if the operator strapping the "target" up utilizes the similiar length of rope for both the gag and the tie.
Structure:
this tape is a two-to-three-inch  inwidth  and 0.0051-inch-thick  strip of transparent plastic material (often PVC) that sticks only to itself and has no adhesive; it is primarily used in sexual bondage. A posterior can be strongly linked or choked without harming people whenever the adhesive is removed because it does not attach to the skin or hair.
Features:
Bondage tape is a flexible piece of BDSM equipment that may be used by both beginners and seasoned BDSM practitioners.
It's safe and simple to use, and unlike bondage rope, it doesn't require any kinky knots to be effective.
Although tape is thick enough to be unwound, unwrinkled, and replayed for reuse, it is frequently cut using blunt-tipped scissors to remove it swiftly and easily.
Trying to stretch a body piercing with this kind of adhesive is also popular.
Blindfolds:
"Blindfolds are a wonderful method to maximise a sensuous sensation so when you restrict one sensation, the other one can become stronger. 
The usage of blindfolds necessitates mutual trust and excellent communication abilities. If you don't have either, you shouldn't try blindfolded play with them.
Structure:
It's a silk cloth with multiple levels of simulation that can help you blot out light more efficiently. It is  52 inches  in length and 3 inches in breadth . It is completely covered, which adds to the wonder.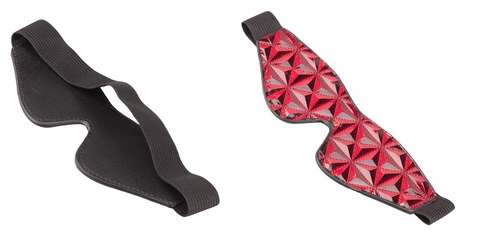 Features:
The smooth and gentle tactile sensation will make you feel more comfortable.
Lace temptation has a feminine appeal.
It comes in two pieces, making it easier to clean and replace.
Masks:
A mask is a piece of BDSM equipment that is worn to conceal the vision or face throughout sex play. The kinky mask covers the majority of the face. Only the mask should be used by the pair who has complete trust in each other. The folks wearing the mask should have no idea where their partner will touch next, which will assist them grow thrilled.
Structure:
Latex, rubber, Polyvinyl chloride, elastane, darlexx, or leather are commonly used in bondage masks. Which one the user chooses for sexual enjoyment is entirely up to them. Some bondage masks merely cover the mouth and nose, while others cover the entire face.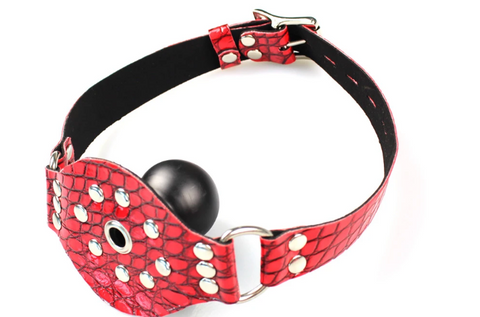 Features:
having a mask , regardless of which area it supports, can be an incredible experience.
If you clean the bondage mask correctly and keep it for future usage, it can be reused.
Gags:
A gag is a sexual bonding and BDSM roleplaying equipment. Gags are frequently connected with bondage roleplays, however this is not always the case. The submissive partner is the one who wears the gag, while the dominant partner is the one who does not. The sounds make by gag  when trying to speak, or seeing someone drool uncontrollably, can arouse some fetishists.
Structure:
The joke chosen is determined by the partners' preferences, the kind of roleplaying situation, whatever is accessible at the moment, and safety concerns. Certain gagging devices are expected to cover the mouth, whereas others are structured to force the mouth open and allow access to the mouth. Gags are divided into three types: over-the-mouth, mouth stuffing, and mouth opening.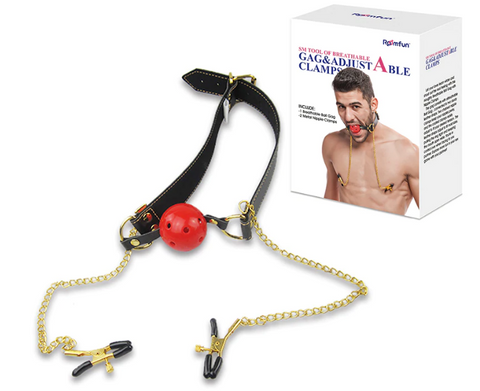 Features:
When used in conjunction with other restrictive practices, the use of a gag can raise the wearer's sensation of impotence and anxiety level inside a BDSM scene by preventing them from speaking throughout sexual intercourse, which some individuals like.
Gags can be used as a means of humiliation since they carry implications of retribution and control for some people.
Nipple Clamps:
These are devices that can enhance the sexual pleasures of a woman's breasts (they can also be employed on a men's chest, but he'd have to have some abnormally large nipples). Nipple feeling is commonly enjoyed just momentarily throughout seduction and rarely plays a role in actual intercourse, although this does not seem to be the case. When purchasing a nipple clamp, look for one that allows you to vary the tension, as getting used to being in the pain (albeit it's a wonderful sort of agony) of these toys can take some time and practise.
Structure:
Clamps are frequently used in sets and are frequently linked by a chain. [Weights can be suspended out from clamps to increase the discomfort by applying more pressure and squeezing.] Whenever the user is prompted to hop or otherwise move unexpectedly, the pain is exacerbated by pulling on the nipples, which can be draped behind the same fixed piece of sexual furnishings such as a post. Another alternative is to join a second chain to the first, the ending of which is linked to a clamp fastened to either a female's clitoris or a male's cock ring.
Features:
Trying to squeeze the nipple tightly immediately prior to applying the clamp might occasionally help to simulate the clamp's movements.
Blood flow is slightly reduced by nipple clamps.
Some BDSM practises, like as breast torturing, require the usage of nipple clamps.
SM Candles:
Wax play is a type of temperature play used in the BDSM in which an user's naked skin is dripped with wax from a candle. This is a form of play that is regarded to be moderately advanced. Wax play, if done incorrectly, can result in severe burns that necessitate medical attention.'
The temperature of wax produced by various types of candles varies. They can range in temperature from soothing and calming to really hot wax. People' tolerance for heat varies significantly, and this varies based on the location where the wax is administered.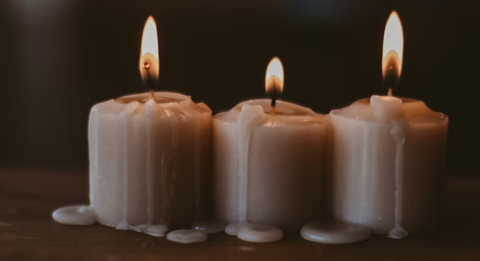 Features:
to cause a little burning feeling on the skin If the fires of your desire have lately dimmed, one kink-forward method to consider is wax playing with candles.
Wax play is a type of threat consensual kink which includes pouring hot wax over oneself or a spouse's body while getting intimate. It's a subset of BDSM.
Chastity Devices:
Chastity belts are simply underwear with something like a lock and key that locks up your junk so you can't go over to the washroom or make contact your own parts except if the individual with the key allows it. Many equipped with a built sex toys, genital plugs, butt and crotch plugs, penile rings, or the ability to vibrate or pulsate.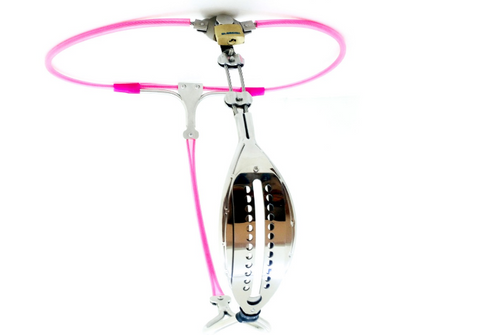 Structure:
Stainless steel is used in the majority of high-security chastity belts, however fibreglass hybrid belts have also been developed. Padlocks are used to secure most belt designs. A plastic gadget with an unique plastic seal for travel. The shackles of the more secure padlocks are hidden, making shackle cutting difficult or impossible. Male devices are primarily external, as well as the ability to secure them has increased their popularity.
Features:
Chastity belts are an excellent weapon for power playing in Sexual relationships because to their locked-up character.
Chastity belts can be both physically and mentally arousing.
    11.Chastity Cages:
Chastity belts cover the entire pelvic region, whereas chastity cages only cover the genitals. Because this gadget is only for penis owners, it's also referred to as "penis cage" or "cock cage."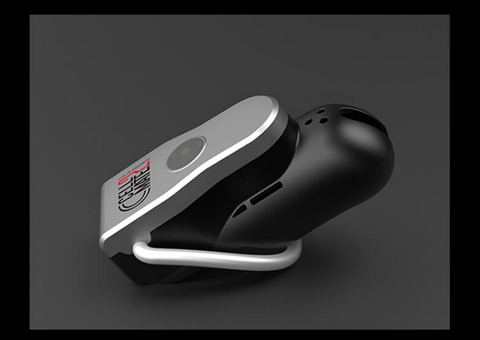 Structure;
Most chastity cages are made up of two parts: a ring that sits behind the scrotum all around base of the penis and a capped tube through which the shriveled penis is placed. Fluids can easily drain via the perforations in the tube. To make erections more uncomfortable, some designs incorporate a curving or angled tube. The two halves are connected by hooks or pins and fastened with a padlock. Whenever the gadget is secured, the testicles become stuck in a thin space between both the penile tube and the ring, preventing the testicles, and hence the penises, from becoming pulled out.
When contrasted to stainless steel models, cages can be made of plastic or silicone, which lowers their cost and weight significantly.
Features:
Fences serve as a continual reminder to your Dominant that your cock 'belongs' to him. It's the next step in the ownership process."