Lovense Lush's newest addition to their vibrators collection will blow your mind! And I mean it. While the Lush 3 is quite similar to the Lovense Lush 1 and 2 in some ways, all 3 models have unique features that set them apart from each other. Hence, this article, to help you identify these differences. However, for this article, we'll only be comparing Lush 2 and Lush 3.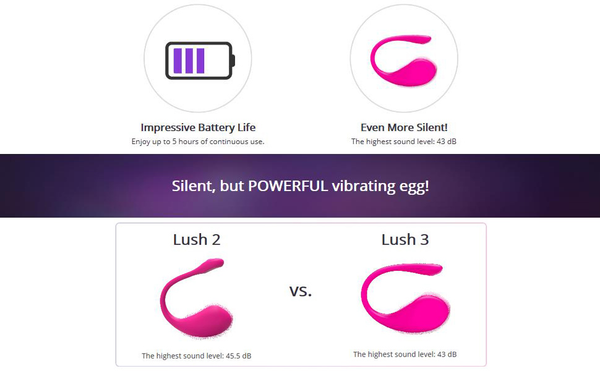 Generally, I've always been an ardent fan of Lovense sex toys since I started using them in 2016. I think I've tried virtually everything they've come up with since the original Lush was launched in 2016. As should be, the Lush 3 surpasses the Lush 2 in several ways.
For a little background into this innovative brand, Lovense is one of the best companies for teledildonic sex toys. They are known for creating high-tech vibrators that are cutting-edge and effective enough in getting the job done. Let's look into them now.
Lovense Lush 2
This is a power-packed bullet vibrator that can be worn. It doesn't just feel wonderful, it looks pretty hot too! Add that to the fact that the price is quite reasonable, and you have yourself a good purchase. While the Lovense Lush 2 is just as great as other high-quality bullet vibrators, it has a couple of brilliant specs that give it an advantage over other bullet vibrators.
Lovense Lush 2 has some powerful vibrations to send you to dizzying heights of pleasure, plus a free app you can personalize. That is, you can personalize the vibration modes to suit your tastes. Controlling the vibrations on this toy can be done with the Lush app or the buttons on the toy itself.
For durability, the Lush 2 can last for hours when charged to capacity. It comes with an app that lets you set your preferred vibration pattern in sync with tempos in the music of the moment.
Lovense Lush 3
On the other hand, Lovense Lush 3 is the newest, enhanced version of Lovense's Lush line of vibrators. It is shaped just like the Lush 2: C-shaped and controllable by remote. While this model keeps all the amazing features of the Lush 2, it comes with a Bluetooth chip a and much-improved battery.
Collective Features (Lush 2 & 3)
Size
Both the Lush 2 and 3 will fit perfectly to scintillate your sweet spots beyond imagination, thanks to the sleek egg design. The size of both vibrators can be measured around 3.77*2.94*1.37 inches, though the Lush 2 tip is a bit bigger; not an obvious difference though.
That being said, both Lovense vibrators can give you satisfying G-spot stimulation. The size is hardly overwhelming.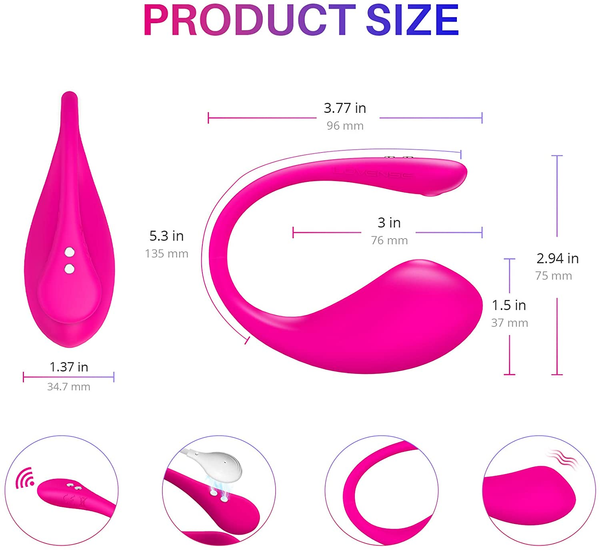 Smooth & Soft Silicone
The incredible silicone material is one of the features that blow my mind with these two vibrators. Made out of premium material, both vibrators are comfortable to insert in your vagina and also wear for long hours. The silicone material, quite softer than latex, is seamless and super-duper soft. These vibrators are great to use even for people with the most sensitive skins.
Lovense Lush 3 size
The Lovense Lush 2 and 3 are a favorite of every user for these two things:
Small size which makes for easy storage in bags
Modern design is great for sex any time of the day and anywhere
Kindly note that neither vibrator is created for anal sex. Having one stuck or lost inside you is going to be painful and dangerous as the Lovense Lush 2 and 3 don't come with flared bases you can hold onto and pull out easily. Safety is just as important as your pleasure so don't put yourself at such a risk.
Long Distance Control
If you are new to the Lush family, Lovense toys usually have a free Remote App that is compatible with iOS, PC, and Android devices. The purpose is to give users a more immersive experience regardless of zero limits. It doesn't know the location of your partner; however, you can connect with them, and boom! You both can have all the fun you want.
What's more? You can play with the Lush 2 and 3 vibrator if you own both at once. Super cool if you ask me.
Color Option
Both Lush vibrators come in only one color, and that is hot pink. This is the same as every other Lovense sex toy out there, such as the Optic 2, Ferri, and Ambi.
Cam Model Functions
The Lovense Lush 2 and 3 sex toys are designed innovatively to favor or support cam models. The two Lush versions will connect seamlessly to nearly all cam sites and I find this quite impressive. What's more, camgirls can link the vibrator to the tips thanks to the option of sharing the same dedicated app.
Strong Vibration
Lush 2 and 3 are equally capable of satisfying women who prefer powerful stimulation. The two sex toys offer pre-set vibration and patterns with eights for maximum ecstasy. However, because the motor in Lush 3 is strong enough to send users over the edge in no time, the company saw no need to upgrade the motor in Lush 3.
Highly Versatile
Going through reviews for the Lovense Lush models, one particular praise that stood out is the versatility of the models. But there's more to the Lush 2 and 3 than the remote-controllable feature and the sync music libraries. The Lush 2 and 3 are sex toys that you can insert inside your vagina overnight, set an alarm for the following morning, and wake up to explosive vibrations in your preferred pattern when the alarm goes off.
Waterproof (100%)
The Lovense Lush 2 and 3 is not just meant for your bedroom and public use alone. The company was smart enough to make it suitable for solo thrills under the shower or in the bathroom. Both toys are supremely waterproof and will function well even when used for some slick action.
Easy to Clean
The water-resistant nature of Lush 2 and 3 favor the cleaning process. All you need to do to get your vibrator in the sparkly, hygienic condition is to rinse with a sex toy cleaner for 2 minutes or more. If you don't have cleaning materials for sex toys, you can simply use soap and water and you're good to go.
Lush 2 and 3: Differences
New Charging Cable
I consider this one of the principal updates Lovense brought into the Lush 3 model. In comparison, the Lush 2 features a USB you can plugin. But there's a chance the pin can snap if it wasn't plugged right. The Lush 3 eliminates this risk with a modified magnetic USB cable; quite common with top-notch vibrators and other sex toys.
Noise Level
Lots of people who used the Lovense Lush 2 attested to the fact that the Lush 2 did not just have a delightful range of vibrations but was impressively quiet. Interestingly, the Lush 3 takes the bar higher when it comes to low sound levels. On Lush 3, 43dB is the highest measure of noise you can expect; a good 2dB lowers than the Lush 2 model. While not everyone will find this impressive, I think Lovense's commitment to improving their latest model is pretty commendable. Maybe you'll appreciate it more when you can finally 'have a moment' as quietly as possible in public. Haha.
Design, Weight & Shape
The Lush 2 and 3 are the same in size and shape. But since we are outlining differences, the Lush 3 is a bit lighter than the previous model. If the Lush 3 is 69.9g and the Lush 2 is 73g, then do the math. It's not a lot of difference but it's there all the same.
In terms of shape, both sex toys are shaped to arouse all the 'hotspots' and they come with a squishy and soft tip. The control button locates this very spot. Their fixed tail helps to keep your toy firmly in place as it hits you with strong vibrations.
Long Battery Life
Since I started using bullet vibrators, I've used 20 so far and the Lush 3 remains the best I've ever come across and the difference between this and the Lush 2 is clear. The latter will charge to full capacity in 90 minutes. After which, you can use it to play continuously for up to 190 minutes. On the other hand, the Lush 3 will not just charge faster (85 minutes tops), it will last for up to 290 minutes. That's exactly 5 hours even with continuous use.
Bluetooth Connection
Bluetooth connectivity is another aspect of the upgrade that Lovense pulled out all the stops. The Lush 2 featured a good enough Bluetooth connection. But for the upgraded model, Lovense integrated a Printed Circuit Board (PCB).
This Printed Circuit Board allows the Lush 3 to transmit stronger, better signals even while inside you.
Easy Storage
As an avid user, I appreciate the small but useful change made for the storage of the Lovense Lush 3. The model before it came in a simple package: the toy, manuals, and charging cable. Besides your bag, there's nothing to put it in when you go out. However, your Lush 3 vibrator comes with a storage bag made of satin. You can now keep your little toy out of public view if you want.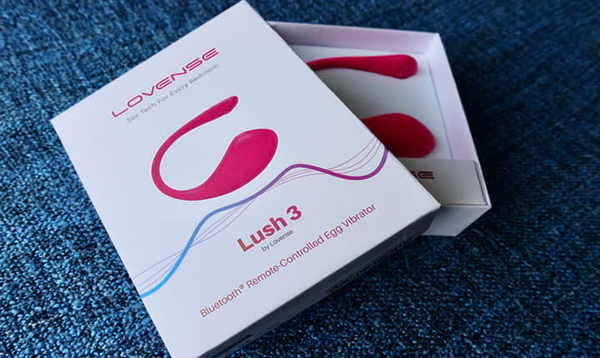 I'm going to wrap up this review by sharing my own experience with both Lush 2 and 3. I used the Lush 2 for two years and because it was the first model out, I formed a bit of an attachment to it. Call me corny but saying goodbye to it was tough. This particular egg vibrator gave me some of the most brain-splitting orgasms, so you can imagine.
One thing that got me skeptical about the Lush 3 at first was the price. At $80, it was more expensive than the Lush 2 but was it worth it? I would soon find out.
First, because both vibrators have the same texture, weight, and color, the differences weren't obvious but I soon spotted them. There's the tail/antenna to start with. On Lush 3, the bounciness is more and forms a flat c-, shape as it extends towards the bulbous part. Lush 2 on the other hand, is designed with a foldable tail that I could bend at different angles.
When I tested out the vibrations on both sex toys, I noticed that the strengths were almost the same though the vibrations on Lush 3 felt stronger due to its improved design. I also noticed I climaxed quicker with the Lush 3 (I don't know why!)
I especially love the upgrade to the magnetic charger which is quite a relief because the Lush 2 was simply too 'ancient' for my liking. I can't tell you how this egg vibrator has helped me and my partner maintain intimacy in our long-distance relationship.
The Lush 3, in particular, has such a strong signal even when I'm wearing layers and layers of clothes. The connection remains steady no matter what and this is a huge plus for me.
Now, if you're reading this article and you wonder about the Lovense Lush, I'll simply put it out there. Don't go for that! Trust me when I say models 2 and 3 are better in terms of quality. I'm certain the Lush 1 is only selling just so the company can finish up what they have stocked. This is not a vibrator I recommend at all.
I hope your curiosity is satisfied with this extensive review. You can now hit the shelves knowing what you're going to get with any of the models. Both versions are great for playing with your partner or going solo. While Lush 2 is the more pocket-friendly toy, Lush 3 has all the magic you need for an over-the-top experience.