In my history of using and reviewing sex toys, I've only been blown away a couple of times. Reviewing the Lovense Gush was one of those times. Everything from its functionality to its design combines to make the Lovense Gush worth the price, and in this article, I'm going to give you a sneak peek into what you stand to enjoy with this top handsfree stroker.
What is it? Lovense Gush an interactive handsfree massager for the glans that features a curved design much like a wrap that can arouse the tip of the penis as it surrounds it. This sex toy is interactive and will connect seamlessly to other smart sex devices as well as adult media. This is a sex toy that is topping the charts all because its wrap design gives maximum attention to the head of the penis, unlike other sex toys which completely overlook the glans.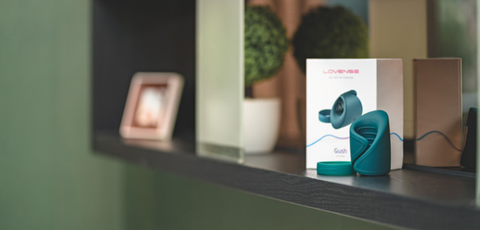 Let's look at some features.
Without a doubt, the Lovense Gush glans massager is years early and we love it! Besides supporting RPG sex games, Lovense Gush brings in a refreshing approach to pleasure that is quite satisfying. This rather short device is covered in silicone and built to form a sheath around the penis for a wide range of sweet vibrations.
I was delighted to discover the Lovense Gush can be used actively or passively. What this means is that you can use it as a manual stroker or you can go hands-free and guess what? You can have tons of fun with this sex toy, thanks to its high flexibility.
When I was unboxing the Lovense Gush, I found an elastic band in the package I thought was a complimentary ring for cocks. A quick check in the manual revealed its true purpose: to wrap around the Lovense Gush if you wish to tighten the fit of your Gush. I've never seen a more user-friendly sex toy.
I'll give you a sneak peek of the box and shipping details you need to know about. First, your Lovense Gush is packaged in the trademark Lovense box. Quite simple and elegant. These boxes contain six things:
Manual
Band (optional)
USB Cable
Setup Guide
Storing Bag
With one box of Lovense Gush products, you get a warranty that's valid for one year, allowing you to for free in the case of malfunctions. Finally, Lovense provides shipping to every country on the globe. Trust me when I say delivery is as discreet and quick as possible.
The Lovense Gush is nothing like your regular sex toy. Like I mentioned before, this product features top-notch flexibility and handsfree massaging but there's more to the kink. The Lovense Gush comes with an impressive remote app that is both intuitive and smooth. This remote app is so remarkable it seems more like it was designed from the scratch instead of being just an upgrade. If you used the old version, then you're going to be all over this modified version.
 With the new remote feature, you no longer need to go through the hassle of making the hardware interact with the software. All you need to do is set up the Bluetooth connection between your Gush and the remote and you're ready for a hot session of ecstasy.
You can automatically sync your app to the music library of your smartphone or your computer to have your Gush match the rhythms of your favorite songs. Anyway, if you particularly loved some features of the old remote such as being able to link different toys for some teledildonic sessions or create and share personalized vibration playlists, you don't have to worry about this upgrade because it still comes with these old features.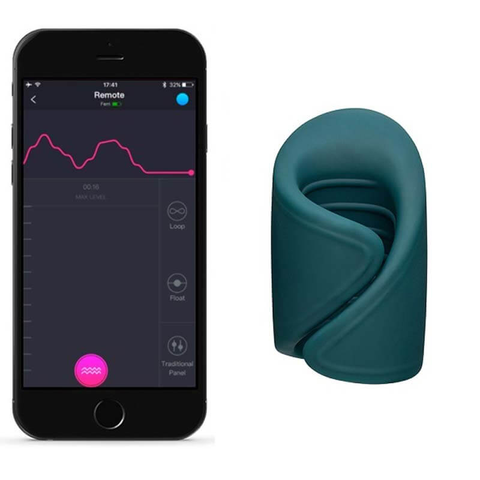 Hands-free or stroking option
This product features a band that lets you adjust its tightness just the way you want it. The purpose is to keep the Gush in place should you decide to go hands-free. On the other hand, if you like to do your stroking yourself, be sure that you don't go for silicone lubes which will certainly bring discomfort as it tugs and on your skin. Water-based lubes are the best for this sort of thing.
If you've wondered how your favorite new sex toy is going to be powered, well here is this answer! The Lovense Gush can be recharged through its USB port. These are the double magnetic dots atop the external silver part where the charger connects. I can assure you nothing can wrong with this part of the Gush thanks to a pretty strong hold when connected.
Disconnecting it is easy. Raise one by one dot with a steady hand and never rip it away with force. Instead, hold the toy as you disconnect.
Our Lovense Gush is created from soft silicone that has been certified harmless to the body plus it comes with an ergonomic design that fits your penis perfectly. The flexible quality of Gush makes it ideal for any circumference or length of the penis for adequate enjoyment of stroking or handsfree vibrations.
If you've used other sex toys from Lovense, you probably notice the waterproof feature of many of them. The Lovense Gush, in particular, is appraised IPX7 for waterproofness. Here, IP means "Ingress Protection", and it estimates how safe a device is from liquid and solid objects. So, when we say the Lovense Gush is appraised IPX7, it means that you can submerge it up to 1 meter for 30 minutes without any damages. This is especially if you like to have some wet action in the tub or the shower.
That being said, bear in mind that getting your Gush near water might increase the chances of your water-based lubricant washing off fast; though a perk to this is that showering with the Lovense Gush while wrapping the band around it feels pretty great.
When it comes to vibrations, the Lovense Gush is the perfect example of small but mighty. This handsfree sex beast will give you powerful vibrations at 3 smooth levels and a whopping 10 rhythms to go with it. In minutes, you can reach the climax you want to attain; made even quicker by some expert stroking and a water-based lubricant.
You're probably familiar with this feature in Lovense sex toys if you use them a lot. Your Gush can be controlled through the Lovense app. And there are a host of ways this can be done. There are endless vibration rhythms to download for a personalized experience and also your partner can regulate the tempo while being on the other end of the globe. It's one of the best digital experiences ever created.
I know I've mentioned this before but I think I should elaborate on the fact that the Lovense Gush is sound activated. Your naughty massager can respond to the beat of music on your Spotify or device for a more intense experience as it vibrates to the beat of whatever music is on.
Guys, there are a whole lot of reasons why Lovense Gush is perfect for you, but I think the fact that it is handsfree stands out more than others. Lovense is not only great for able-bodied users but also forms with mobility problems.  For folks like this, an excellent sex toy that is both handsfree and interactive is everything needed for a fulfilling sexual experience. The ring that comes along with the product helps to tighten the rubber, keeping it in place as you have the time of your life. Let's not forget the smart Lovense Remote which can be used to decrease or increase as well as change how your Gush vibrates. Super sexy if you ask me.
All of this combines to make the Lovense Gush extremely capable of getting the job done and also way ahead of the competition. For just $119, sexual bliss is just a Gush away at any time you want. So far, I haven't come across a lot of Gush reviews but the few I've read have been quite positive; not to mention impressive. I'll suggest you go on Reddit to find these early reviews if you like to go extra in verifying the authenticity of this review.
Meanwhile, to connect your app to your Lovense Gush, first install the app, click the "link" icon in the right corner and the plus in the center of the screen to search for other toys. Once found your Gush device, the name will on your screen. After which you can click on the toggle option to choose the preferred toy for that moment. To complete your setup, click "Done" and your device will pop up on your screen.
Now, you're good to go!
One more thing you get to enjoy is the control-sharing selection if you have a partner who is away. Simply add them or approve their request to share control with you. This keeps them permanently saved in your connections for whenever you would like to connect with them. When your significant other is online, you can tell by a green check right next to their names. Other interactive features on the Lovense Gush app are:
Voice messaging
Video/voice call
Photo sharing
Vibe pattern sharing
Chat messaging
Lastly, in this article, I will teach you how to clean your Lovense toy. I'm sure you'll be delighted to know that the Gush sex toy doesn't come in contact with too many body fluids because of its function as a penis stroker. Hence, easy cleaning. What's more, this is a superbly waterproof sex toy, meaning you can run it under warm water to clean and if you feel it's needed, add a little bit of soap.
After washing, leave it out to dry and simply keep it back in the storage bag it comes in when it's dry. The Lovense Gush battery packs 1.5-2 hours even with continuous use and takes 90-minutes to charge.
Sexual fulfillment doesn't have to be so difficult to come by. The Lovense Gush toy is perfect for both singles and couples. All you need to do is charge and choose your vibe!

Here is LOVENSE LUSH 2 Vs LOVENSE LUSH 3.