Years on years, day by day, technology advances in all spheres of life, and this advancement is also seen in our pleasure devices, we have had eras of vibrators that are almost as big and long as the forearm. The size was directly proportional to the strength of the vibration. And steadily, we have had several products that come in smaller and smaller sizes, that proved that we could have small machines that have the same level of intensity as these old ones.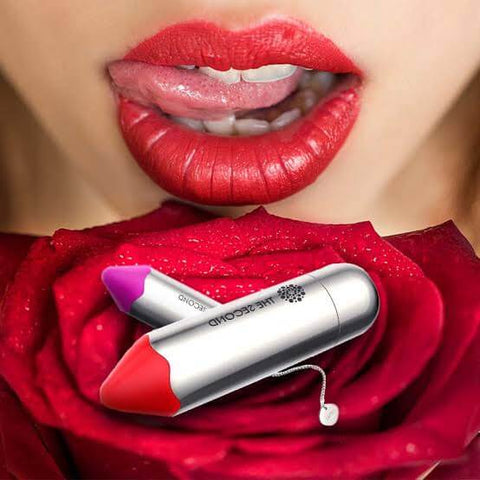 Now, we are in the era of vibrators coming out in not so small sizes, they are now made to give the semblance of a lipstick, Yes, lipstick. It is not an overstated statement, this product I present to you is a lipstick, only that it is more than that, and it will not color your lips, no, it will stimulate it, and no, not that lips around your mouth, I am talking about the vulva, the labia, and the clit. We have reviewed Lovense Exomoon before, and now we review Leten The Second Lipstick Bullet Vibrator again, it is defined as the second lipstick for women. In fact, The Second Lipstick Bullet Vibrator was listed earlier than Lovense Exomoon, but there was no APP version before. After getting positive comments from the market, Leten also launched an app-controlled version to solve the needs of long-distance relationships.
LETEN THE SECOND LIPSTICK BULLET VIBRATOR is made with an advance technology that features putting strong powerhouse motors in small bodies. It is safe to say in this era, that big size does not equal to strength, we now have smaller toys that produce vibrations that are quite strong they rival some older and bigger products. Among these new sets of smaller and powerful products, is included the The Second Lipstick Bullet Vibrator. Talking about having your vibrator safely and comfortably tucked in your purse, no odd print showing on the side of the purse and even if someone were to notice, it would not be more than a slight bump on the side of the purse. And when you bring it out, it will not be a case of that woman has a vibrator in her hands or on her table, all they would see is a woman holding a lipstick in her hand or placing one on her table. Don't we see this everyday? Nothing special about it. But, you and I know that it is something special, it is not just a lipstick, it is the Leten The Second Lipstick Bullet Vibrator.
I will be making this review on the Leten The Second Lipstick Bullet Vibrator. The features of this nifty product of pleasure, how the best to use it, the care and hygiene, safety, battery power and lastly, its pros and cons.
PACKAGING OF LETEN THE SECOND LIPSTICK BULLET VIBRATOR
Leten The Second Lipstick Bullet Vibrator comes in a compact package that includes the wireless charging adapter, storage bag and instructional manual.
FEATURES OF THE PRODUCT
The body of the The Second Lipstick Bullet Vibrator is built with soft silica gel, ABS plastic, and zinc alloy. All these materials are body safe

and will not trigger allergies when the product comes in contact with your skin

Small and ergonomic design

. This design makes it so that this product

will not

raise

 suspicion

,

 if you were to place it on the table in a gathering, no one will bat an eye.

App

controlled, this can come in handy when in a partnered sex, your partner can control the toy and watch your reaction.

 An effective tool in the play of dominance.

Waterproof which means you can pleasure yourself in the bath and swimming pool

It has ten vibration modes

A Long lasting built-in

Lithium-ion

battery

It is built with a fast charge technology that is combined with a wireless charging adapter

Low noise, when in use, this product generates less than 50dB

The product body is always silver, but the lipstick part of it comes

in different colors. Rose

-

red, tomato red and flame red
SPECIFICATIONS OF THE SECOND LIPSTICK BULLET VIBRATOR
The dimension of the case of the lipstick is 44 mm in width, 113 mm in length. The lipstick itself is 25 mm in width and 88 mm in length. This is roughly the size of your average lipstick, quite handy. The case of the vibrator is silver and that is the color for all, it is only the part that would have been an actual lipstick that has the different colors.
HOW TO USE YOUR SECOND LIPSTICK BULLET VIBRATOR
Once you get the The Second Lipstick Bullet Vibrator switch on, using the button at the base of the toy, it is quite easy to use, all you need to do is to hold it against the part of body that you want to stimulate and feel the vibration resonates through. You can use this vibrator to stimulate your nipples, armpits, inner thighs and any other erogenous zones you gave discovered in your body. It can also be used in partnered sex, get your partner involved in this, making foreplay easier, arousal heightened. This little device packs a kick, much more than one could imagine for a toy so small. Use it on your clitoris and massage till you cannot hold back your release. This vibrator is obviously small, so you can move it from head to your toes without feeling tired of the weight. I really appreciate the handiness of this, bulky and heavy most times as this toy as proved does not mean effective. This little toy packs power and enough intensity to trigger the most powerful clitoral orgasm.
If you like intense, overpowering vibrations and intensity, This product can be used together with other sex toys, its lightweight makes it easy to pair it with other toys that can be penetrative, when the other penetrative massager or vibrator has been put in place, you can hold your The Second Lipstick Bullet Vibrator in your hand and hold it against the part of your body that you would like to stimulate. This is not to say that this device is not powerful on it own, but I am simply sharing ideas that suit various preference.
How the APP controlled feature works
As I noted earlier, this product has an app controlled function, and it is accessible even over long distances, your partner can control the functions of the vibrator right from any part of the world they are. The vibrations frequency and intensity can be altered as desired from a remote location and all you have to do it is to press your cute bullet lipstick against your body and use it to massage it from head to toe.
CARE AND HYGIENE OF YOUR SEX TOY
One of the features I like about products that are waterproof is that to keep them clean is quite easy, with no fear of getting spoil when in contact with water. Leten The Second Lipstick Bullet Vibrator is 100% waterproof, which means you can wash it with a lukewarm water and mild soap. Once it is clean, you can store it in the storage bag until the next use. It is tempting in your ecstasy and bliss, to forget to clean the toy that took care of your needs, always endeavor to keep your sex toys clean, since they have access to various parts of your body, a bad hygiene practice can lead to the breeding of germs on these objects. Keep clean and store safely.
BATTERY CAPACITY AND CHARGING
The battery is a Lithium-ion battery and built-in, you do not have to worry about changing it when it is low. This device has a wireless charging features and also a fast charge technology. These two features mean that your sex toy will rarely go off while in use, although, this product only boast of about 1 hour of usage, but the fast charging makes up for this battery capacity.
PRODUCT WARRANTY
There is a 12-month warranty on this product that only covers personal use, once it incurs damage as a result of third party usage, the warranty does not cover that. Using the product in conditions that are not ideal can damage it, such as temperature play, this can damage this product and warranty will not cover it.
PROS
Portable vibrator that is quite ideal for travels and discreet action
A discreetand lightweight design
Wireless charging adapter which makes it quite easy to move around while charging.
Different vibration modes
Efficient waterproofcapability
It is built with body safe materials
Ergonomic design
CONS
A relatively shortbattery span, it lasts only about an hour which is actually enough for several people but preferences differ.
It may not be ideal if weight is one of the things you look out for in a sex toy.Gravity has an appeal of it own. This product is lightweight.
The vibration travels and resonates through the body of the product.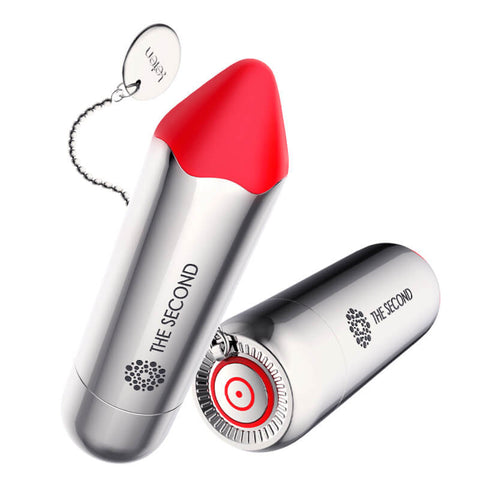 CONCLUSION
This product will definitely give a lot of women the orgasm they need. Generally, this vibrator may not be the strongest you could own, but it will most likely not be among those you own and have abandoned. From my view, I would say that what is not to like about this device, its design is cool, its features are exquisitely satisfying and the easy wireless charging feature too, that is extra cool. Lipstick shaped vibrators are a must-have, if you want to enjoy discreet pleasure without drawing attention as to what you carry in the bag. This is the product that you go for. It is quite ideal as well, if you are just trying out sex toys, this little vibrator will allow you to start small and then if you want more, you can go on from there, but it may be a case of a woman that never forgets her first love for you, her first vibrator, in this case. Leten The Second Lipstick Bullet Vibrator is really a good addition to the collections of sex toys and, it will not be a mistake to try it out.