Lovense, the popular sex toys company has yet again released another amazing product known as the Lovense Ferri. The Lovense Ferri is a discrete and tiny wearable device that gives you maximum pleasure on the go. it doesn't matter whether you're walking, jogging, or sitting, this device is one you can rely on to deliver whatever it says. In my opinion, it's the smallest toy I have ever seen since I started using sex toys for pleasure.
It is a miniature panty vibrator that has enormous power to deliver maximum pleasure to its users, anywhere and at any time. One thing about this toy is that you don't have to worry if the toy is going to fall when in use because the toy remains fixed to your panties during and after your fun time. If you're the kind of person who loves toys that exceeds your expectations, give you constant orgasm and go beyond limits to give you repeated heated sessions, then I'm sure that Lovense Ferri should be on your must-have list.
Ferri is a wearable remote-controlled panty vibrator that can be controlled from any distance. You can adjust or customize the vibrations to any level that gives you the best satisfaction via the Lovense app. So, whether you're a beginner or you're a pro looking for something different, Ferri is the one for you.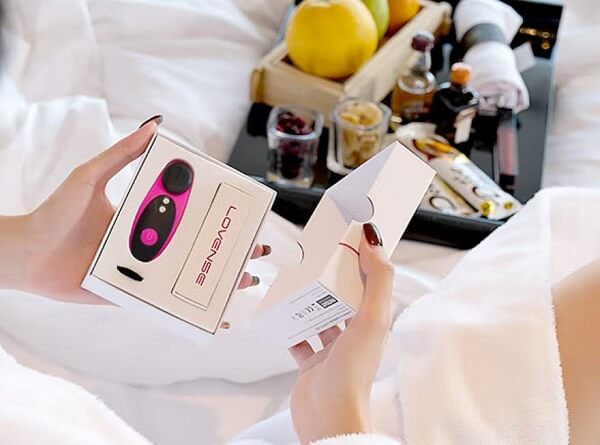 Packaging and Design
The Lovense Ferri comes in a small box that houses the toy, a USB charging cable, an instructional manual, some additional magnetic caps to provide you with unlimited fun time, and a quick setup guide.
Material
The toy itself is crafted and designed by Lovense engineers using the finest materials including body-safe silicone and ABS plastic. When you feel the toy, you'll observe that the pink parts that are directly in contact with your private part are made with silicone and the black part, with plastic. So, you'll be having your private part only in contact with the cosy silicone.
Body
The Lovense Ferri's body is small. It fits perfectly into any panties and you wouldn't have to figure out the panty size to use. Whatever your size is, the Ferri can accommodate it.
Dimensions
The Ferri is so small that you can hold it in your palm and clench your fist. It fits into any bag or purse and no one will ever notice you have a vibrator in your purse.so, whether you're going on a date, or you're packing your stuff for a vacation in the Maldives, you can comfortably wear and use your toy.
Battery and Charging
According to the user manual, Ferri takes about 1 hour to fully charge and can last for up to 3 hours of intense usage. Personally, when I unpacked my toy and charged it, it took about 50 minutes to get fully charged. I wore it for the first time and it lasted for about 3 hours and 35 minutes. When the toy is not in use, it can last for up to 100 hours. That's awesome for a really small device. For me, I'm impressed with the battery's capacity, which is more than enough for an evening stroll.
To know that your Ferri is charging, a bright red light appears at the side of the toy once you plug in your charger. If it doesn't turn red, then you need to turn the magnetic charger in the opposite direction. When fully charged, the red light disappears.
Controls
The Lovense Ferri is very easy to operate as it has only one button at its side. To turn on the toy, all you have to do is to press and hold the power button for about three seconds until the light comes on. Next, you can repeatedly press the power button to take you through different settings and then the vibration levels. To turn off the device again, you'd have to press and hold the power button for about seconds and the toy goes off. Easy, right?
Since the button is on the same side as the area that gets in contact with your private part, you should know that you can't easily adjust the intensity of the vibration using your hand. You can only do that through the app or when you take off the toy. So, keep this in mind when purchasing this toy.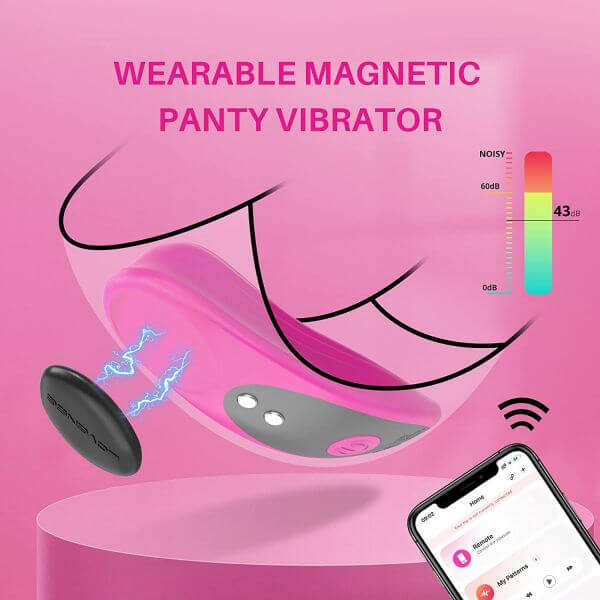 Lovense App
Lovense has one of the best apps in the sex toy industry. Their apps are readily available on Playstore and Apple store. Overall, they have a great and eye-catching user experience design. That's a big plus for them. For me, I didn't have to download the app again, since I already had it (I'm a big fan of Lovense products, you should know that.). Once you turn on the device, it automatically connects to the app, so you don't have to do anything special, and neither do you need to be tech-savvy to use the app.
Long-Distance Control
This is one of the features that made me purchase this device. Once you successfully pair your toy with the app, there are several things you can explore with your toy. You can choose to give your partner access to the toy once they download the app. The app control simply lets your partner enjoy your fun time with you even if they're in a faraway country. The app allows you to get creative with the vibration patterns. So, whether you love solo plays or want your partner to be the boss of the game, the Ferri app is able to deliver.
App Controls
Since Lovense has a great user experience design, you can easily find your way around the app. The control panel is very easy to use. Once you're on the app, you'd easily see five options to choose from including Alarm, Sound, Music, Remote and My Patterns. The Remote option can only be used once you've paired your toy with the app. Once you click on "Remote," a page pops up, granting you full control of your toy.
You can adjust the intensity of your toy to deliver maximum pleasure. The app has a loop function that enables you to make repeating patterns. There's also the float function that enables you to "set and forget" a vibration pattern. With this function, you don't have to be on your phone while your toy is doing its job. With the traditional function, you can change the intensity of the vibration at will.
The "My Pattern" function allows you to create custom patterns you've found worthy for your private part. You can easily combine different patterns from the list of patterns such as earthquake, pulse, wave and fireworks. So, here's the catch, guys. If you have other Lovense toys, you can easily use your custom patterns for them as well.
The music option allows you to play songs from your music library. You can even use your Spotify playlist, and sync the vibration patterns with the sound. Sounds, cool, right?
The Alarm feature allows you to set a specific time for some pleasures. You can wear the app-controlled vibrator to bed, and with the alarm, you'll wake up to some morning glory. You don't have to worry about the vibrator falling off.
Lastly, with the sound feature, you can sync your toys with your background sounds. I tried this when I was vacuuming my room and the pleasure was intense. So, you can imagine syncing your toy with the sounds at concerts, haha, it's going to be moments of wild pleasures.
Other Features
There are tons of benefits you can get from just one app, including, sound level control, sound level control, unlimited vibration pattern and Tap and Slide Control.
Water Proof
The Ferri toy has some layers of water resistance, meaning that it can be submerged in water for up to 30 minutes at no more than 1 meter. I know you'd love to explore with your partner in the showers or bathtub, but you have to be careful when doing that.
In terms of cleaning your toy, since it's waterproof, you don't have to worry about your toy getting damaged. As long as you don't leave your vibrator in water for more than 30 minutes, you're safe. It's best to clean your toy with warm water and mild detergent before and after use. Finally, you can use fine linen to dry the toy.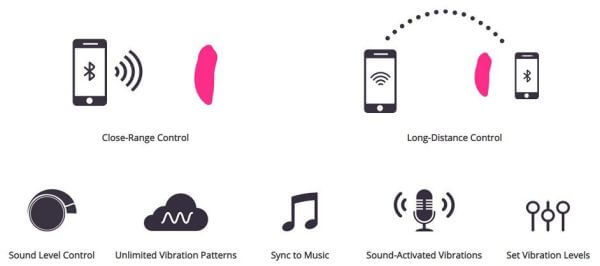 Final Words
The Lovense Ferri toy is a good buy in my opinion as you can get it for as low as $99. This review sheds light on my bias about this toy that finds its usefulness in long-distance adventures. whether you're taking an evening stroll, jogging around your vicinity, watching some Netflix movies, or even browsing through your phone's internet, this toy can keep you busier and offer you unbeatable fun.
These toys are no jokes at all. They're suitable for any lifestyle that you may be living- whether private or public. Even if you're in a long-distance relationship, you can play with your partner. Distance is not a barrier with this toy. You just need to have a licensed account and you can connect with your partner from anywhere around the world. This amazing toy has a lot of great features. You can easily attach it to your panties and constantly hit the g-spot. You'd readily feel comfortable and no one will ever suspect you of doing anything. Not even Sherlock Holmes. So, in my opinion, I could say that this toy is small, but its performance is out of this world.
The releated blog Lovense Exomoon: APP Control Bluetooth Lipstick Vibrator To Release Your Passion