Did you know that sexual fantasies are good for the brain? They are great when it comes to stimulating creativity and strategic thinking. This comes as a surprise to people who've never engaged in sexual fantasies. It's not a wonder that your top sexual fantasy might help your creative thinking. 97% of Americans have sexual fantasies. A sexual fantasy is a mental picture in the mind that turns you on while you're awake. Sex dreams aren't part of sexual fantasies since you don't have control over them.
Sex is a topic that sparks so many feelings at once. When it comes to sexual fantasies, different people see it differently. Sexual fantasies can affect even the most optimistic people. It might leave one feeling uncertain and confused even before engaging in the act. When you talk about sexual fantasies, you reflect on erotic mental images that arouse you.
With sexual fantasies, it's easy to think that your innermost and private thoughts are somehow deviant. It's possible to think that they're too much to talk about to some people. However, you might get shocked to find out that even your most insane fantasies are healthy and normal. In fact, it is suggested that people with sexual fantasies who get to experience them have a greater sense of self-esteem and less anxiety. Take a look at masturbation, for example. May is the official Masturbation month, and people get to enjoy and celebrate the act of self-sexual pleasure.
Sexual fantasies equal daydreaming about sex which is very normal. Experiencing sexual fantasies has many advantages, and it might even help you rekindle the spark in your relationship. Before we go to that, what are some of the top sexual fantasies in America?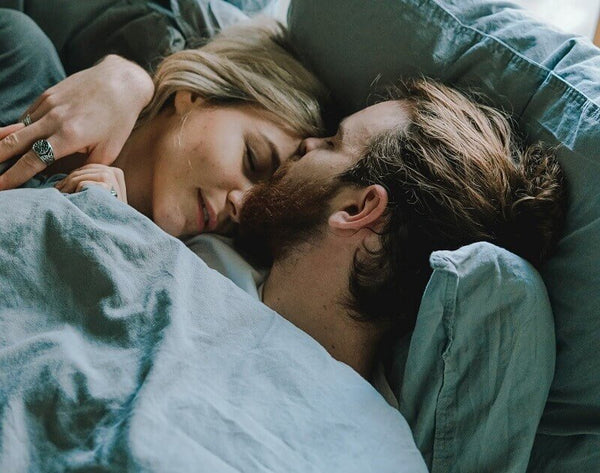 1. Multi-Partner Sex
This involves having sex with more than one partner at the same time. Multi-partner sex is having sex with more than one partner of the different or same gender. For example, it can be between one man, two ladies, one lady, two men, three ladies, or three men. It depends on your sexual orientation. It can be a threesome or an orgy.
According to a study in 2017 by the Archives of Sexual Behavior, more than 64% of people fantasize about having multi-partner sex. Men are more likely to fantasize about multi-partnered sex with multiple and anonymous partners. Women fantasize more about multi-partner sex with same-sex partners and celebrities. Many people fantasize about many men and women having sex together (orgies, swinging). Others focus on one dominant partner having sex with many other people in a gangbang.
2. Rough Sex
Rough sex is an aggressive, dominant, perhaps animalistic, and sometimes a bit violent kind of sex. Rough sex is seen to be more passionate compared to other kinds of sex. Rough sex isn't abusive or inherently dangerous.
Many people, especially ladies, fantasize about having rough sex with their significant other. According to most women, they prefer when the man fucks them hard but safely. The arousing bit is when the man fucks the woman hard, and the woman asks for more verbally. It is arousing for both men and women and works magic with partners in a relationship
The thought of rough sex is arousing to most of us. Interestingly, most people prefer rough sex most of the time during sex. However, many partners noted that having rough sex isn't for the weak or faint hearted. It is amazing but has to be done using lube and with a strong person fucking.
3. BDSM (Bondage, Discipline, Dominance, Submission, and Machoism)
This is another of the top sexual fantasies in America. With BDSM, it is more psychological than it is sexual. It's good to note it also involves rough sex. With BDSM, it's all about power and control. Power dynamics during sex stroke the ego and are arousing. However, different people fantasize about BDSM differently. Some people are aroused by deep and intense pain, while others love light restraint.
BDSM encompasses spanking the ass when having sex, dominating the other person using restraints, hot wax, biting, choking, and other dominant and submissive acts. It also involves using sex toys as you dominate the other person. For example, you can have a sex toy that gets your partner on all fours and give them a slight electric shock when they try to get up.
BDSM is more about power and control than sex. However, with BDSM, one has to consider their partner and talk about it beforehand. Some people use it as a tool to literally punish the other partner and go to extreme levels. As much as it is about dominance and submission, talk about it with your partner and understand what they love and enjoy.
4. Sexual Adventure
With sexual adventure, the aim is to get aroused by having sex in different places. This is a major turn-on, especially when sex involves a bit of risk. Sex in public places is a popular fantasy with sexual adventure. A survey found that 81% of men are aroused by public sex compared to 84% of women aroused by the same
With sexual adventure, most people think of having sex at the train station, inside a bus, in public, behind the bush, etc. It also involves new sex positions and something like bringing food into the mix. For example, one partner can pour some chocolate on the other and lick it off their body.
In America, it's vital to note that some sexual adventure fantasies are illegal. The municipality's basic guidelines vary, but public nudity is illegal in most areas. In other areas such as Denver, public nudity is completely legal. If you're up for some sexual adventure like having sex in public, in a bush, at the park, and such, Denver is the place to visit with your significant other. Here, anyone can go topless without anyone bothering them. In the US, sexual acts in public are illegal in 50 states.
5. Sexual Novelty
Sexual novelty is a top sexual fantasy in America. Some of the best sexual novelties include anal play, oral sex, and unusual positions. These are top sexual fantasies, especially for people who've never experienced them. More than 60% of participants fantasize about receiving or giving cunnilingus or fellatio, according to research. More than a third of men fantasize about anal intercourse, while a good number of both men and women have fantasies of receiving anal sex.
Having sex in unusual positions is part of sexual novelties and adventure. Men fantasize more about unusual sexual positions compared to women.
6. Exhibitionism or Voyeurism
This is a sexual fantasy that involves watching an unsuspecting couple engage in a private sexual act. In 1991, a small study showed that more than 54% of men have voyeuristic fantasies. To some people, voyeurism is much better when they watch a famous person privately having sex with another person. Voyeurism is much better and more stimulating when the other person doesn't know you're watching them. A Swedish study in 2006 found that of 2450 participants surveyed, they reported getting aroused watching other unsuspecting couples have sex.
Exhibitionism is the other extreme of voyeurism. This is the act of getting stimulated and aroused when other people watch you have sex. It can also happen when you expose private parts to unsuspecting couples.
7. Role Play and Cosplay
With roleplay, you assume a sexy identity. With roleplay, you can engage in any fantasies and kinks mentioned above. Roleplay helps one play out power fantasies or as strangers.
Cosplay is part of roleplaying, and it is when you dress up like something or someone else. These characters can be from the real world, movies, books, or video games. It doesn't have to be sexual, but some people enjoy this character impersonation to get aroused, and it is fun.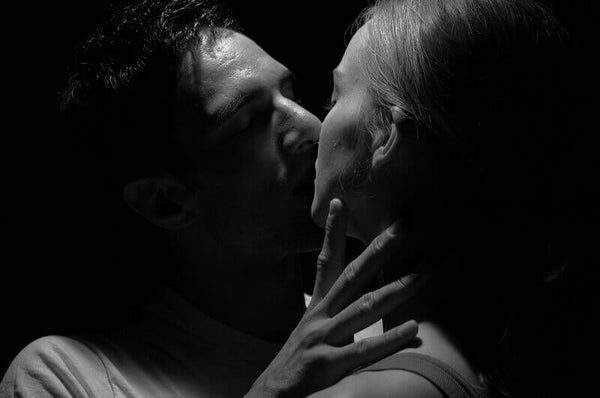 Though this falls mostly in the BDSM type of fantasy, it sits well on its own. With roleplaying, one doesn't have to be a dominant partner. You pick a role and play with it all through to the end. The fantasy is made more fun with roleplaying by bringing sexy roleplaying clothes into the mix. A good example is a roleplay between a teacher with their student. A nurse and a patient roleplay is another example.
8. Taboo or Forbidden Sex
A good percentage of Americans have sexual fantasies involving taboo or forbidden sex. The extreme taken on this stand is personal. However, taboo sex mostly involves sex between family members, sex with co-workers, such as the boss, etc. A good example of taboo sexual fantasies includes sex with step-mom or step-sister, sex with step-dad or step-brother, milf moms, and much more. Taboo sexual fantasies can involve any of the above fantasies, and around 45% of adult Americans aged 23-29 fantasize about having taboo sex.
9. Romantic/Passionate Sex
Romantic or passionate sex is quite different from all other fantasies. It has no specified definition because sometimes, what's romantic for one person isn't romantic for the other. Any sex can fall into the romantic sexual fantasy. Romantic sex involves having sex with someone you are emotionally and erotically connected with.
With passionate sex, a lot of making out is involved. It can be long, slow, and super sensational. It mostly involves making out a lot before penetration. After penetration, it involves slow and long sexual arousal without ejaculation. Many Americans fantasize about romantic and passionate sex, mostly portrayed in movies.
Tips to Help Approach Your Partner with Sexual Fantasies
Fantasies are exciting and thrilling. Trying any of the above fantasies with your partner might change your sex life for good. However, as it involves a lot of experimentation, make sure you are in the right place for utmost pleasure and safety. How do you do it?
This is the most important thing to establish with your partner. Fantasies involve a lot of things, and establishing consent communicates to your partner. It shows them that you respect them plus their body. Remember, sexual acts without consent is assault.
Consent means non-coerced permission to engage in sexual acts, and it is explicit. Consent can be revoked at any time, and it is one of the most important aspects of healthy sex.
Before trying any of the above fantasies, please talk with your partner about it. Get to know what your partner loves and what they want to experiment with. Talk and get to know what you plan to engage in up to the last detail. With communication, you ensure that you get consent from your partner and that they're comfortable with the sexual fantasy you want to engage in.
As you communicate, be transparent about what you want to engage in and what you don't want. Discuss all boundaries by setting an agreed plan for how the sexual fantasy might go. Get a safe word for when you feel unnerved such that your partner knows when to stop.
Even if it is something you engage in regularly, talk about it with your partner to ensure you enjoy safe sex.
Sexual fantasies such as multi-partnered sex should include the use of protection. Proper protection ensures you practice sex with a condom or barrier to avoid transmitting STIs. Remember, birth control doesn't protect you from STIs.
The only way you enjoy maximum sexual pleasure is if you feel safe and respected by your partner. Sex is intimate and should only be experienced with someone who enjoys having you as their partner. With sexual fantasies, avoid saying or doing something that might make your partner feel bad or judged.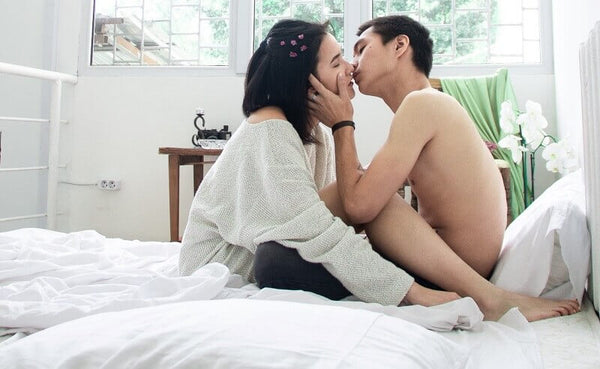 There are so many sexual fantasies in America. Some are bizarre to think of, but some people do enjoy them. The above sexual fantasies are among the top in America in which people wish to get a chance and engage. With sexual fantasies, understand that vulnerability must be embraced. Take everything slow, especially when you want to try new things. If you have any concerns with specific fantasies, voice them and get an understanding with your partner before you indulge.