Lovense is a Hong Kong-based company that provides long-distance sex toys with an internet connection and an app-based user interface. People who seek a long-distance or remote-controlled sexual intercourse can purchase vibrators, butt plugs, and other intimate products from this company. The most popular products of Lovense are MAX(Male Masturbator), NORA( Rabbit Vibrator), G-spot massager, and so on. Lovense's best products and guidelines will be discussed in this article.
How to Connect Lovense App To Phone
This is the best feature of Lovense company that you can enjoy your inner life most convenient way. Lovense developed some apps and software to add more value to their products. To connect your phone to Lovense App, just followed these guidelines.
1) To connect Lovense App with your devices like laptop, desktop, smartphone just download Lovense App from www.lovense.com.
2) When your laptop or devices get access to Lovense App, then your App blinks.
3) To access 'My Toys,' click the 'Link' button in the upper right corner of your screen.
4) The '+' button can be clicked. The app will begin searching for all of your ready-to-connect sex devices when you press this button.
5) You can use it conveniently in any place.
6) Always keep in mind that if the device's toggle icon is pink, it is on. It's off if the toggle icon is grey.
7) To complete the process, simply click the 'done' button in the upper right-hand corner of your screen after you've located and turned on your device of choice.
How can take control of your partner on the app?
Begin by selecting the long-distance tab in the screen's lower centre. If you are in a long-distance relationship, you should become familiar with this tab, as it is where all control is held between partners and their sex toys.
Choose the partner with whom you will play sex toys. Remember that to use this feature, both of you must have a Lovense account. To add a partner, click the '+' button in the top right.
Select the '+' icon in the lower right. This will bring up all play options except the messaging that is already set up at the bottom of your room.
Find the 'Live Control' icon. If this option is greyed out, their toy is not connected. To use the control feature, they must first connect to the Lovense app. If you have a connected toy, your partner can still control it.
Select the 'settings' button to change them. This toy is inside your partner's chat window. You can choose from a variety of sites.
How to Sync Music with the Lovense App
Android Phones Guidelines:
Begin by downloading all music to your phone's 'Music' folder. Save it to your phone's internal memory.
The program should play all music in the 'Music' folder.
Chose song to get more pleasure during sexual intercourse.
Iphone Phones Guidelines:
Begin by logging into iTunes, then connect your iPhone.
Drag and drop your favorite songs into iTunes' Songs folder.
Select 'Music' and then 'Sync Music.' Your entire collection will sync to your phone.
Open the Music app on your iPhone. Your iPhone should now have all of your iTunes music. To download music, click the download icon.
Install the Lovense Remote App. Your iPhone's music should appear in the Lovense app.
Top Lovense Sex toy Ever
NORA: Bluetooth Rabbit Vibrator
The Nora rabbit vibrator gives twice the pleasure to users and its unique design can make your life happier. NORA can stimulate Clitoris and give maximum pleasure. There are many unique side of NORA vibrator. When you connect NORA Vibrator with your smartphone, you can explore more things. For example, vibration, song, etc. NORA is made of the latest technology and it is suitable for Bluetooth and WiFi. Sound of NORA is comparatively noisy but it is not bad sound. Due to its small sizes and unique design , you can carry NORA any place.
Features of NORA Bluetooth Rabbit Vibrator
With LOVENSE's powerful vibrations from the clitoris, you'll experience the clitoral pleasure that lasts for up to two hours - but you'll be done far before then.
You may set the pace of the rotating head and the intensity of the vibrations of the vibrating arm, allowing you to attain orgasm pleasantly and fast. The two sensations culminated in body trembling.
With Bluetooth and WiFi technology, your lover or anybody else may operate the Nora bunny vibrator from anywhere in the world.
The battery of NORA has good feature that covered maximum time to enjoy.
NORA has rotating head and vibrating arm that provide more pleasure while using it.
It is 100% waterproof and made of body-safe silicone. you can wash, dry, use lube, and discover what makes you tick without any worries.
LUSH 2: Bullet Vibrator
LUSH 2 is redesigned for greater control during sexual intercourse and it can improve your sensation ability of g-spot. LUSH 2 has a powerful vibration settings and it has Bluetooth connectivity with 360 degree range. It is fully hands free and you can use it any place conveniently. For example, through Bluetooth,  you can use it in dinner, movies time or bedroom and get sexual pleasure. Besides, through wireless connection, you can control its intensity, vibrating mode etc.
You can customize your solo play experience by designing endless vibration patterns, activating vibrations in response to sounds, or synchronizing the Lush2 vibrator with your favorite music. I also write Lovense Lush2 and Lsuh3 Comparison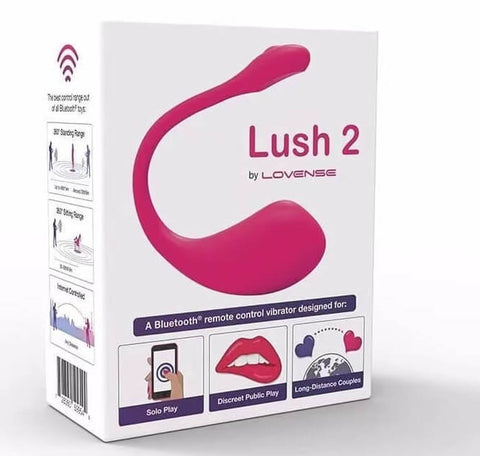 Features of LUSH 2
Choose from 7 amazing vibration modes or create your own with the Lovense app; Lush2 is Lovense's most powerful vibrator yet, with increased Bluetooth connectivity and 360-degree range.
The Lush 2 bullet vibrator is stronger and more powerful than ever before.
Designed for intimate pleasure and reliable wireless control;
It is precisely curved to hit your G-Spot; powerful vibrations last up to 4 hours;
It is waterproof and silky to the touch.
Pros and Cons of LUSH 2
Control the LOVENSE Lush 2 vibrator from anywhere with the app.
Unlimited Customization: Create custom vibration patterns today and reuse them later.
Experiment with new combinations to reach climax.
Set the vibrator to your favorite music for a session of gentle build-up and climax.
Sound Activated Vibration: it is good at all. You can control sound through App.
HUSH
HUSH is a Lovense's Vibrating toy. It's so potent that every time you use it, you'll find yourself quivering and shaking. You may have hands-free pleasure while wandering around outside of home. It has Bluetooth connectivity that added in your your smartphone. Nobody will ever know what's going on in your buttocks! Hush is so compact and silent that it's ideal for traveling with. Grab it and take it outside, where you can engage in solo performances in the natural environment. Give control to your spouse and let them play with you when you are in a crowded restaurant or while you are at the movies.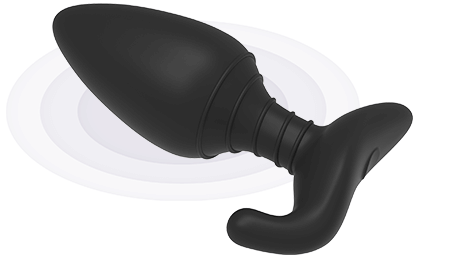 Features of HUSH
The Hush vibrator offers strong vibrations that will have you shivering and squealing. It comes in two sizes, making it suitable for both men and women.
SOFT FLEXIBLE DESIGN means it glides in and out easily with lube; Unique spirals on the Hush butt neck trap lube to keep your new favorite toy in place. It is quite comfortable.
Control your partner alone or with a partner. the bedroom, movies, or dining with Bluetooth control; Using the wireless app, your spouse can regulate the intensity, speed, and all the highs and lows.
QUIET, STRONG & CUSTOMIZABLE butt plug helps you attain climax; sync with your favorite beats and discover new music; produce endless vibrating patterns so you can easily reach PURE, POWERFUL, AND INTENSE SEXUAL PLEASURE FOR UP TO TWO HOURS ON LONG
You can enjoy the Hush butt plug alone or with your companion.
AMBI Bullet Vibrator
The AMBI is designed to locate your pleasure zones to the millimeter of a doubt. If you want to send feelings down your vagina to your legs, use the blunt end; if you want to focus the vibrations on your clitoris, use the sharp end. The hammer form makes it easier for you and your spouse to share the responsibility for achieving the most pleasurable sex experience possible. AMBI Bullet Vibrator is extremely compact, making it ideal for travel. Grab it and take it outside, where you can engage in solo performances in the natural environment.
Features of AMBI Bullet Vibrator
 Convert your smartphone into a wireless remote. It is fully App controlled.
Long Distance Control: The AMBI bullet vibrator may be controlled from anywhere via WiFi. Invite your companion to join the LOVENSE app as a friend. It's now possible to control the vibrator through phone
Unlimited Patterns: Choose from over 5,000 patterns or create your own personalized vibration pattern.
MAX 2
Max 2 now has a gender-neutral sleeve, 360-degree contractions, and a vibrator that has been redesigned to give you more robust, more powerful feelings. As a result of this, the process of charging has been made even easier and the battery lasts longer for those long, steamy sex dates. If you're a fan of the Lovense teledildonic line, you'll love the new one.
Features of MAX2
Max 2's release is a huge achievement for users! Max 2 now has a better casing, 360-degree contractions, and a revamped vibrator. Add to it easier charging, greater battery life, and improved sensors. This latest Lovense Teledildonics release is sure to be a hit!
Sex toy with remote control is simple to operate. Moreover, the vibrator with Nora or other Max / Max 2 Synchronized reacts to each other's activities to increase your emotions.
It's a Premium Masturbator. Max2 aims to increase client happiness. The product is made of soft, comfy, safe, and eco-friendly medical-grade silicone. The standby time is 120 hours and the use time is 300 minutes! Let the fun be had anytime, wherever.
With Lovense's Max 2, you can feel distinct suction pressures than other goods.
The products by Lovense are genuinely unique. They have developed a strong brand of products, bridging the physical gap that a lot of people face in long-distance relationships. These toys may prove a valuable investment for cam professionals, making it possible to incorporate them into shows and bring in profit.
That's all our efforts. This will be helpful to understand Lovense Products. If you need further information about sex toys, then just click on www.honeysx.com
Releated article 8 Best Remote Control Sex Toys For Male