I thought I'd never get around to this due to having a lot on my plate lately but having a lot of people ask me about the best prostate massagers gave me the kind of push I needed to get this started. I'm going to be as detailed as possible and I hope this article answers all your questions about the newly released Lovense Edge 2 prostate massager. For those of you with extra doses of curiosity, I've never tried the Lovense Edge so I can't share my experience with it compared to the Lovense Edge 2. But I can promise to do such a fine job on reviewing this updated version that you may not need to wonder about the original Lovense Edge.
Let's get right to it.
One core feature I took note of immediately is the Bluetooth feature, which is engaged by remote control. If you've been around Lovense sex toys, I'm sure that this means the Lovense Edge 2 can be linked to a Lovense Remote app on both iOS and Android devices.  It also has internet compatibility that allows couples in long-distance relationships to have all the kinky fun they want despite being in different places during play. All you and your partner need to do is create an account to enable safe access. If you are cummin' solo, then you won't be needing this feature. However, feel free to control your massager with the app in offline mode if you wish.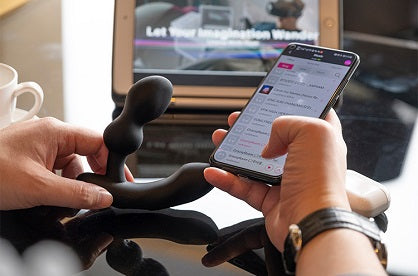 The Lovense Edge 2 box is as small as it is elegant and the whole packaging is as minimal as possible. What you'll find when you open the box is a cute bag for storing the product and a manual. You will also get the Edge 2 magnetic USB cable in the box. But what is the Lovense Edge 2 made from? It's made out of silicone that is not just harmless to your body but easy to clean and 100% water-resistant. The neck of this sex toy is quite flexible and will let you alter the angle so you can hit all the right spots. In other words, the angle can be adjusted for perfect placement to your prostate. Personally, the flexible neck reminds me of
We-Vibe's Vector
but that's just as well.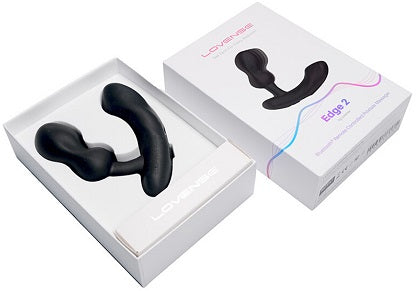 This sleek, sexy massager comes with two motors and each of these motors is located in the shaft and the base. The latter has been smartly placed by Lovense to externally stimulate the perineum. The insertable length of this massager is 3.59 inches with a width of 1.38 inches at its widest point.
Packaging aside, the Lovense Edge 2 offers 4 different patterns and 3 sweet speed settings. These vibration patterns can vary when you connect with the app. As common with most Lovense products, the massager allows you to set the speed to your taste and create personalized patterns. Do you know you can sync into the patterns of just about any music? It's a feature with most Lovense sex toys that have never failed to amaze me. All you've got to do is choose your fun and the Edge 2 will thrust along!
Using the Lovense Edge 2
I know you probably think this is all hype but I can tell you factually that it's not because I have used this massager and it was everything, I expected it to be. I must confess that inserting the Edge 2 took some time due to how long it's been since I got my nut with something up there, but once I got it in after a few tries, it was smooth stroking.
I found the shaft to be impressively firm with no bumps at all so it was easy for the shaft to simply glide right in and stay there without causing any discomfort. The thin neck made it possible to keep the Edge 2 massager in without any issues and the flexible neck made for easy adjusting.
The flexibility of this toy doesn't overshadow the fact that it is a very strong toy. You even after to flex your muscles a bit to bend it but trust me when I say the Edge 2 is not going anywhere once you've got it in. this massager remains firm and more than capable of doing the job once it's up there.
Connecting Your Edge 2
Fortunately for users who may not be tech-savvy, the Lovense Edge 2 is not complex to set up at all. All you need to do is download the app and open it if your dinky little toy is on (the flashing light at the bottom will indicate this). Navigate 'connect' and you are ready to stroke yourself to a satisfying climax.
Remember I mentioned the Lovense Edge 2 having a remote-control feature? Well, to use this, move the icons around to allow you to amp up the intensity of each motor. You may need to keep your finger on the buttons to continue the vibrations as they stop the moment you release the buttons. I recommend this method if you've got your partner around to help you control the Edge 2.
Other modes are:
· Traditional Panel
This model is practically the 'Float' mode, only more simplified. Unlike the panel for tapping and sliding, you get two sliders that adjust the intensity in just one slide motion.
While trying out the music mode, I let my massager access Deezer and tried out a range of songs with various beats per. While I admit that this mode was put there for a reason, I didn't see that much of a difference in vibrations with each song though the vibrations were there.
The key is finding the control mode that best suits you and then enjoying the feels and thrills as you lie back. I'll classify the vibrations from the toy as rumbly but quite nice. Too nice in fact. I've used other prostate massagers and the Edge 2 is not as strong compared to these other toys but it holds its own pretty well when it comes to vibrations. It would interest you to know that is both a strong toy and a silent one. I for one love this sexy contrast.
An added tip is for you to insert the massager, turn the vibration to maximum, and rock ever so gently. The sensation is out of this world guys! Thanks to the firmness of the shaft, this small method can be super satisfying because you have a firm massager sending sweet vibrations directly to your sensitive spots. I came in no time doing this. And without much arousing. I'm confident I can take things up a notch hands-free with this toy. Masturbating has never been better!
· Looping Mode
The looping mode is a simple interface that allows you to automate a particular vibration pattern. You can do this by moving each of the sliders to enable looping of that vibration when you let go of the slider. I recall having a lot of fun with this mode and it worked well with long sessions of edging. This mode allows you to have fun with different patterns and the thrill is mind-blowing if you have your partner programming a pattern just for you.
· Float Mode
This mode is essentially a sliding mode that lets you slide motor icons to any position you prefer and until you select another position, this icon will simply float there. If you are more into manning the motor's intensity as opposed to changing patterns, this is a mode you are going to love.
Maintaining and Cleaning Your Edge 2
Somewhere in this article, I mentioned the Edge 2 being waterproof. This makes cleaning it quite simple and easy to do. All you need is some anti-bacteria soap and a tap to rinse it under after washing. When you are assured it's clean enough, dry it in gentle pats with a clean towel and return it to the storage bag.
I must inform you though, the Lovense Edge 2 can churn out up to 1.7 solid hours of playtime so try to keep up when you start using it. Charging is not a complex process and there's a secure, magnetic cable to help you do that. The Lovense Edge 2 takes an hour and a half to charge with a 10ft reach remote.
In summary, the Lovense Edge is a powerful toy with enough functionalities to guarantee a satisfactory experience. The shape of its shaft was designed for comfort and you don't have to worry about it shifting out of place because it stays on firmly. Its flexible, adjustable neck allows you to channel the vibrations just where you want them. Though you might have to do some trial and error to get the perfect spot, this itself makes for a more sweet, adventurous experience.
Lovense's Edge 2 does not assume everyone is made the same way as a lot of prostate massagers out there. This toy allows you to alter it to suit your unique body type and that's a big flex for me. While I would have preferred it to have some more oomph, I still love the quiet but strong vibrations. I won't say it beat some of my other massagers when it comes to vibrations. Notwithstanding, I still loved the vibrations that boomed out of the perineal motor. So far, they are the strongest I've had up there and I mean it!
As of writing,Lovense Edge 2 prostate massager was sold in Lovesense store for $99. You can get a 10% discount when you buy it from honeysx. I'm going to give an overall summary of the Lovense Edge 2 and then we can wrap this up. 
· Pros: Waterproof, strong vibrations, flexible neck, remote control, dual vibrations.
· Cons: super firm shaft
· Overall verdict: the Lovense Edge 2 prostrate massager left me impressed and did a good job of satisfying me (and I'm a thirsty, crazy bottom!)
Standard features
· Silicone
· USB chargeable
· Storage bag
· App-controlled
· Waterproof
· 9.5 orgasm rating
· Strong, rumbly vibrations
The next blog LOVENSE GUSH:BEST HANDSFREE STROKER