The LOVENSE REMOTE app is a software that is used to control the Teledildonics toys from the LOVENSE brand. Sex toys such as Lush, Nora, Ambi, Max and several other LOVENSE toys fall under this category. The LOVENSE Remote app is with a wealth of features like short and long-range control, pattern customization, synchronizing the movements of two toys, and more, it is a free app that aims to improve your solo or partnered play.
You can effortlessly manage Lovense sex toys and adjust their pace and intensity over Bluetooth by using the Lovense Remote App. You can control each motor separately when using a sex toy with two motors, such as the Lovense Hyphy dual-ended vibrator, thanks to the Lovense Remote App. If long-distance play is something you're after, setting up this shared connectivity is surprisingly easy despite the distance between you.
Its distinctive features, including the music feature and unique sounds that blend with the vibrations, make it the ideal tool for wonderful video conversations with your Partner. Both Bluetooth and Wi-Fi work nicely to link the Lovense Remote App to the iPhone.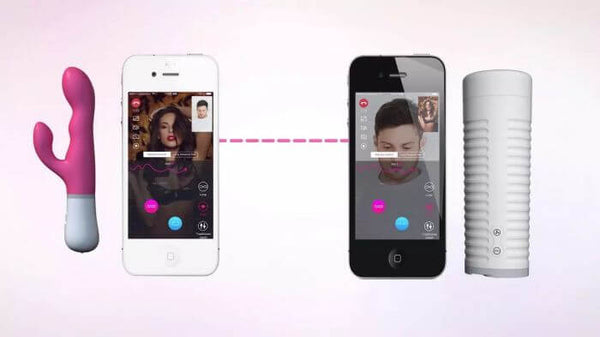 With a range of roughly 30 feet in all directions, it is effective for close-up self-pleasure and local connections. It scatters signals in all directions up to 30 feet away. Within the 30-foot bubble, a partner can remotely control it from any location.
Features and functions of the LOVENSE REMOTE APP
It enables you to control either a local remote during couple play or a long-distance remote while masturbating.
Remote Control can be used in three different ways: loop, float, and traditional. There are many panels, but the concept is the same. While Traditional panel is more exact, Loop and Float panels are more casual.
You can as well customize your LOVENSE Remote app. There are 4 pre-set patterns already in the "My Patterns" area. They are Earthquake, Fireworks, Wave, and Pulse. These pre-set patterns can be played at speeds ranging from 0.25 to 4 times their original speed. With this is the ability to customize patterns is also available.
Different toys provide various motions and sensations. Some move with vibration, contraction, and propulsion.
The amazing thing is that you can choose what each of your toy's motors does.
For a better for prolonged stimulation, you can make a playlist of your favorite patterns.
One of the first sex toy companies to include the Music Control feature in its app was Lovense. your chosen songs or musical beats will be synchronized with the vibration, contraction, or thrust of your toys. You can connect with your Spotify account in addition to the offline playlists you could post to discover other options.
You can wake up to alluring vibrations because many Lovense toys are comfortable to wear for extended periods of time. For instance, before going to bed, you might either squish Lush 3 or fasten Ferri to your underpants. The vibrator will buzz at the predetermined time the following morning to gently wake you up and may even provide an early-morning orgasm.
Your phone's vibrator will move in time with the sounds it picks up around you. The rhythm, volume, and beats are all important.
You will unlock a new door after you include your spouse for long-distance control. No matter where they are, your lover will always be able to maintain intimacy with you by controlling your toy and engaging in sex with you. Live touch control, video calls, voice calls, pattern control, sharing sexy photographs during virtual sex, triggering the toy with your partner's voice, and more functions are available for long distance relationships. The synchronization mode is the most thrilling feature. You can have realistic virtual sex if each of you have a Lovense toy.
You can access the incredible pattern libraries that other users have made by opening the "Discover" section. These weren't just picked at random and are actually very popular among users thanks to Lovense. The fact that it is an open library and permits free downloading is its strongest feature.
One of the most recent additions to Lovense's app is speed mode. It enables your devices to pulse or vibrate in time with your rate of acceleration.
You can activate two sex toys for each session, roughly. While linked to the app, both you and your partner can use one sex toy at a time.

Gaming option:

In the gaming business, sex gaming is a big trend. It is a type of interactive entertainment that can increase pleasure levels while also being entertaining. For the purpose of offering an immersive experience, Lovense teamed up with innovative 3rd party erotic game firms. All Lovense toys are currently compatible with 5 interactive games, including Breeders of the Nephelym, Treasure of Nadia, Mirror Life*, and 3DXChat (*Mirror Life is compatible with Max 2 male masturbator only). These games, which can be played in 2D, 3D, or virtual reality, are meant to encourage closeness, sensuality, and sexual exploration.

As an illustration, the adult virtual reality entertainment website 3DXChat provides a range of sexual content, such as virtual reality porn, webcam models, and interactive sex games. The website is free to join and offers a wide variety of person categories. Another illustration is the hidden object game Treasure of Nadia. You can look for treasure by exploring Nadia's world. In this exotic universe, there are more than 2,500 dirty animations, and 12 stunning female characters will give you the same feelings. You wonder how it functions, the third-party game will immediately connect to your toy once you attach it and turn on Game Mode.
How to download the Lovense remote app
You need to first download the software from the App store before I could use it on my iPhone. Android users can download the software from the Play Store and run it on their phones.
These following devices and  software and are compatible with the app, according to the packing user manual of the LOVENSE products;
PC, Mac Devices running iO9 or a more recent version Android 4.3 or higher Supporting Bluetooth 4.0 iPhone, iPod touch, iPad Mini, and iPad. In the Lovense app, Bluetooth is the main connectivity option for local connections. My Lovense Max sex toy and I are connected via a dongle, and so far there have been no connectivity concerns.
How to connect the LOVENSE products to the app
There are no special tools required for the connection portion, which is easy. The link icon in the app's upper right corner launches a new window with a + button visible. New devices must be found by first-time users in order to connect them to the app. For the app to find compatible sex toys, they must be turned on throughout the connection. All Bluetooth connections and other connectivity points must remain active while indulging.
Lovense displays an active connection using two color modes. The device that is linked and active will be highlighted in pink upon connecting with it. When there is no communication, the pink goes gray. The majority of the time, the Bluetooth connection between a LOVENSE sex toy and the app is seamlessly flawless.
When you change to long-distance mode, the distance is limitless. The local connection distance for Bluetooth mode is between 5 and 30 feet, depending on whether your companion is visible or not.
How to connect with your partner in a long distance
The long-distance feature is where all the action occurs when it comes to long distance. With just an account, partners can use the entire world as their playground. The + button in the top right corner can be used to add a partner.
There is the playback control button, which becomes pink when the long distance feature is ongoing. The button becomes gray when not in use. The distance control interface in the app offers extra settings that enable the auto-play function, partner text notifications, partner login prompts, and authorizations to take control remotely.
Pros
Even for beginners, it's simple to use.
It already has patterns installed on that is made by other users of the app
The application syncs with iTunes.
Lovense vibrates when music is playing.
Multiple connections between two toys are possible.
Wi-Fi compatible for long-distance connections
Compatible with any sex toy made by Lovense.
Voice control activation is supported.
Cons
The long-distance connectivity can be unreliable (a strong and stable Internet connection is needed).
Over a distance, the video quality is poor. This could e subjective to the state of the internet connection.
When a partner is out of sight during a local connection, the Bluetooth range is around 10 feet.
You can only use it with Lovense toys.
Conclusion
LOVENSE REMOTE app is quite an interesting and exciting product to explore if you are a lover of the LOVENSE brand, even as a beginner, there are lots of benefits you can enjoy from using this app, you can also learn what you enjoy and prefer as a person. The app is available for free download on Apple's App Store or Android's Playstore if you want to have sexual satisfaction like no other.