The best vibrator can greatly increase the satisfaction of love. From the perspective of 10 years' experience, I think the best vibrator can be provided to readers, so as to effectively help lovers find the most suitable sex toys. If you want to buy a high-quality vibrator, I suggest you pay attention to my article and continue reading it, so that you can choose the one that suits you best.

To know the best vibrators, it is necessary to know the history of vibrator and definition, so as not to take it for granted that all vibrators are similar. The vibrators listed below are all data that I have explored from practical experience, combined with appearance, material, function, characteristics, experience and big data feedback, so it is necessary for you to take a closer look, which will definitely help you.

OK, let's get started
1.Pulsating G-Spot Vibrator
Combining pulse function with tapping and vibrating function, diversified sensory stimulation is realized, which is more in line with ergonomic design.
Three different rhythms stimulate three different nerve endings, and the feeling of multiple combinations is more diverse and rich. The thickest place is 3.5cm, which is suitable for novice experience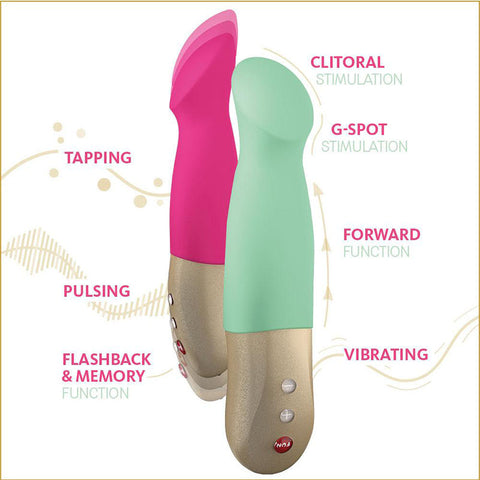 Operation: pulse insertion+vibration+tapping
Dimensions: 417.5cm*3.5cm


2.Touch Screen G-Spot Dildo Massager
Fingertips slide gently, and the intensity can be switched seamlessly, bringing roller coaster-like ups and downs. 82 DIY modes, enjoy endless fun, unique design, touch era, climax is on the verge
Vibration golden radian, ergonomic design quickly find G spot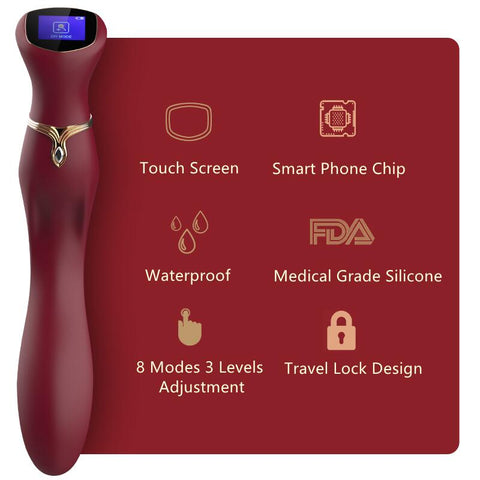 Size: Φ36×220mm
Material: medical grade silica gel


3.G-spot sucking rabbit vibrator
Pulse sucking vibration stick, one stick and two usages, G spot vibration and clitoral sucking enjoy double climax.
Pulsating sucking pressure technology, through the sucking pressure formed in the suction nozzle by high-frequency vibration of peritoneum, not only imitates the sucking action of real people, but also the pulse pressure generated can be transmitted to the internal nerves of sensitive parts in a deeper level, and the deep stimulation is easy to cause climax.
10 vibration modes and 11 sucking modes can be combined into 110 modes, and the stimulation sense of each mode is different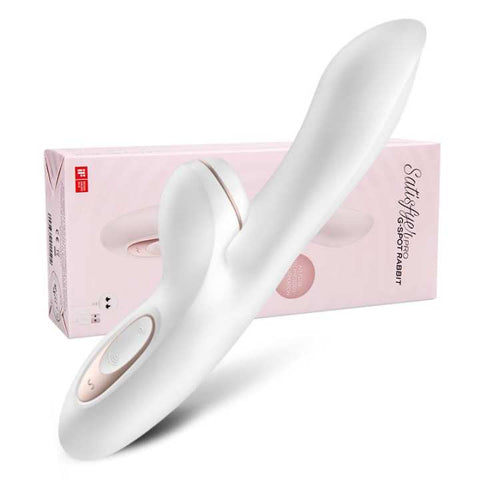 Features: dual mode /sucking
Size: 20*3.5cm


4.Rolling Bead Thrusting Rabbit Vibrator
This rabbit vibrator has the stimulation function of three sensitive parts, which can shorten the climax by 5 times and increase the pleasure by 10 times
The ball continuously stimulates the G spot, causing tidal blow; When a strong earthquake stimulates the clitoris, it will be refreshing; Stimulate A spotby inserting and stretching, and enjoy multiple orgasms.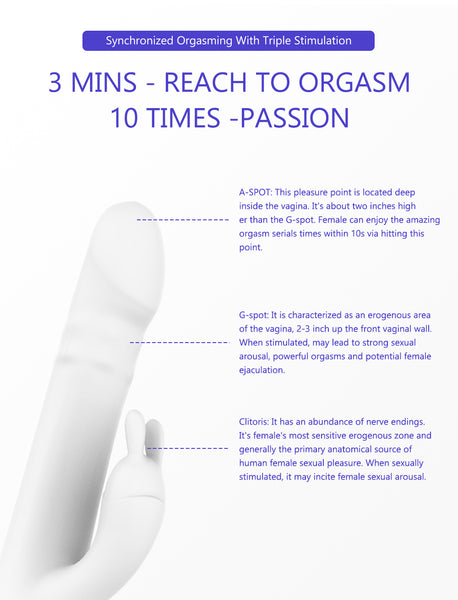 Dimensions: φ3.5*25.7cm
Rabbit ear: 8.5cm
Insertable size: 15.5cm


5.Heating thrusting Dildo Vibrator
Realistic dildo model, the outer layer is soft and comfortable, and the inner layer is strong and straight to simulate the hardness of human body. Intelligently warm to 42°C, enjoy men's temperature and enhance excitement. Removable suction cup, 180 rotation position, strong suction height angle can be adjusted at your will, free hands and seek your sexual happiness.
3-frequency stretching strength, 10-frequency sucking strength, 30 different gameplay experiences, and the stretching range can reach 3cm.
Function:Intelligent expansion, sucking and heating
Dimensions: 29cm*3.8cm


6.Powerful AV wand Vibrator
AI intelligent adaptive chip, biaxial conduction technology, the stick will not shake, accurately simulate men's telescopic vibration frequency, and give women a better experience. Independent preheating and constant temperature heating technology can warm up without turning on the machine, and greatly advanced strength implies comfortable experience.
3-speed intensity, 7 frequencies, infinitely variable speed touch buttons, comfortable to handle and refreshing to use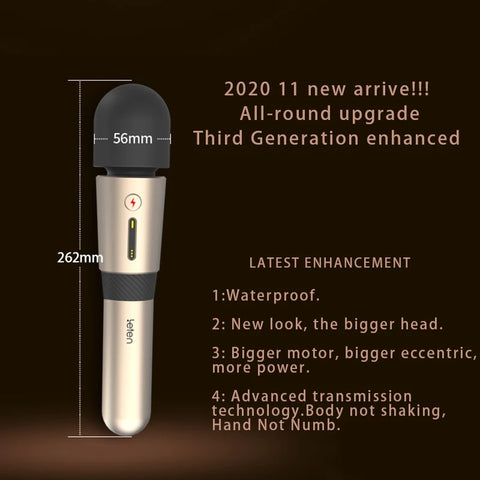 Dimensions: 56mm*262mm
Features:Intelligent AI, independent intelligent heating


7.Dildo G Spot Vibrators
The long strip product for women's self-pleasure has changed the shape of the rod vibrator in the past, and its elegant and simple appearance is like an artistic ornament, which saves you the trouble of hiding and covering up. It is not only suitable for first-time users, but also a unique product for women who are eager to enjoy self-pleasure with peace of mind.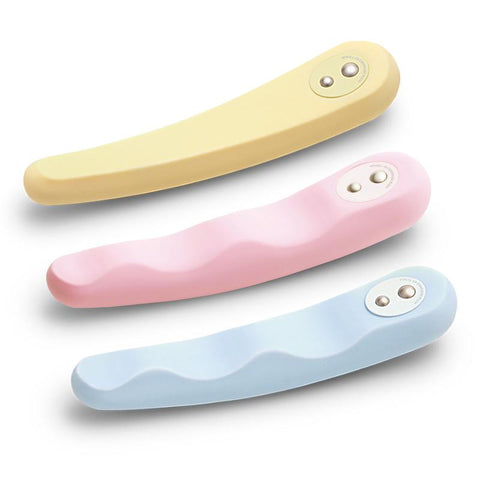 Waterproof for living: within 50cm
Dimensions: 178mm*38mm*28mm


8.Rosalie Rabbit Vibrator adult toys
Smart app interacts, Bluetooth can connect with APP up to 6 meters away, and mobile phone controls vibration frequency. After 65 processes of jewelry-level brewing, the 24K gold-plated surface brings a unique gorgeous appearance, showing splendor and dignity.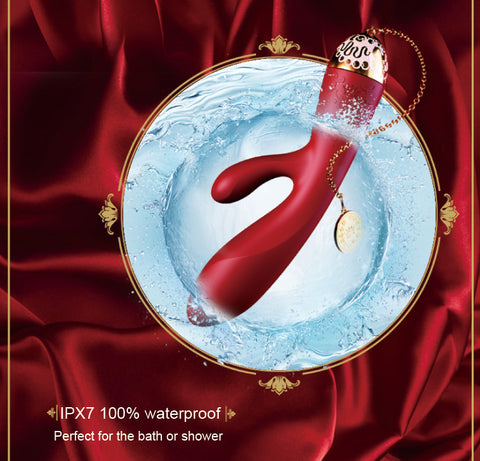 Dimensions: 199*78*37mm
Feature:Handmade enamel decoration, APP intelligent control


9.  2 in 1 wearable double Vibration Masturbator
Sucking and shaking stimulate clitoris and G spot at the same time,U-shaped design is easy to wear, wireless remote control is suitable for couples, and 7 vibration and sucking modes enjoy the pleasure brought by orgasm.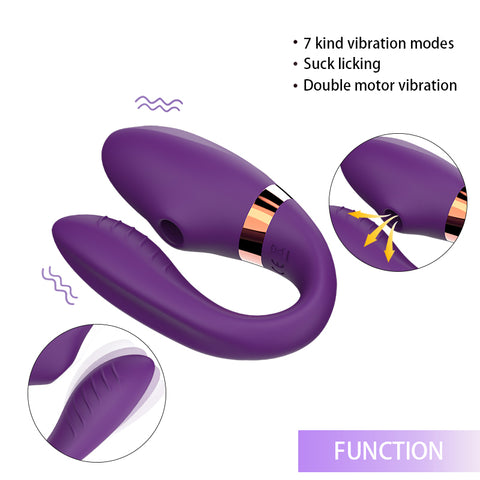 Dimensions: 110*73*41mm


10.LED Screen Wand Sucking Vibrator
LED screen display, intelligent heating to human body temperature C&G spott mixed climax, stimulate A spot to achieve uterine contraction climax. 3-frequency C-spot sucking intensity, 9-frequency A and G-spot vibration modes, as many as 27 mixed modes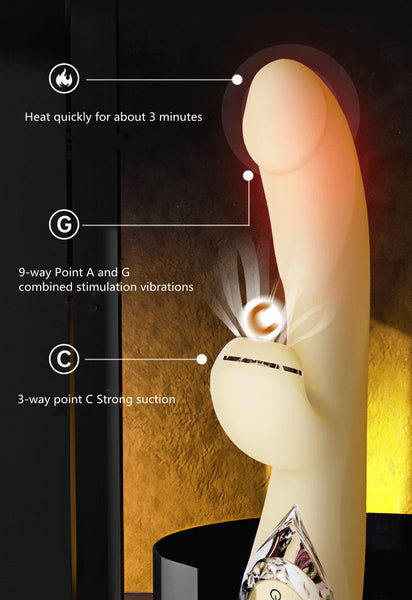 Dimensions: 227*43*73mm
For vibrators, you can only choose one that suits you if you know it. Whether you are new or experienced, our articles are worth learning, absorbing the essence from them and then practicing in your life. I believe you will do better than before. Please pay attention to the later tutorials of G-spot vibrator, C-spot wand vibrator ,mini vibrator and rabbit vibrator, hope that the more you use sex toys, the happier you will be, and you and I will grow together.