In this article, I'm going to break down lots of concepts and provide very detailed information for the sake of people who don't are interested in cages but don't know jack about them. And from what I've observed, there are a lot of them! Well, aren't you glad to be reading this article? I'll be sure to include all fundamentals when it comes to chastity cages and then you can be on your merry way to a lifetime of pleasure and thrills.
What are Chastity Cages?
A Chastity Cage (designed for men) is a device commonly used for BDSM play that is fitted over a guy's cock to stop him from reaching orgasm or having an erection. If you are all about intense teasing and driving your partner 'nuts', this is for you. Most use cases are female domination and, in some cases, self-pleasure. They are not my thing personally but can quite be sensational to use. I agree they look a lot like some torture device from the Iron Age, but I assure you Chastity Cages are more fun than they look, promising you a satisfying mix of pleasure and pain.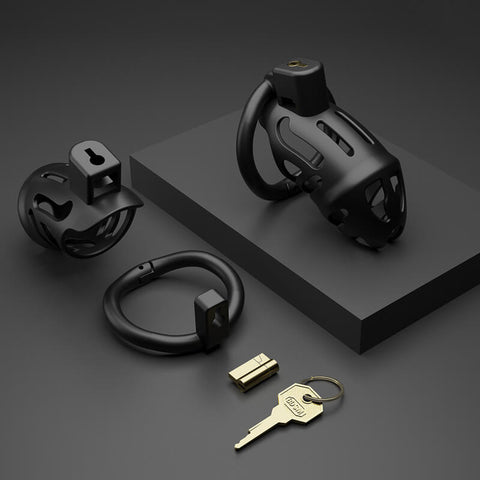 How do they work?
Chastity Cages are made up of two parts. There's a cage that encases the whole penis plus a ring situated behind the testicles. They can be worn overnight or while carrying out day-to-day activities without the wearer worrying about wetting themselves; there are ventilation holes plus a tidy little slot at the end to let you pee without drama. The average Chastity cage is narrow and unbending. It will hold your cock and balls in a single place until the device is opened.
What Makes A Good Chastity Cage?
Generally, Chastity Cages are made from top-notch metal or plastic. This means that if you are going to be putting a material that's tightly bound around your little guy then you don't want to go for the cheap stuff. By this I mean, cages manufactured from Chinese-made plastic. Of the two materials I've mentioned, plastic is more comfortable to wear and much lighter. An added perk here is that it is transparent, meaning yours or your partner's dick can be perused in all its cannonball magnificence. Plastic is also completely see-through, so the penis can be viewed in all its glory!
Metal, on the other hand, can be slightly uncomfortable to wear and likely to pinch. Some people also find the medieval vibe a turn off while some dig this. Whichever category you fall into, you can also be assured of a good time as long as you can keep up with keeping your cage dry and clean.
Wearing a Chastity Cage
If you love the pain, and pleasure dynamic during lovemaking, Chastity Cages help you achieve this simply and effectively. Here, whoever is wearing the Chastity Cage is not allowed sexual pleasure, creating intense sexual pleasure for both parties. A lot is coming into play here emotionally and mentally and this primarily includes frustration and control.
How To Wear a Chastity Cage
If your Chastity Cage comes with a hinged ring, put it on by opening it fully before placing it behind your balls. Next, clip the ring shut right over the top of your dick. For cages that come with solid rings, slid your balls one ring at a time and then push your penis through. You can use a good lube to do this as smoothly as possible, but make sure your dick isn't erect when you do.
Your device choice determines the way the ring will be attached to the tube. Just be sure to go for something you or your partner finds comfortable.
The Key Holder
When it comes to key-holders, I believe there to be lots of communication between you and your partner. That being said, don't go locking another dude's dick up and go off on a road trip for the weekend. Not cool! As much as some people like having their partner hold the cage's key to heighten the sense of being dominated, we've gotta bring some sensitivity and consideration of the other person into the game.
Key Cages To Invest In
● Fetish Fantasy Cock Cage
This is the best product for beginners. This cage features a sweet curve that will fit the average dick perfectly. I'm going to warn you though, erections with this cage can be on the extra side of pain but unless you are well-endowed, this cage will fit perfectly without causing any pinching. It's also the right price which is not too expensive and not too cheap.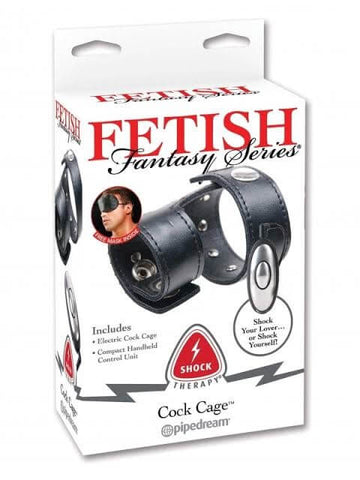 However, it does not come with a urination hole so you definitely can't wear it for long.
Most men love the Utimi cock cage and I concur with this preference. This is one box that checks off all standard boxes. There are three rings that each suit most penis sizes, plus a breathable design and classy black paint. This cage doesn't border on the light side due to the iron material but it's not weighty enough to make you uncomfortable. You can't wear it in any shorts with thin material though. I love the discreet packaging and fair price at just $29.99.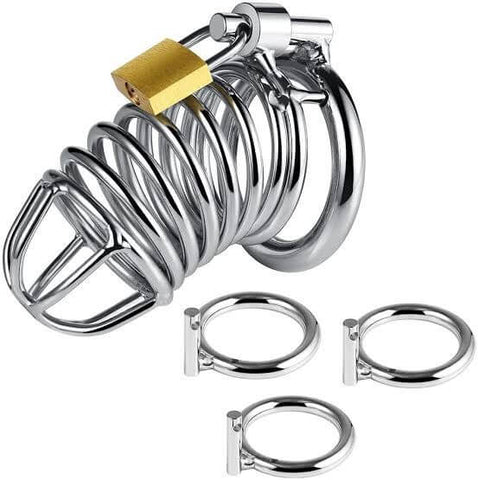 CB-6000 Male Chastity Device
Are you the type that likes to go all out when doing anything? This is your go-to toy! With the CB-6000, you can lock up your dick like a little jailbird and enjoy every bit of it. The CB-6000 is made out of medical class polycarbonate, perfect for comfortable, safe wear. It has two things I always look out for in any cock cage: urination hole and ventilation. It's also transparent which scores more points for me.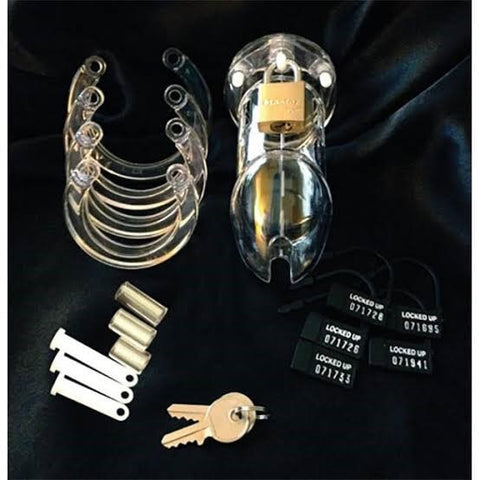 While it is nicely customizable, it took me 20 minutes to find the perfect fit which I find a bit of a turn-off.
DOMINIX DELUXE Chastity Cock Cage
As the name implies, this is a cage for anyone who lives for being dominated and heavily restrained. This cage features an exterior of strong, stainless steel, an impressive design, and a solid padlock. On the bright side, there's a urination hole, even though anyone using it will most likely make a mess due to how small it is.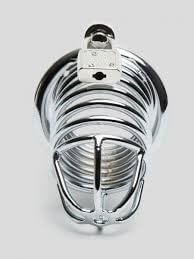 QIUI Cellmate 2 APP Remote Control Electric Shock Male Chastity Device
 I love QIUI's Cellmate 2 Chastity Device for four things. The timed electric shock feature to jolt your cock up with the decree of shock you prefer, the timed unlocking feature that allows the cage to only unlock at a set time, the APP control that allows you to punish your sub from anywhere that has internet and unlock the device without having to worry about keys. And finally, the 3-mode vibration tremor that will send the wearer to dizzying heights of pleasure as they enjoy the domination.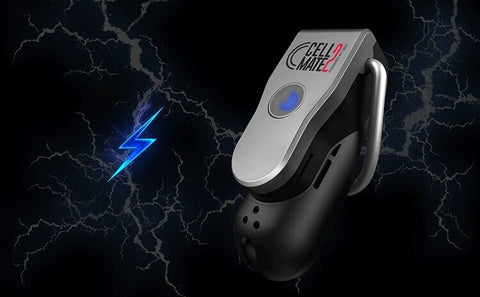 QIUI has provided a brilliant solution to one of the major problems of chastity cages with a product that keeps that cock in check no matter the size! Major highlights of this cage is the stomatal design featuring multiple holes that lets your cock get as much air as possible, fast charge mode thanks to it's wireless charging card holder and rechargeable lithium battery.
There's more to this cage guys! It's ergonomic design allows you to wear it for long no matter where you are going, a huge feat made possible by taking into account breathability and comfort for users. The scientific porous design also plays a role in guaranteeing a high positive experience for you as you wear it to school, work or the mall.
Like any good chastity cage, the QIUI Cellmate 2 features an easy to clean, splash-proof urinating mouth so you don't even need to worry about that. This is a device that you can also use while lounging in the pool or the bath tub, thanks to it's waterproof design.
I'm so loving the matte material of this cage. The Cellmate 2 is made out of soft rubber that is skin-friendly, hypoallergenic, strong, comfortable and healthy for the environment. It's also lightweight with nice rubber coating on the surface.
Lastly, the Long model weighs just 80g at 12*3.7cm, while the Short model weighs 60g at 10*3.7cm.
Conclusion
Chastity Cages are a rave worth getting into if you want to spice up your sex life with your partner but there's a little clause here most people tend to ignore that I would like everyone reading not to. wearing them for very long periods can be risky. As much as you want to fire things up, your little guy still needs to breathe, and cutting off blood circulation for extended periods could result in some serious medical problems. Don't keep the cage on if you notice the skin on your dick is changing color or if you start to feel pain.
Hygiene is also an important factor to consider with cock locks. I know there's a slit that lets you pee through it, but you can't stop your body fluids from getting on the material of your device. Even more, your skin is going to move amove against the cage, meaning friction and dead cells. This means rashes and eeky smells from your genitals. If you're going to use the cage for days, take it off in between days and scrub your device and genitals well.
Finally, if you lose your keys, first, try to calm down and think about where they could be, and if you can't recall, reach out to the manufacturer to send out a key for you. If all else fails, you may need to do the 'shame-walk' down to the hospital to get yourself out of jail (haha). If it makes you feel better, those guys at the hospital have seen a lot worse than a cock stuck in a lock, so they'll have you out in no time!