If you've ever had a heated debate with your friends about which masturbator performed better between the Fleshlight and Tenga Flip hole, you can settle the score once and for all after reading this article. I'm going to provide you with every tidbit and nugget on both masturbators and what makes them special.  And there's a lot of it, trust me. Fleshlight company has been around the block for quite a while now so they know their onions when it comes to interactive life forms. Since 1995, they have created fascinating sex toys and kept up their streak of excellence and innovation for as long as I can remember. Tenga is not behind in this game.
A well-known brand that has been setting the pace since 2005, Tenga boasts of an almost religious following in countries like Japan, Germany, and other parts of the world. Tenga has truly done a fantastic job of transforming male masturbators with their badass sleeve textures, developed from elastic TPE material.
I wasn't surprised to discover this while making my research for this article, Fleshlight has a record of maintaining high quality with every product. And not just that, every toy pulled out of the hat possesses a unique user experience that other competitors seem to overlook.
This adherence to excellence has bagged worldwide recognition for Fleshlight, putting their highly sensual, super-sleek SuperSkin sleeve on the map and securing a patent in 1998 for this genius product that offers the wildest vaginal stimulus. They also offer wonderful discounts on products when you buy from any of their trusted distributors or official online stores.
Let's do a quick rundown of their core features:
Tenga Flip Hole
Size
Wide girth with tight internal
Fairly small but compact
Color
Black
Maroon
White
Silver
Dimension
68" D × 3.35" W × 6.89" H
Weight
Insertable length
Cleaning & Maintenance
Two-way split capability for improved air drying
Easy dry
Use
Duration
Warrants only up to 50 uses
It's a temporary toy
Orifice type available
Sleeve texture
Features a single permanent sleeve affixed to the toy with a detailed texture pattern
Material
Price
Fleshlight STU
Size
Lengthy enough to accommodate the average guy
Standard build
Color
Gold casing
Varying sleeve colors (transparent colors available)
Dimension
Weight
Insertable length
Cleaning & Maintenance
Easy to clean
Takes a long to dry
Use
Sleeve texture
Different sleeve textures (Original, Mini-Lotus, Destroya, etc)
Material
SuperSkin material (patented)
Use
Duration
Lasts long due to elastic, non-degradable material
Price
Tenga Flip Hole Review
Tenga's Flip Hole is the first model to be released in the Tenga Flip series. While it doesn't have the delicious SuperSkin Technology of the Fleshlight, Tenga Flip Hole has an inimitable TPE sleeve with a detailed texture that's not uncommon with Tenga toys. Now Tenga's Flip Hole does not look like the real deal but it'll send you to cum heaven just like a real vagina will. Some guys find this sleeve a bit intense due to their sensitive penis but I'm confident the Tenga can 'flip' you over just fine if you don't mind the tight, rough stuff. For cleaning and maintenance, the Tenga Flip Hole still scores some points. Its design features a sliding arm that serves as a harness and a drying.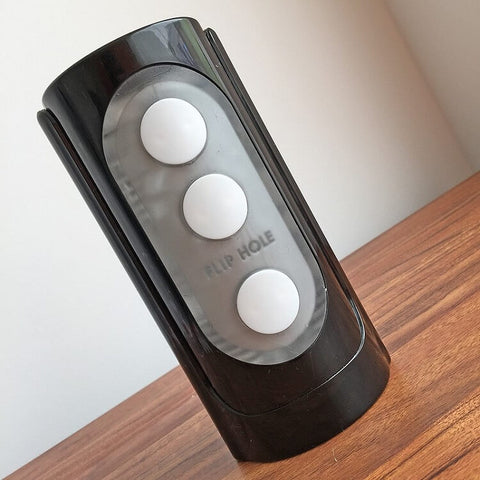 Finally, the Tenga Flip Hole's outer surface comes with 3-point pressure pads that let you alter how loose or tight the sleeve is around your cock. They also regulate the degree of air suction inside the sleeve as you stroke. The Tenga Flip Hole is a bit small in size, but this is a toy you can use for a long time without your hands wearing out.
Pros
Compact size
Pocket-friendly
Easy to maintain
Superb texture
Cons
No interchangeable sleeve for more varying experience
The sleeve tends to get tacky with time
The sleeve feels like rubber with time
Insertable length excludes 5.9'' dudes from playing
Temporary lifespan (50 uses tops)
Fleshlight Review
Whoever came up with the idea for making the Fleshlight STU loves their dick and knows how to make it happy. One of their many score points is the fact that they make regular-sized sleeves that fit perfectly into the majority of their Fleshlight casings. What's in it for you is that you get to sample different sleeve textures on just one body casing. The Fleshlight STU is easily one of the most realistic toys in the Fleshlight class that will not only send reeling from sheer pleasure but also help you build stamina as you use this toy. Nothing here is more or less than it is guys! This sex toy delivers everything they say it would at $69.95.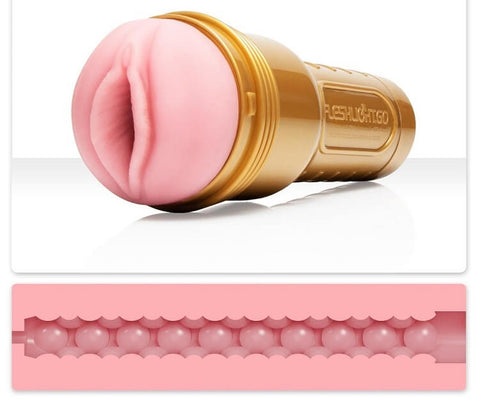 Pros
Durable
Inconspicuous use and look
Easy to maintain
Soft, smooth sleeve texture
Cons
Tenga Flip Hole and Fleshlight: Comparing both features
 Usability
When it comes to how they feel, one thing that's common with the Tenga Flip Hole and Fleshlight STU is that both toys are great for couples to have fun with and for solo play. They both share the same smallness that makes them great for long sessions and hand stroking.
In terms of individual users, the Fleshlight comes with a super smooth sleeve that can expand to fit dicks comfortably. You don't have to deal with any factory-ish scent when you unbox it and once it's cleaned and well lubed, you can go right at it.
Tenga's Flip Hole, on the other hand, has a heavy industrial scent lingering on the inside of the sleeve. I discovered this is from the TPE material used and it took several uses before the scent finally faded. Be prepared to get fingers of adrenaline through every nerve in your dick when the Flip Hole's sleeve touches it. What goes on when you slide past the divinely tight entrance? Well, the tip of your dick gets caressed with a coarse set of triangle-shaped stimulators.
After being stimulated by the click orb from the entry point, the side ribs at the center will also give your cock some tender loving care, together with the Quattro waves and wing gate waves. I don't recommend this toy for people with sensitive penises though.
When it comes to gentleness, the Fleshlight's sleeve is more inclined and the detailed clitoris with prominent labia show how intentional the Fleshlight brand is about user experience. Like the Tenga, Flip Hole, the opening part of the Fleshlight STU is just as tight as the Flip Hole but this toy feels more like a real vagina. Unlike the more intense Flip Hole, the texture of Fleshlight is smooth with a moderate intensity most guys prefer.
Durability & maintenance
I'll give all my thumbs up to the Flip Hole for its ability to snap open for thorough lubing and cleaning. Being able to open it gave me access to all the crevices and folds in this toy. To clean, all I needed to use was a mild soap of my choosing and running water. The snap-open/snap-close dynamic made it dry quicker than the Fleshlight which is also quite easy to wash.  The ability of the Fleshlight's sleeve to stretch was a big flex for me, especially since I could turn it inside-out. For cleaning, a toy cleaner or soap with water is just fine. If you purchase the value pack, you get the luxury of using the Fleshlight Wash Cleaning Spray.
Warranty
Lovehoney and Fleshlight's online store both offer a warranty on both products when you purchase them from their official sites. This warranty lasts for one year. Lovehoney also gives a free guarantee for users who have a buyer's account set up on the site.
What's In the Box?
The Tenga Flip Hole box contains a free sample of the brand's Hole Lotion lubricant, a user guide, and the Flip Hole of course. For the Fleshlight STU value pack, the box contains the water-based Fleshlube and the striking Fleshlight Standard Training Unit. You also get the anti-bacterial cleaner known as Fleshlight Wash Cleaning Spray plus Fleshlight Shower Mount and Fleshlight Powder to keep your toy dry and mold-free.
Functionality and Design
Before we delve further, let's establish that the Fleshlight STU is king when it comes to aesthetics and outlook. I'm not saying this from a biased point of view, trust me. Compared to the neat finishing on the Fleshlight's ergonomics, durable plastic casing covering the internal sleeve, the Flip Hole is kinda ugly. There's an unpleasant seam at the toy's mouth that put me and I'm sure a lot of other people off.
At first contact, the Tenga Flip Hole didn't feel durable. Was it the material? I have no idea. But I got a firm grip with Fleshlight STU and the weight felt pleasant in my hand. In terms of sturdiness, I noticed the seamed case of the Flip Hole kept shifting a bit as I used it and the gaps created pinched my palms a few times. I don't recommend hand-use as it's not completely comfortable. On the other hand, the Fleshlight has an almost perfect hold and is much firmer. The Tenga Flip Hole comes with a sliding arm that can be a bother sometimes, especially when you are in a bit of a hurry and you just want a solo quickie.
 Both brands have unique materials used for each toy. Fleshlight went for top-notch materials to make their STU model, from the signature SuperSkin sleeve to the durable plastic used for the body. The patented SuperSkin sleeve skin brings suppleness to the inner parts of the Fleshlight, making it elastic and sweet to touch.
While the Tenga Flip Hole's TPE plastic is not as durable as that of the Fleshlight, it will still give you a good time when you start using it. If you used the Fleshlight before the Flip Hole as I did, you will notice the Flip Hole has a rubberier feel when you slide your cock in. There's also a lot of leaking and I noticed this is because of the open seam at the sleeve's mouth.
Another aspect of functionality that the Fleshlight beats the Flip Hole is the insertable length. The former has a depth that will accommodate a 9-inch penis just as much as it would accommodate a regular-sized penis. Guys who are well endowed' don't have this luxury with the Tenga Flip Hole which will only accommodate a 5.90" dick.
In case you're wondering about the suction levels on these two toys, Fleshlight STU allows you to adjust this by unscrewing (couldn't help it) the cap at the closed end.
The Tenga Flip Hole's suction is also not as great as the Fleshlight which provides a means to control airflow. The slurpy sounds made while thrusting with the Flip Hole can get your neighbors talking if you're not talking.
Price Considerations
When it comes to price, I'll give both toys the thumbs up. They don't exactly punch a hole in a dude's pocket and this is impressive. While Fleshlight is well known for its high price tags, Tenga is 100% focused on affordability for consumers. As at writing, the Flip Hole's retail price was $75-90 while the Fleshlight stood at $65-$100. They both have juicy deals up for grabs you know. For both toys, you can get free shipping on orders above $50, $60, and $99 from Lovehoney, USTenga, and Fleshlight. Feel free to look up other offers in Lovehoney, Fleshlight, and Tenga US stores.
Conclusion
My experience with the Fleshlight and Tenga Flip Hole left me smiling like a Cheshire cat after each orgasm but I did notice the unique differences of both masturbators and commend both companies for putting so much into these two innovations. Where the Fleshlight features amazing SuperSkin Technology, durability, pleasing aesthetics, all-inclusive insertable length and easy maintenance, the Tenga Flip Hole comes with a sweet TPE sleeve, great texture, easy maintenance and compact size. So far, I've had the most intriguing remarks from different people when I asked them about their experience with either toy; so much so that I almost had difficulty coming to a conclusion for this article. This only goes to show how brilliant each masturbator is in it's own right. However, because the Fleshlight looks just as good as it feels, I'll be giving them 'trophy' on this argument. When it comes to consumer satisfaction, nothing beats a balanced combination of user experience and interaction.