Tenga is a quality conscious brand that has won numerous awards. Some of the most well-known and well-liked male sex toys are among their offerings. They are a premium male masturbation brand with cutting-edge research that is made in Japan. Tenga has a number of product categories. The most famous are Tenga Eggs, Flip Holes, and the Cup line. The Air Tech Cups have consistently been particularly well-liked by men, according to company analysis. Tenga has a well-established and continually expanding global reputation. This brand consistently provides to millions of men worldwide when only the best would do. From the TENGA brand, is a new release, TENGA GYRO ROLLER.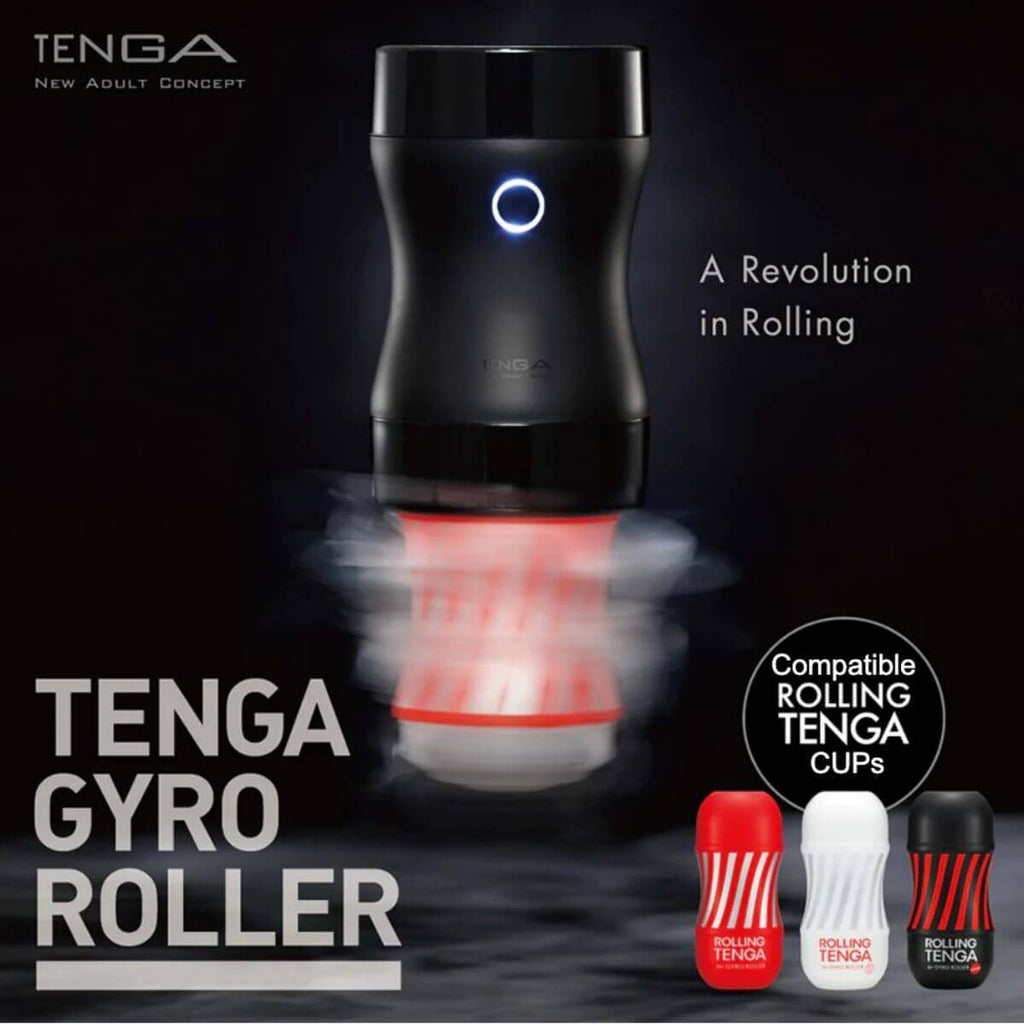 The Tenga Vacuum Gyro Roller Masturbator is designed for intense, thrilling solitary enjoyment. We present the VACUUM GYRO ROLLER, which combines the rotational stimulation of the GYRO ROLLER with the suction feature of the Vacuum Controller. Featuring a gyroscopic-sensor-controlled rotation and an automated vacuum pump for suction. The product delivers sensations that are unmatched by anything else on the market, including suction and vacuum functions as well as stroking actions.
PACKAGING OF TENGA GYRO ROLLER
The packaging of TENGA items has always given them a unique feel that gives them an experience almost as exciting to open as an Apple product. This sex toy comes in a compact box that is just a bit bigger than the product itself, for a nice fitting. With the GYRO ROLLER, is a charging cable and an instructional manual for the user.
SPECIFICATIONS OF TENGA GYRO ROLLER
The TENGA GYRO ROLLER is made with a combination of materials that are hypoallergenic and body-safe in nature. It is made with Acrylonitrile butadiene styrene plastic (ABS), Polycarbonate (PC) which is an amorphous clear plastic, the combination of these two materials make the product amorphous, which means it has a large amount of flexibility, and also heat-resistant. This product also as a part that is made with Elastomer, another material that is also hypoallergenic and gentle on the body.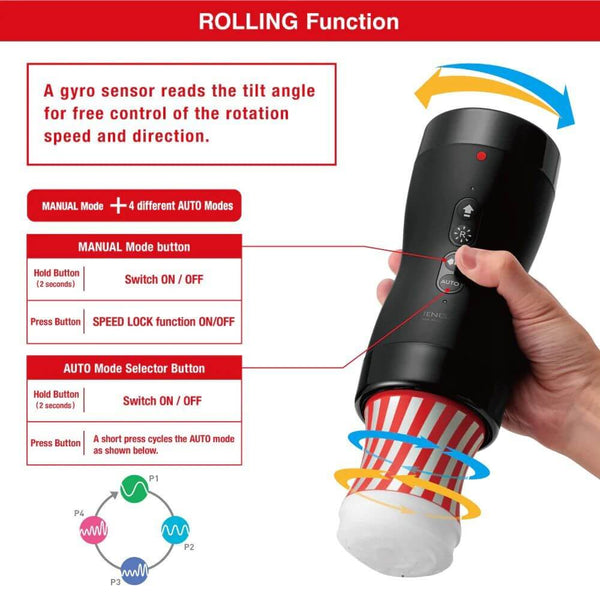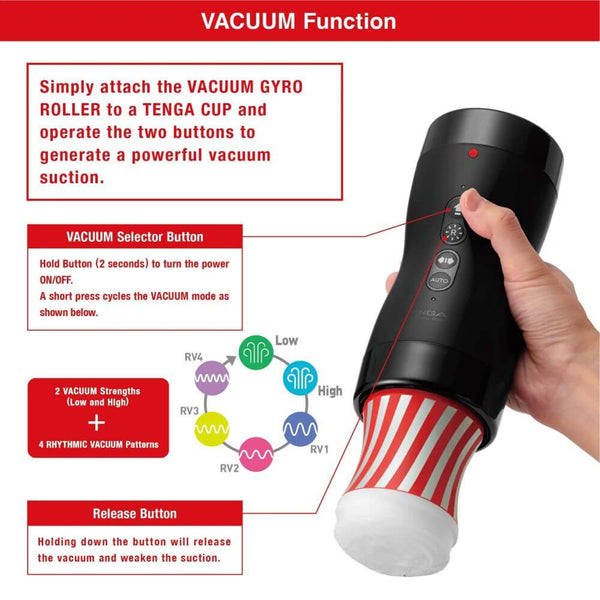 TENGA GYRO ROLLER weighs 530 g which is an equivalent of 1.17 lbs. The dimensions are 86.5 mm in width, 191 mm in height, and 86.5 mm in diameter. This equivalent of this measurements in inches is 3.41 inches in Diameter, 3.41 inches in width and 7.52 inches in height.
BATTERY AND CHARGING
TENGA GYRO ROLLER uses a Lithium Ion Battery, 7.4v with a capacity of 1500 mah. The battery runs for approximately 60 min once it is on a full charge. The charging method is via an AC Adapter (9V.1A). The charging time is approximately 150 minutes.
Features and Functions of TENGA GYRO ROLLER
A strong electric vacuum experience that inherits the high suction power of the Vacuum Controller. Using the gyro sensor carried over from the GYRO ROLLER, an electric rolling stimulus that can be manipulated by just tilting the hand is presented. Combining the two functionalities allows you to experience TENGA in a new way, known as Electric Vacuum Rolling Stimulation.
The Tenga gently embraces your penis and rolls it forward to a wonderful climax with its covert design and strong vacuum suction power. With your hand, adjust the depth and angle. This is the ideal traveling masturbator with such precision and style! Additionally, there are four different types of auto programs available for both the vacuum and rolling functions.
The vacuum program and rolling program when used together produce a new level of ecstatic pleasure that has never before been felt by humans.
You may freely regulate the rotation speed and direction because the gyro sensor detects tilt. You can focus on your fingertips without worrying about obtrusive buttons.
The interior of the Rolling Tenga Gyro Roller Cup includes an elaborate tunnel packed with many titillating features, including ribs, swirls, bumps, and orbs.
How to use TENGA GYRO ROLLER
It is recommended that TENGA GYRO ROLLER is used with the three specially designed cups (Rolling Tenga Gyro Roller Cup, Rolling Tenga Gyro Roller Cup Soft, and Rolling Tenga Gyro Roller Cup Hard), that are offered as extras.
Let the Tenga Gyro Roller buzz you to paradise and back by just inserting your cup into it. By tilting the toy, you may control the buzzing's pace and direction, while leaving the rest to the gyro sensor.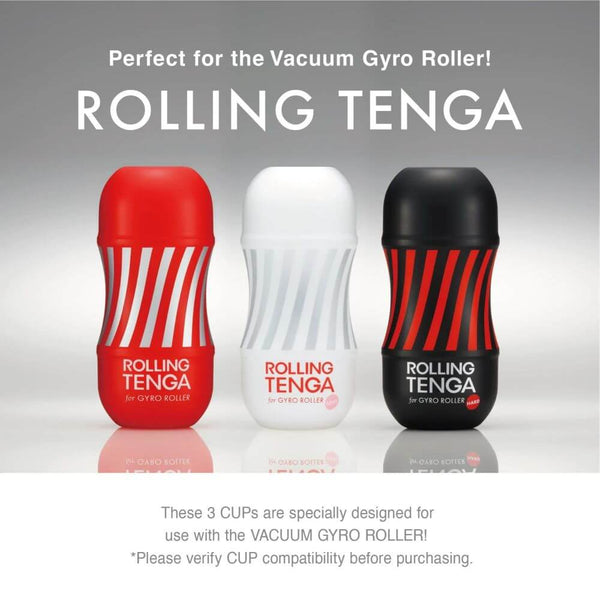 Every cup has a hole at the top that, when covered by your finger, creates a suction. This controller is made to do away with that and give you more control over the level of suction you receive.
It's really simple to use; all you have to do is take off the sticker from the cup's top to reveal the vacuum hole. Before attaching the controller unit, attach the appropriate adapter to the cup's top.
Simple one-button controls, a quick press for speed maintenance, and two seconds press to turn the device on/off.
Hygiene and Care
There is really no justification today for not producing items that are both rechargeable, and waterproof. The TENGA GYRO ROLLER must be handled carefully and only given a light wipe down with a moist cloth before storage because it is not waterproof.
Pros
TENGA GYRO ROLLER is made with hypoallergenic materials that are safe for all body types
The toy produces a relatively high suction which makes the texture of the sleeve feel more intense.
The shape and size of the ROLLER is easy to use, and the toy can be incorporated into partnered sex as well as solo sex.
The pre-lubrication of the TENGA cup is another advantage that this toy has. You do not have to worry about getting the suction cup lubricated before use.
Cons
The size and weight might pose a stress for someone with less mobility capability.
The toy is not waterproof.
Conclusion
TENGA GYRO ROLLER is a toy designed for men to enjoy solo sex using a suction mechanism that gives intense stimulation of the penis for an ecstatic pleasure. The design and material used in making this toy are quite ergonomic for enhancing pleasure and sensation from the stimulation of the penis.