When it comes to secret fantasies, you'll be surprised how many men have the wildest ideas about cock rings. Also known as C-ring, a cock ring is a sex toy that fits around your balls or the base of your dick, cutting off the flow of blood to the penis for an improved experience for you and your partner. Think of it as a type of chastity device for men.
I decided to try it for the first time and though it took me some time to figure out how to put them on, I finally got around to it and my experience will be the basis for this review.
The Diamo cock ring is versatile and impressively teledildonic. These two features attracted me at once. And I've had the pleasure of exploring other features of these remote-controlled, power toys. With its wearability and endless vibrating patterns, all you have to do is to relax and enjoy the perks of your longer, harder erection.
Whether you get off on long-distance play with the Diamo's high Bluetooth technology or you like to meet your needs solo, Diamo indefinitely on to something with this new cock ring.
App Controllable
This powerful feature makes the Diamo a toy to enjoy with a partner that's not currently in the same location as you. All you need to do is connect to the Lovense Remote app. This feature allows you to enjoy long periods of couple-play while using the Diamo.
Comfortable Wear
The best sex toys are the ones that feel like heaven thanks to their premium material and the Diamo c-ring fits this category like a glove. Made from medical-grade, top-tier silicone, this toy is comfortable to hold, feels like a feather, and comes with a lovely shape resembling a bottle opener. As you use it, you can bring it into any shape you want courtesy of its squeezable, elastic quality. The Diamo's internal circle is a solid 1.75in length.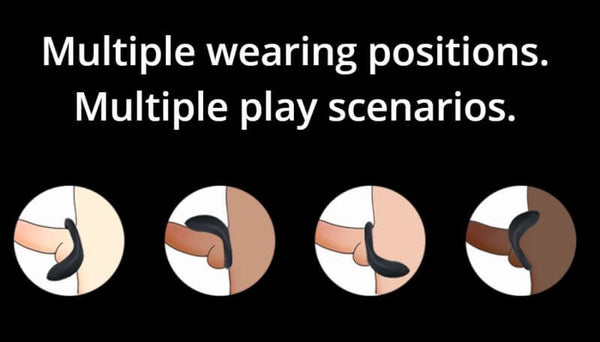 Easy Maintenance & Waterproof
One of the best features a sex toy can have is to be waterproof and easy to clean. Due to how often a user plays with it, it's usually best when cleaning can be done with as little stress as possible. And this is one feature you're going to enjoy with the Diamo cock ring.
So yes, take your little plaything to the bathroom or the pool if you want. The waterproof quality has you covered.
Strong Vibration
The Diamo cock ring comes with heavy, powerful vibrations due to its highly efficient motor. These vibrations target the perineum or head of the penis and sensations can be intensified by residual vibrations in the ring.
This is a cock ring you can always trust to give you a long boner.
Genuine Versatility
As you get to use your Diamo cock ring, you'll experience this versatility I'm talking about. This is a sex toy you can wear in 4 different ways, making it perfect for playing with your lover or having fun alone.
Besides that, the app helps you regulate its intensity and create as many patterns as you want.
Using Diamo Cock Ring with The Lovense App
The Bluetooth function of the Diamo c-ring is activated by pressing the control buttons for 3 seconds. This causes a buzzing sound to be released quickly and is followed by a flashing red LED.
If you've downloaded the free Lovense Remote app, a connection button will appear at the top right of the interface. Click and add Diamo. This is a 10-second process so if you are not so tech-savvy, you don't have to worry about whether or not the process is complex.
There are a host of functions you are going to be presented with once you have connected.
Sound: this allows you to use your volumes to control the intensity and control the vibrations with your or your partner's sounds.
Music: this allows you to sync your favorite beats with vibration patterns you have saved.
Alarm: this allows you to wake up with delicious vibrations teasing your penis.
My Patterns: this allows you to spice up your best intensities with patterns you have customized.
Remote: this super function allows you and your partner to control the cock ring regardless of distance.
Using Diamo Cock Ring Manually
Manual use on the Diamo cock ring is just as easy as pairing it with the Lovense app. This cock ring has a single button and to turn it on, just press and hold for 3 seconds.
When your ring is on, you can cycle through all 8 of the pre-set vibrations by tapping the same button. Turn it off by pressing and holding for 3 seconds too.
Let's be reminded that this cock ring was designed for the base or tip of the penis. You can masturbate, have foreplay and have intercourse with it.
Charging the Diamo
In the box, you get a magnetic USB charging cable that allows you to charge by tapping the magnetic side of your c-ring before plugging the USB end into a USB adapter or port.
This toy will charge in 70 mins to give you up to 2 hours of play, doing whatever catches your fancy. As it charges, be sure to check that a red LED light is flashing. The flashing stops flashing and stays on when the toy is fully charged.
Unboxing the Diamo
Lovense does not just maintain a clean design with the Diamo like its other models, the package it comes in is discreet, light, and came within 4 days of ordering.
What's in the box?
Black Storage Bag
Magnetic USB Charging Cable
Quick Setup Guide
Diamo Bluetooth Vibrating cock ring (in black)
A User Manual (in multiple languages)
Maintaining the Diamo
If you use sex toys a lot, you probably know that cleaning before and after use is necessary. With the Diamo cock ring, Lovense makes this process easy by giving us a completely waterproof cock ring you won't break a sweat trying to clean.
All you need to do is wash with a cleaner for sex toys or regular warm soapy water. It hardly takes more than a minute. Don't store your c-ring before it's completely dry and doesn't leave it uncharged for long periods without charging.  If you can't keep up with consistent charging, I'll advise that you charge once in 3 months to avoid a reduction in battery life.
Use only water-based lubricants if you must use lubes with your cock-ring. Any other kind of lubricant will permanently damage the silicone surface of your toy.
What To Expect from My Experience
Some people like to go with the instruction and wear their cock ring when their penis is soft. But I discovered insertion is easier when you're semi-erect, especially if your schlong is an average-sized one. I think almost every user is going to love the stretchy silicone material of the Diamo.  This beats stainless steel cock rings by far and that's a fact. For added penis care, always use a lubricant when inserting or taking off.
Figuring out where to position the penis ring is tricky but you're on your way to orgasmic bliss once you do. The Diamo gives you a pleasant sensation once you're fully erect. For positioning, I placed my Diamo at the base of my cock so my perineum gets all the fun through the pressure and vibrations. The ring's motor locates the tip of your penis to give you amazing vibrations.
I noticed the ring itself retained residual vibration, making my experience all the more holistic while the raised dotted pattern takes the intensity to an extra level.
When masturbating with this cock ring, I needed to stroke myself till I climaxed.  However, using it with my partner gave me maximum results. The main purpose of a cock ring is to allow you to maintain an erection for a long.
In a flash of creativity, I placed the ring so that the shaft didn't stay on my perineum but next to my stomach. The result was clitoral stimulation for my partner while we were in missionary. She dug it!
My partner and I used the phone app when it wasn't convenient to hit the button on the ring.  Adjusting the intensity was easy and the connection was satisfactory. Enjoying the vibration came as a nice surprise and I'm looking forward to spending more time with this cock ring.
I'm going to strongly put this out there using a cock ring must be comfortable. Pain or numbness are indicators that something is wrong so be sure to watch out for them. Altogether, cock rings are a great addition to your sex life if you are going to opt for a male sex toy.
Summary
Average score: 8.7
Design & features (waterproof, rechargeable):  10/10
Vibration (powerful): 8/10
Orgasm rate: 7.5/10
Battery life (long): 9/10
Versatility: 10/10
Pros
High versatility
High battery life
Fully waterproof
Strong vibrations
Long battery capacity
Music sync ability
App controllable
Unlimited patterns
Easy maintenance
Cons
Single-button interface
Final Verdict
I didn't like how this cock ring attracted dust due to its silicone material. But altogether, it's impressive that the pros outweigh the cons by far. So, if you want a cock ring that extends your stamina in the bedroom and makes you rock hard, you shouldn't pass over the Lovense Diamo cock ring.