Since everyone wants pleasure that may be either through foreplays, sex or masturbation. It is general consideration that masturbation is straightforward with a penis, which is totally a wrong concept. Masturbation is very delicate and sensitive practice for men. The use of masturbator sex toys is more pleasurable than the hand job. Masturbator gives you better tightening effect and better texture stimulus. A masturbator can have a strong ridge, bumps and tightening than the women. Real vagina play cannot change, but one can change the artificial vagina according to their needs. Artificial vagina provides you pleasures whenever you want and how long you want. With increasing in features, now artificial vagina comes with a realistic feel and realistic vagina shape too.
With the passage of time, the use of masturbators is increasing day by day. Lots and lots of people are quite interested in using masturbators for pleasure but a few of them may not use it because they may feel shy in purchasing as they don't know about their use and they may be unaware of where to buy masturbators either online or from a physical shops. Beginner males might be facing problems in selecting a best masturbator as it is their first time.
Nowadays, it is no more difficult for beginners to find out their first masturbators as the number of masturbator retailers and suppliers is increasing tremendously. There is a huge variety of masturbators available for providing people with their desired masturbators. Along with query of buying a best male masturbator sex toys, another question that may arise in the beginners mind is that "How to use it"?
So the beginner males need comprehensive guidelines for selecting and using a best male masturbator for satisfying pleasure. Below is the complete and detailed guide that can assist beginners in finding their way of how to buy and use masturbator.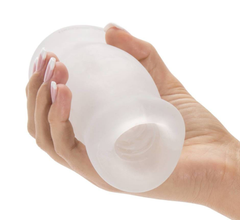 If you are beginner, it is must to read out to start your play for the first time.
How the beginners can choose first male masturbator?
There are a few things that you must know before selecting a masturbator for you:
What type of masturbator do you need?
First of all you need to know that what type of masturbator do you need as there are two types of masturbators available in the market:
Penetrative masturbator
Non-penetrative masturbator
The penetrative masturbator (also called through type masturbator) is a ring-like and most basic type of male masturbators. Its both ends are open i.e., its bears a penetrative hole from top to bottom. The whole penis of men can penetrated in it. It is recommended for those who want to keep their sensitive glans open. They are relatively cheaper in price and appropriate for the beginner's  men to come in the masturbator world.
Pros of Penetrative masturbator
It can be easily cleaned after use by passing water through it and there is no headache of cleaning it by flipping.
Due to Its special structure it gets dried easily as its both ends are open and air can easily pass through it. Due to which it is easy to maintain for longer time.
It is inexpensive with strong stimulation and man can control pleasure by holding it with the hand and allow pressure over the penis.
 Cons of Penetrative masturbator
It just gives pleasure by rubbing the penis and makes you feel like normal masturbation with hand.
Moreover, using this masturbator, neat and clean masturbation cannot be practiced as semen will jump out of the hole on the other end.
 While non-penetrative masturbator's (also known as handy type masturbator) has one open hole with other side closed like vagina and  it can't penetrate. Mostly this type of masturbator sex toy is preferred since it stops the insertion like a women body. It can stimulate the glans along with shaft of penis. Sexdolls are non-penetrative type masturbators. They are usually large in size and complex in structure, available in different orifices looking like lips, vagina or butt etc.
Pros of non-penetrative male masturbator
The pleasure provided by this masturbator is so high that it cannot be compared with any type of masturbator as it feels like real vagina. Especially the blowjob feelings provided by the lip-shaped non-penetrative masturbator takes you to the sky.
The masturbation practice done by this type of masturbator is neat and clean as semen cannot be leaked out of its other side is closed.
This type of masturbators gives you real feelings of anal and mouth touch by their realistic different entrance.
Cons of non penetrative male masturbator
They are difficult to clean after use as its hole in non-penetrative.They cannot be washed by running water through it.You can clean it with your fingers or by flipping it.But flipping can be danderous as flipping can tear it out.
Secondly it takes time to get  dry.
The large non-penetrative masturbator like realistic sex doll etc are heavy in weight and do not flip easily. It is troublesome to clean and maintain it.
The penetrable and non-penetrable male masturbation cups are reusable while disposable male masturbation cups are also available, which can be used only once.
Among different types of masturbators beginners should go for the cheap masturbators. Here the word cheap refers to the price not quality. As it's going to be your first masturbator so first check that either it works for you or not. The reusable masturbation cups are always preferred over disposable masturbators. But for beginners it is highly recommended to use disposable masturbation cups because
Beginners feels ease and comfort in using it as they are composed of soft and simple texture
No preparations are needed before use as they are self-lubricated
Relatively inexpensive
So, among all types, which one is best for beginners?
Although the disposable masturbators are easy to use and cheap but it becomes expensive when one have to masturbate on daily basis using new masturbator every day. So one must go for reusable masturbators depending on the type of pleasure you want.
Selecting masturbators according to penis size:
Which masturbator is best for large size penis?
For all the men with big sized penis, non-penetrative masturbators are recommended  as they present in different sizes. Its totally up to you that either you want handy or hand-free masturbator.
Which masturbator is best for small size penis?
For all men, with small sized penis both type of masturbators i.e., penetrative and non-penetrative masturbator will work.
For the small penis men, both types of masturbator can work. Usually the penetrative masturbators are suitable for the small penis, but if you are looking for non-penetrative masturbator, first of all check its size. If its size is bigger than your dick, it will not be able to give you that pleasure that can be provided by a masturbator that fits your penis. The incorrect size of your masturbator  can  damage your penis. So before paying for the masturbator, measure the size of your penis and masturbator.

Beginners must Know the size of the penis and hole
A beginner must know that how to exactly measure the size of the penis and hole of masturbator as a few centimeters decrease or increase in masturbator size can affect the pleasure.
How to measure the size of the penis?
Using a measuring tape or a string, gently wrap it around the penis. Measure the thickest part of the penis and try to measure its size when it is fully erect.
Now, use a ruler to measure the string/tape size. This is your penis size. Use this size to compare the mouth of masturbator hole. Mark the circumference size on the string and measuring tape where both ends meet.
Which material you should choose for pleasure?
Although different materials used for manufacturing masturbators plays different role in giving pleasure. Before choosing the material of masturbator, keep in mind the allergic issues as sometimes the users may have some kind of allergic issues with material used for the manufacturing of masturbation.
Choose soft material for soft stimulation:
Beginners who want to enjoy soft pleasure should go for masturbators made up of rubber, cyber skin. This kind of soft material can provide you the real feelings of real female genitals. This soft material masturbators must be he first choice of beginners.
Choose hard material for hard stimulation:
Hard materials like silicone, PVC are designed for providing intense pleasure . Although this material is not hard to touch but provides you the hard pleasure.
Hard masturbator are really comfortable and provides  pleasure more than real pussy!!
Always try to use masturbator lubricant
The friction of your hands over the sensitive skin of penis is not good for your skin for a long time. The lubricant is essential for all sexual acts from masturbation to intercourse.
Although there is no need of lubricant during intercourse with your partner because of women's vagina. But during masturbation masturbators cannot self-lubricate. You need to use it.You can utilize any silicone-based lubricant or water-based lubricant.
 How to exactly use a Masturbator?
Apply lubricant
Masturbator cannot self-lubricate and so there is a need of the lubricant for masturbation comfort. Apply the lubricant all over the penis and masturbator.
Warm the masturbator
Since vagina's temperature is higher than body's temperature so in order to enjoy the most realistic feeling with the masturbator, it is recommended to warm the masturbator first either using hot water or masturbator warm stick.
Let the air out and put on a condom
It is good to use a condom in masturbator sex. It has an important role to prevent the penis from the venereal disease caused by bacteria.
Insert the penis inside the masturbator
After putting on condom  insert the penis in the masturbator, pleasure can be achieved by the up and down movement.
Release it all
  After completing masturbation, release the semen out to complete the masturbation practice.
Clean the masturbator thoroughly after using
Thoroughly wash, clean and dry the masturbator after using for its maintenance. 
Best Brands for Male Maturbators:
Best Male Masturbator Cups for Beginners

TRYFUN Yedda Disguised Lover Series Realistic Vaginas
Although this sex toy is only 170mm×100mm×75mm, but it can be stretched to a perfect size for full masturbation. As the male sex toy is close-ended, it has a great suction. It is a realistic male masturbator which simulates a tightness and softness of a woman's rear entry. Every time you insert your member, it feels like the stroker is fighting back. And it'll give you a wholly different feeling when the urge hits. Its price is $$49.99.
DRYWELL Japanese Star Masturbator (Asahi Mizuno) model
It Is manufactured using TPR material which is soft, flexible, skin-friendly with no bad smell. It is designed to give men realistic blow job experience provides extremely intense suction, giving men kind of lifelike feeling. Meat particles group in the channel,Experience stimulation of the goddess,Complex stimulating channel Narrow&tortuous,experience particles stimulation. Its price $$49.99