I know the lot of you have been waiting for an ArcWave review for some time now and it probably looked like we were never going to release one. But the truth is, we had to make sure every base was covered with this novel innovation and now that we are ready, you're soon going to know why this cutting-edge masturbator is hitting a pricey £190. ArcWave is the brainchild of WOWTech Ltd, owner of brands like We-Vibe, Womanizer and this wavy new product is rumored to be the next big thing when it comes to groundbreaking strokers.
I must admit the two weeks wait for the Ion to show up on my doorstep were the longest two weeks ever but the D-day came and I got to try on my Ion for the first time. I don't think I've ever been as excited to open a new product as I was the ArcWave Ion. I know you're probably on the edge of your seats to learn what's in the box but I'll do a quick briefing of Pleasure Air™ and what they are. 
Pleasure Air™ is an innovation patented and developed by ArcWave. This unique new form of stimulation is based on how air pressure changes to hit super-sensitive nerve endings for a combustive orgasm. What makes this stroking device stand out is the fact that it zeroes in on receptors that can't be reached by other similar products. These receptors are known as the Pacinian pleasure receptors. For better understanding, the nerve endings I keep mentioning can be found in the frenulum located at the tip of every man's dick. Using the Ion, my climax came with a strange new tickly feeling at the base of my glans. And I've never gotten this wonderful orgasm going down on myself the old-fashioned way.
Sometime in 2014, Womanizer released a product that utilized changes in air pressure instead of vibration to guarantee customers strong, unforgettable orgasms. This product very easily paved the way for the ArcWave concept in 2017. The goal was to create a toy that would arouse the penis just as Womanizer did for the clitoris. After, 13 prototypes, Ion was born.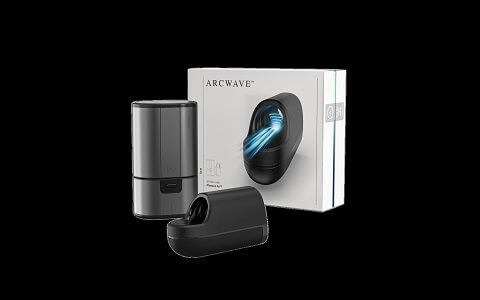 First meeting
My first experience when I unboxed the ArcWave Ion was that it had to be the most immaculately packaged device I had ever seen in the sex toy business. The way everything was packaged and presented, made enjoying its goodies even more worthwhile.
The ArcWave Ion does not look like a sex toy when you unpack the box and I'm going to be honest with you on that account. From the charging unit, to the design of the device itself, spells impeccable class and it simply does not look like your regular sex toy. More like a tablet or a P.C.
What's in the box? The ArcWave Ion stroker comes with a user guide, USB cable, sample of Pjur water-based lubricant, and a charging dock. The stroker bit of the Ion is made of sexy soft, flexible silicone that will twist into two parts for easing rinsing and maintenance. Ridges run inside the canal for extra thrills as you caress your dick. You can operate the ArcWave Ion through buttons cleverly placed at the top of this toy.
Of all the features I noted on the ArcWave Ion stroker, I loved the charging dock the most. I have no particular reason per se, I'm just impressed by how cool it looks despite not looking like a charging dock. When you put the lid on with the Ion inside, this device looks like any other thing but a charging unit for a sex toy. Another innovative use of this dock is drying. This part of the ArcWave Ion, has a small cage-like pocket for filling in 'DryTech' sachets, and guess what? Charging takes 85 minutes with a playtime of a full, creamy hour.
Using the ArcWave Ion
Straight from the horse's mouth, it is hinted you may need to have used the ArcWave Ion up to 5 times before you'll find the rhythm that works for you. Remember this is not your regular stroker. This made me approach my first session with low expectations being that I was mostly exploring.
ArcWave's Ion makes the most of an innovation known as Smart Silence™, a concept in which the Ion comes on with skin contact with the Pleasure Air zone. I didn't feel the 'silent' part of this stroker even though it delivered as promised: the device remains silent when powered on until you make some contact with the sensor with your finger or cock.
Put to the lowest setting, the ArcWave Ion sounds like a gentle rumble just like a normal vibrator. But the moment you increase the intensity, the sound is a bit like a dog growling at you. I had quite a chuckle when I stumbled on this feature while checking out the device and my dog became all worked up because it did sound like an angry dog than a sex toy. If you like to do your thing in peace, not the stroker for you sadly.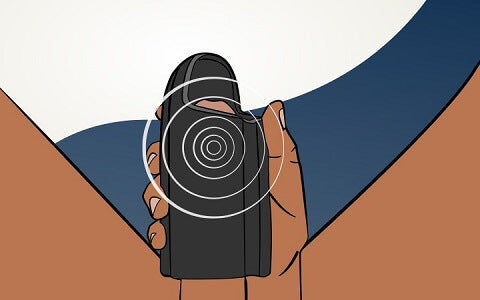 My first session with the ArcWave Ion was a quick one as my climax came hard and fast. The sensation was thrilling and much like what you'll get with a vibrating device like Pulse. But it didn't leave me feeling numb like Pulse normally would. I was a bit confused though. The orgasm I got was similar to the kind of orgasm you get with a wand and the feeling was powerful but what was that the cherry on the cake? I soon found that out with a few more attempts.
What I realized was that because the Ion is referred to as a Pleasure Air Stroker in on the package, my first try was to stroke with it. Everybody most likely makes this little mistake, but the key is to just hold the Ion so the sensor snuggling right under your frenulum does its thing. You won't get the same build-up of your orgasm as you would when you stroke with it but the depth of your orgasm will positively shatter your freaking brain. That's for sure. I'm talking knee-weakening orgasms that build from your toes, and then slowly up your legs, to the base of your cock before working its way up the entire length in a tingly feeling before the fireworks cum.
The ArcWave Ion has various intensity ranges for you to set up a steamy session of edging for yourself. This device will also let you have quickies where all you need to do is set it at top speed and stroke simultaneously. The climax is both swift and fulfilling. I would advise you take still take slowly for the best results.
Cleaning & Maintaining the ArcWave Ion
This stroker is all fun and has zero stress, and this includes the clean-up. The Ion splits apart into two parts: the main motor part that can be submerged and dried gently and a silicone side that can be submerged and cleaned with soap and warm water and lastly, gentle drying. There's a unit for charging and storage that contains a silica stick for getting to any remaining moisture when you charge the Ion or when you store it.
Summary
The ArcWave Ion did a good job of satisfying me and friends are yet to hear the end of it. However, some of the promotion materials had me raising my eyebrows a lot. They were simply too heavy on the gender language, and this ran all through their materials. While I don't see any fault in a company clarifying which gender a product is primarily for, I thought the emphasis on male orgasm was a bit much.
For instance, the pamphlet says nerve endings do not have a gender identity. But it goes on to also say the clitoris is the female equivalent of the male frenulum. This sounds pretty exclusive to me in a world where you have both trans and cis customers. Sex toys are for everyone and every gender. Period.
The ArcWave Ion stroker remains the wave of the year nonetheless. This is not just another sex toy claiming to be something it's not, this is a sex toy that is everything it claims to be. The thrills and sensations you get cannot be rivaled by just any stroker once you enter the groove of things and figure out your style. My first impression on the price was 'Whaaat?!' and I was ready to get the hell out of Dodge but I didn't in the end. And I can tell you that I truly got my money's worth with this stroker.  This stroker looks just like the money it costs. From the style and design to the posh drying and charging unit.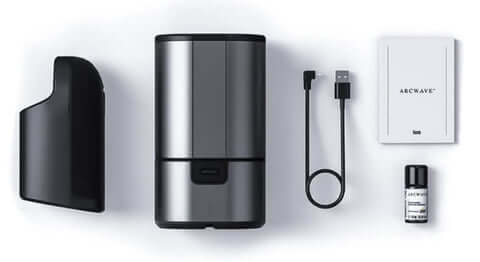 Where to buy the ArcWave Ion? Lovehoney is a sure plug. I'll advise hitting the stores as soon as you can. On the first release, the ArcWave sold out big time and it's still making hot sales even in March. That being said, I'll have you know that my experience with ArcWave doesn't in any way determine my view of/on other products. I always give an honest review for every product so do well to check my other articles on other amazing sex toys. You'll be glad you did.
Finally, here's a more detailed but brief of the ArcWave Ion so you remember all the core specifications.  First, on a scale of 1-10, I'll give it a 9.8.
Pros
Charging stand (can be used for drying and as a storage unit)
Unique, well-targeted sensations (your frenulum will thank you!)
Soft silicone for sweet, comfy stroking
Cons
Noisy
A bit on the pricey side
Final verdict
When you overlook the price and noisiness, the orgasms you get with this toy are not on the average level at all. The depth and intensity are to die for and I'm glad I didn't skip this product over when I first saw the price.
Features
Waterproof
Intense sensations
USB rechargeable
Drying and charging unit
Quite noisy
Related posts LOVENSE GUSH:BEST HANDSFREE STROKER