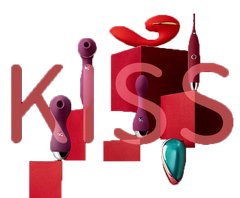 Kistoy is a brand that caters to the sexual needs of almost everyone on the planet whether it be a he, she, they, or any other individual. Great design with ultimate sexual experience is the feature of their products which allows them to call themselves the most sought-after sex toy manufacturers in the industry.
Their appliances have been featured in almost every sex toy exhibition around the world and the product range is really diverse. Each product offers something truly unique in its conception and allows each individual to explore his/her/their sexuality to the utmost and enjoy their sexual nature.
Let's have a look at their different product range.
For female satisfaction, Kistoy offers amazing designs in beautiful colors. The first product which attracts our attention is KissToy Young Paula Cat Exercise. It is a female wear product in cute pink color and the packaging is really great. The original Q elastic is used that tightens the vagina and leads to shrinkage allowing first time feel when penetrative sex is performed. USB chargeable and vibrate facility makes it an awesome sex toy as it also satisfies sexual needs. Next in line are some great vibrators. The first one is Miss UU Squirrel Sucking Vibrators. Squirrels are cute but when they perform vibration and sucking on clit, then they can be your best friend and History brings the ultimate fun in form of a Miss UU squirrel sucking vibrator. Similarly, the young Mr. Ted simulation is in the form of a cute and long panda that offers its services inside your vagina. Great vibration with different patterns makes it a must-have toy in your wardrobe. These vibrators combine cuteness, design, and playfulness with great functionality.
For Men, Kistoy offers some great products. The first one to notice is the Men F-22 Male Masturbation Cup. Having great baby pink and baby blue colors, this cup is suction-oriented and provides a great masturbation facility to men. Made from body-safe silicone and varied intensities offer great suction power for a great feel. For the men who want to explore more, KisToy Men Gordon Prostate massager is a great thing. It gives you the ability to experience powerful prostate orgasms without worrying about harming yourself. Waterproof and having remote control feature, it can be controlled by your partner or yourself too, giving you maximum pleasure. Use it while having sex for greater satisfaction. Since it is made from body-safe silicone, it can be easily inserted into the anal area with good lubrication. You can also use lubricants by Kistoy for great benefits. For cock rings, KisToy offers Men Martin teasing trivial rings which are great for a different experience. Coming in two colors, baby blue and baby pink, they are great for increasing your sex capacity.
So, these are some of the best products of Kistoy. If you want to explore more, buy more of their unique products and delve into the world where fun and practicality come together to provide the ultimate sexual experience at its best.