Zalo was established as the luxury sex toy provider brand which caters to the classy needs of people. A brand that caters to intimate needs with a great feminine spirit. They continuously introduce the product to elevate the lifestyle in your bedroom with great artistic conception. Profound technologies with luxury taste in design and excellent user experience are their style. The brand was conceptualized to provide pleasure to the women who are the epitome of pleasure in the world. All the products at Zalo are made from a special female perspective to bring the highest aesthetic pleasure in a spiritual way to women and lovers equally.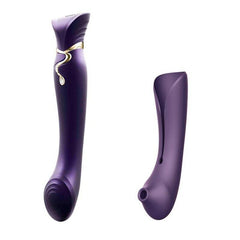 Zalo products are made from special materials like Dow Corning Silicone, Softek technology coating, and more meeting the certification standards. Technology is highly advanced in Zalo products which can be accessed by remote apps. Inlaid with Swarovski crystal diamond, 18 K / 24K gold-plated metal surface, jewelry-grade environmental resin enamel, and metal color environmental resin, products are highly significant in their quality.
Let's talk about the Legend series specifically made for the pleasure of women. Conceptualized like Egyptian epitomes, the vibrators and clit massager offer something very sensual. Bess Clitoral Massager is a royal-looking clitoral massager having a golden handle on top. It is like a goddess of your sensuality. Motor revolutions can reach 10000 revolutions per minute and the unique design focus on sensitive points to give the perfect orgasm. King Vibrator Thruster is also something unique, shaped in Egyptian doll structure, it has traditional electromagnetic drives which increased the thrusting power of the motor to a new level. Having the thrusting frequency of 40 times per second, empowers you to have multiple orgasms. Queen Set G-spot PulseWave Vibrator with Suction Sleeve offers dual pleasure. It can vibrate and suck at the same time and was awarded XBIZ Europa's 2018 luxury product of the year award. Pulsewave technology offers unique wave structure orgasms which will satisfy your soul.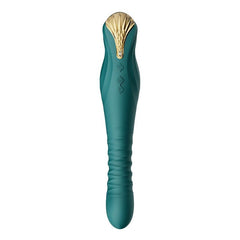 Next is the Versailles series which is designed to provide lavish jewelry-type toys which will look like royal items in your collection. Fanfan Set Remote-Controlled Couples Massager offers couples to bond over sexual experience in a great way. It is all about pleasure and fun. Whether you want it for solo fun or interplay between partners. The rococo art structure delivers powerful orgasms with sensitive pleasure waves controllable by remote. Rosalie rabbit Vibrator offers a sleek-looking vibrator with a 24 Karat Gold Chain to hold it. It is a feast for your senses. Able to offer clit massaging and deep penetration simultaneously, it is great for having for solo trip or pleasure with your partner.
Then there is Doll Series which offers drama in your sex life. Fancy dress items that are sure to heighten your sexual pleasure. Whether it be Leather Thorn Collar & Chain leash to fulfill your submissive and dominance fantasies or leather thorn handcuffs, the Doll series is for the pleasure of your sex doll. A luxurious & romantic bondage play kit is your ultimate option for exploring something really amazing in your sexual life. Rose Ball Gag is there to provide sensual and erotic pleasure at the same time.